Sustainability has both a large and small definition. From a larger point of view, it means minimizing environmental impact. Sustainable building processes take measures to ensure resources used today are available for future generations. On a more personal level, sustainability means choosing methods and materials that last the longest with minimal repairs or replacement.
Working toward Leadership in Energy and Environmental Design (LEED) certification helps pursue both sustainability goals simultaneously. Choosing sustainable materials is a crucial step toward achieving that certification.
What Makes Materials Sustainable?
It's vital to remember that no single characteristic is enough to qualify materials as sustainable. The following also must be considered:
Substance: Sustainable construction uses materials that are safe and durable in their intended environment while focusing on the health of those who manufacture, transport, and install the materials. In addition to durability, materials should have long-lasting visual appeal, minimizing the need for aesthetic upgrades.
Manufacturing: The manufacturing process should use sustainable methods from start to finish. A manufacturer's total sustainability can vary based on where they source material, the type and amount of energy used to process it, and how waste is handled.
Life cycle: Considering the material's entire life cycle contributes to choosing the most sustainable option. While two materials might be equally durable, a reusable one is a more sustainable choice than one destined for a landfill.
Emissions: When choosing materials, consider the distance between where raw materials come from, where they are manufactured, and the project location. The farther the materials must travel, the more transport emissions factor into their total sustainability.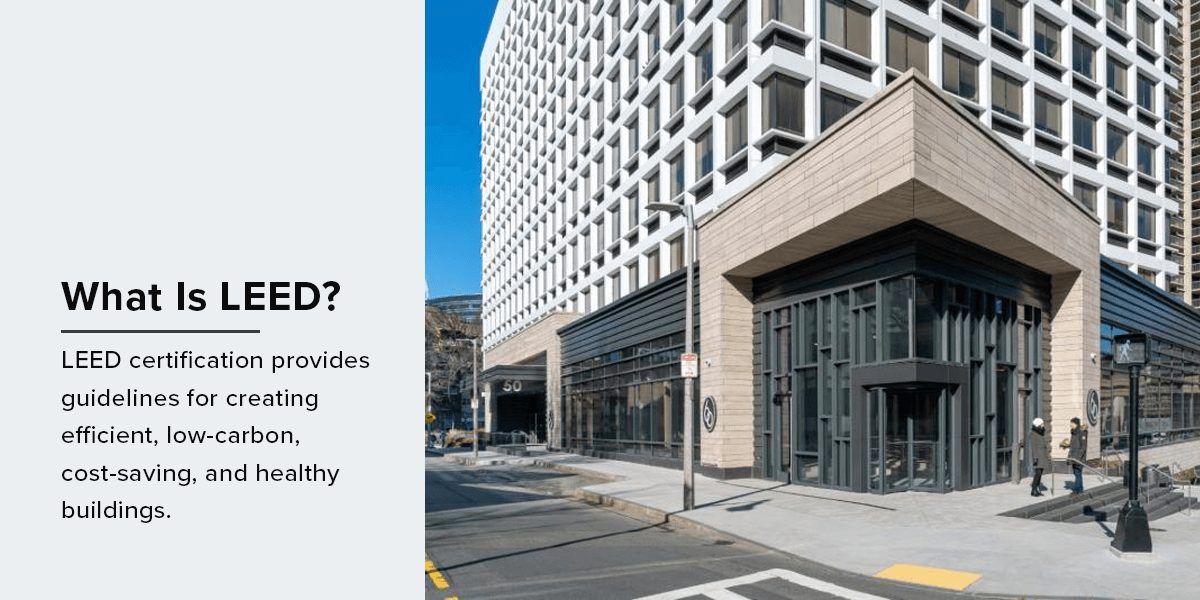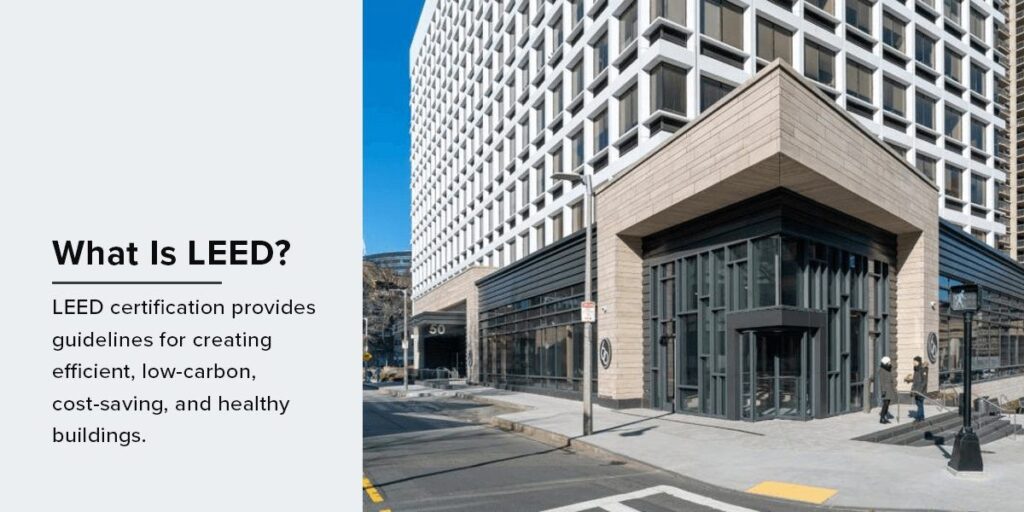 What Is LEED?
LEED is a global green building certification system that applies to buildings themselves rather than the architect or contractor. LEED certification provides guidelines for creating efficient, low-carbon, cost-saving, and healthy buildings. It is an international symbol of sustainable design achievement focusing on buildings as a whole rather than a series of parts.
This broad overview helps identify the ways that different elements interact, letting you create buildings that:
Use healthy, sustainable building materials, and practices.
Prioritize human health and comfort.
Emphasize accessibility.
Reduce resource consumption and operating costs.
Exist as part of the surrounding community rather than outside of it.
Earning LEED certification requires a holistic outlook on green building design. Understanding a building's impact on factors such as human health, natural resources, climate change, community, and biodiversity is integral to the process.
How to Achieve LEED Certification
Earning LEED certification requires four steps before a project fully begins. These steps are to select the rating system, fulfill the LEED minimum program requirements (MPRs), identify the system prerequisites, and earn enough points for certification.
1. Select Your Rating System
LEED offers several rating systems based on project scope, including:
Building Design and Construction – for major renovations or new construction.
Building Operations and Maintenance – for improving sustainable practices in existing buildings.
Cities and Communities – for both new and existing areas.
Interior Design and Construction – for projects requiring a complete fit-out.
Neighborhood Development – for new and existing neighborhoods.
The system chosen determines the details of how certification is earned.
2. Review the General Minimum Program Requirements
Before beginning the process, ensure the project is eligible for LEED certification. Every project must meet three MPRs to qualify:
The project location must be permanent and on existing land.
The project must have reasonable LEED boundaries.
The project must be within the chosen rating system's size requirements.
3. Identify the Rating System Prerequisites
Each rating system includes a series of prerequisites. While the prerequisites for each system may be found in the LEED credit library, points are not earned for fulfilling them. Instead, they serve as a set of system-specific minimum requirements. These must be met before points may be earned.
4. Develop a Certification Strategy
LEED rating systems consist of "credits" representing aspects of green building design. Each credit is worth a certain number of points. While there are a total of 110 points available, every credit does not need to be fulfilled. Instead, the number of points earned correlates to different levels of certification.
Platinum: 80 or more points
Gold: 60-79 points
Silver: 50-59 points
Certified: 40-49 points
Once it's established that a project can meet the LEED MPRs and system prerequisites, create a strategy for the credits you plan to pursue. The U.S. Green Building Council (USGBC) provides free LEED scorecards to make it easy to track progress.
The Understated Sustainability of Tile
People often overlook tile sustainability when considering green building materials. While using LEED-friendly tile will not get you a LEED certification, it offers several benefits that can help you earn credits toward your LEED certification.
Easy eco-friendly maintenance: Tile is a low-maintenance material. It is cleaned with warm water and/or mild detergents, limiting harmful chemical runoff.
High durability and minimal replacement: With proper installation, tile is durable enough to last as long or longer than the building around it. Its long-life span means it lasts longer than other surface materials before it needs replacing, resulting in lower environmental impact.
High indoor air quality: Since tile contains zero plastic, formaldehyde, or polyvinyl chloride (PVC), it doesn't emit any volatile organic compounds (VOCs). Tile is inherently non-emitting. As a nonporous surface, it is also allergen-free and prohibits bacterial growth.
Minimal environmental footprint: Tile uses naturally occurring materials, allowing minimal use of chemicals and other pollutants during manufacturing. Many manufacturers also produce tiles from recycled content and reuse their water and material waste.
Helps reduce energy needs: Tiles have a high thermal mass, allowing them to absorb, store, and release heat. Including tile in your design helps increase energy efficiency, reducing your project's overall environmental impact.
Selecting Sustainable Tile
Look for the following features when you're ready to add eco-friendly tiles to your commercial project:
Health Product Declaration: Tiles with a Health Product Declaration (HPD) provide a complete list of any potentially hazardous materials.
Environmental Product Declarations: An Environmental Product Declaration (EPD) is a comprehensive report about the tile's environmental impact over its entire life cycle.
Cradle to Cradle certification: Tiles that are Cradle to Cradle Certified® minimize waste and follow global standards for safe and responsible production.
Recycled Content Documentation: Documentation of recycled content is calculated and reported based on the weights of the individual ingredients used to make the products, which may include pre-consumer or post-consumer content. The percentage may vary by color, as well as different manufacturing locations.
Declare Label – Red List Free: The Declare Label – Red List Free is a product's compliance with ingredient transparency and commitment that it does not contain Red List chemicals.
Learn More About Our LEED-Friendly Materials
Now that you're ready to earn LEED credit on your next commercial project, contact Creative Materials for materials and expertise to guide you through the process. Several of our employees are credentialed LEED Green Associates, and we have over three decades of experience securing high-quality, LEED-friendly tile for commercial projects.
Create Commercial Sustainability