Gauged porcelain tiles and panels (GPT/GPP) have become very popular in recent years – especially the larger and thinner sizes.  Architects and designers appreciate the distinct modern look that can be achieved in using these unique products.  And now with the increase in North American demand, there are great varieties available to meet the aesthetic and performance needs of both the specifier and the end-user.  Many of the thin profiles can be a tremendous value to both material and time budgets because they offer the ability to go tile-over-tile.
So, what is a gauged porcelain tile or panel (formerly known as "large thin tiles")?  Gauged porcelain tiles and panels are lightweight porcelain products that are produced using less materials and energy than traditional tile products.  GPT/GPP are denser due to the smaller aggregates that are used, but also are free of any warpage or crowning due to their unique "continuous compacting system".  The current trend with gauged products is large and thin.  However, gauged products also come in smaller platforms and thicker profiles, thus making them a very unique product that can be flexed into any project.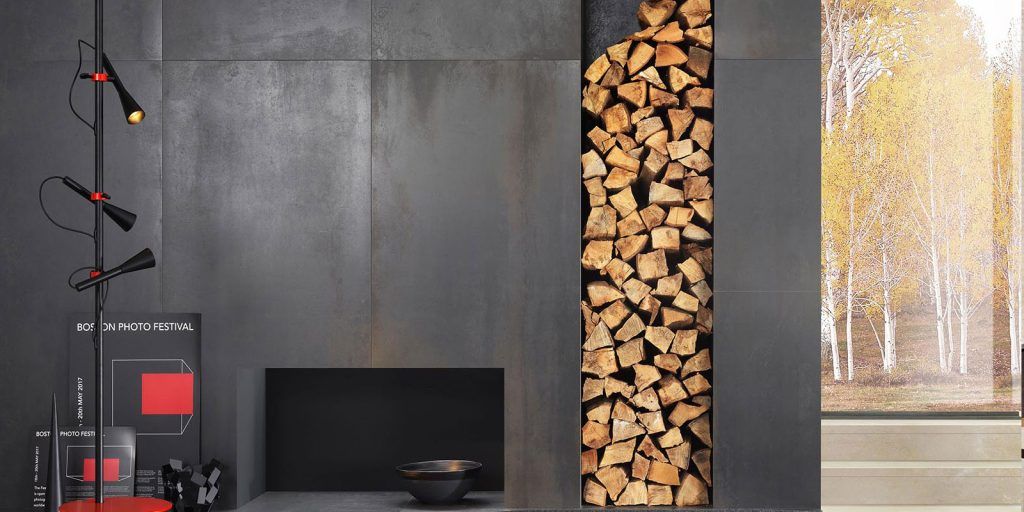 Consider these five important tips when specifying large gauged tiles and panels:
1. All Tiles Are Not Created Equal
Just as traditional porcelain tiles have inherent limitations, equal precautions and measures must be achieved when specifying GPT/GPP.  They should not be blindly specified for floors subject to heavy impact and/or rolling loads.  Certain products utilize mesh backing, so specifying appropriate adhesives and bonding agents that will work with the mesh is extremely important.
2. Careful Planning
Planning your project details from beginning to end is a must.  Transportation to and within the project must be considered as longer forklift forks, transport racks, and expandable frames are a requirement.  Mobilization schedules must consider passageways, elevator dimensions, working stations, and specialized tools.
3. Substrate Prep
Surface must be flat and true, with a maximum surface variation of 1/8" in 10 ft, or 1/16" in 2 ft, with no irregularities greater than 1/32".  To achieve this level of flatness, self-leveling and patching agents must be included in contractor bids where GPT/GPP is specified.  For tiling-over-tile, the appropriate latex primers must be used to allow for the best adhesion of the gauged products.
4. Advanced Certifications Are a Must
It is imperative that the labor force is familiar with all the unique characteristics of GPT/GPP that includes, but not limited to –  transportation, mobilization, handling, cutting, and installation.  The TCNA requires that the contractor has completed mandatory installation programs from both the manufacturer of GPT as well as the manufacturer of the setting materials.  In addition, it is highly advised that tile installers complete the Advanced Certifications for Tile Installers program – specific to GPT/GPP.
5. Toss The Ol' Spec
I know I sound like a broken record, as I have mentioned this numerous times in my previous blogs.  It is imperative that when using GPT/GPP products for your project, the tile specification must be up-to-date and relevant.  Recycling an old,antiquated specification does not help anyone, and in fact, can very well be the underlying reason when missteps happen on the job.  The language in a GPT/GPP specification is entirely different from a traditional tile, thus a project-specific guideline that helps all parties, is a must.
There you have it folks!  Obviously if you are new to gauged porcelain tiles and panels, then these 5 tips only scratch the surface.  However, I hope these 5 short steps help you to better understand what the product is, and how best to specify for your next project.
Let me know if I can present to you and your team our CEU on Gauged Porcelain Tile and Panels – Understanding the New ANSI Standards.  If you are new to GPT/GPP, I would highly recommend this CEU for your company.
Until next time…
Ken