Natural Stone Meets Porcelain, Meets Wall Tiles
I hope everyone had a great Memorial Day weekend! Upstate NY finally got some sunshine!!! I spent some of the weekend lakeside with my favorites – my niece Lizzie (1.5 yr old), and my nephew Spencer (4 yr old). We played musical chairs, but with a camp vibe, so musical Adirondack chairs. Taught my nephew the fine art of roasting marshmallows, which he did not have the patience for, so I ended up making the s'mores. I've never heard 'why?' asked so many times in one conversation (he's in that phase right now), and I witnessed how transforming a nap can be for a 4 yr old, it was really incredible.
  Minimalist Look for Our New 2019 Collections
So how are you liking the 2019 Spring Summer Featured Collections? Have any of these great tiles made their way to your project's finish palette? There are a lot of great pattern options for these collections and our Design Services team has helped a number of designers who were time crunched to create some cool patterns. If you have any questions or a project you'd like some help with, please send us an email at [email protected].
I haven't done a product dive in a while, so I'm going to share some details of some new and existing collections we have added.
---
JUXTAPOSE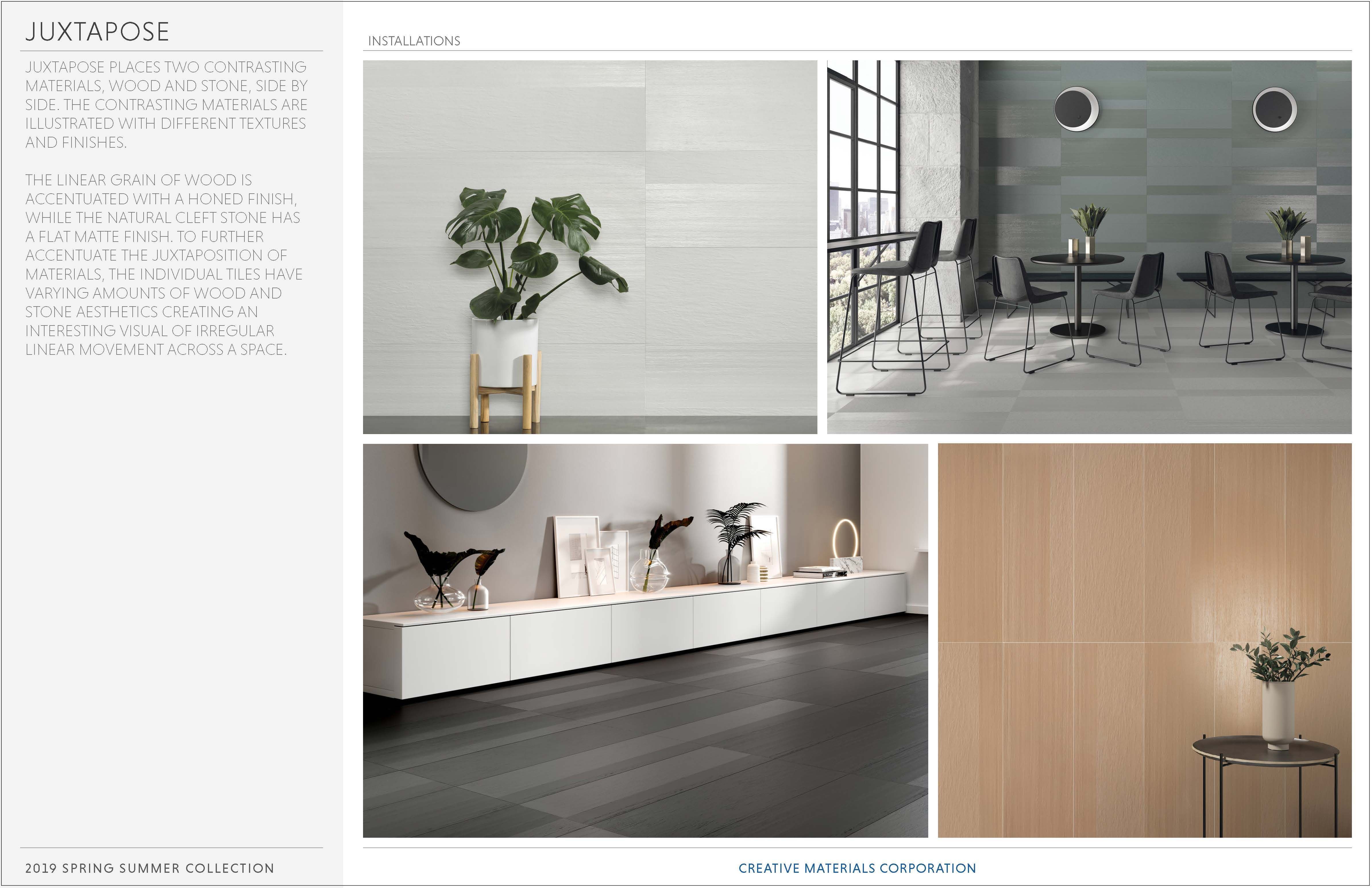 This first collection, Juxtapose, was featured in one of our Design Concepts for Tile palettes. I love multiple things about this collection:
Mix in finishes – features a honed and matte finish
Mix of materials – honed finish features a wood grain, matte finish features a natural cleft stone
The colors!
Here are some other helpful details about the collection: its 12"x36" format is elongated and unique; due to the technical characteristics of the glaze and finish, wall application is recommended for any commercial space; the tile has (4) different designs which are illustrated below, boxes are packaged randomly.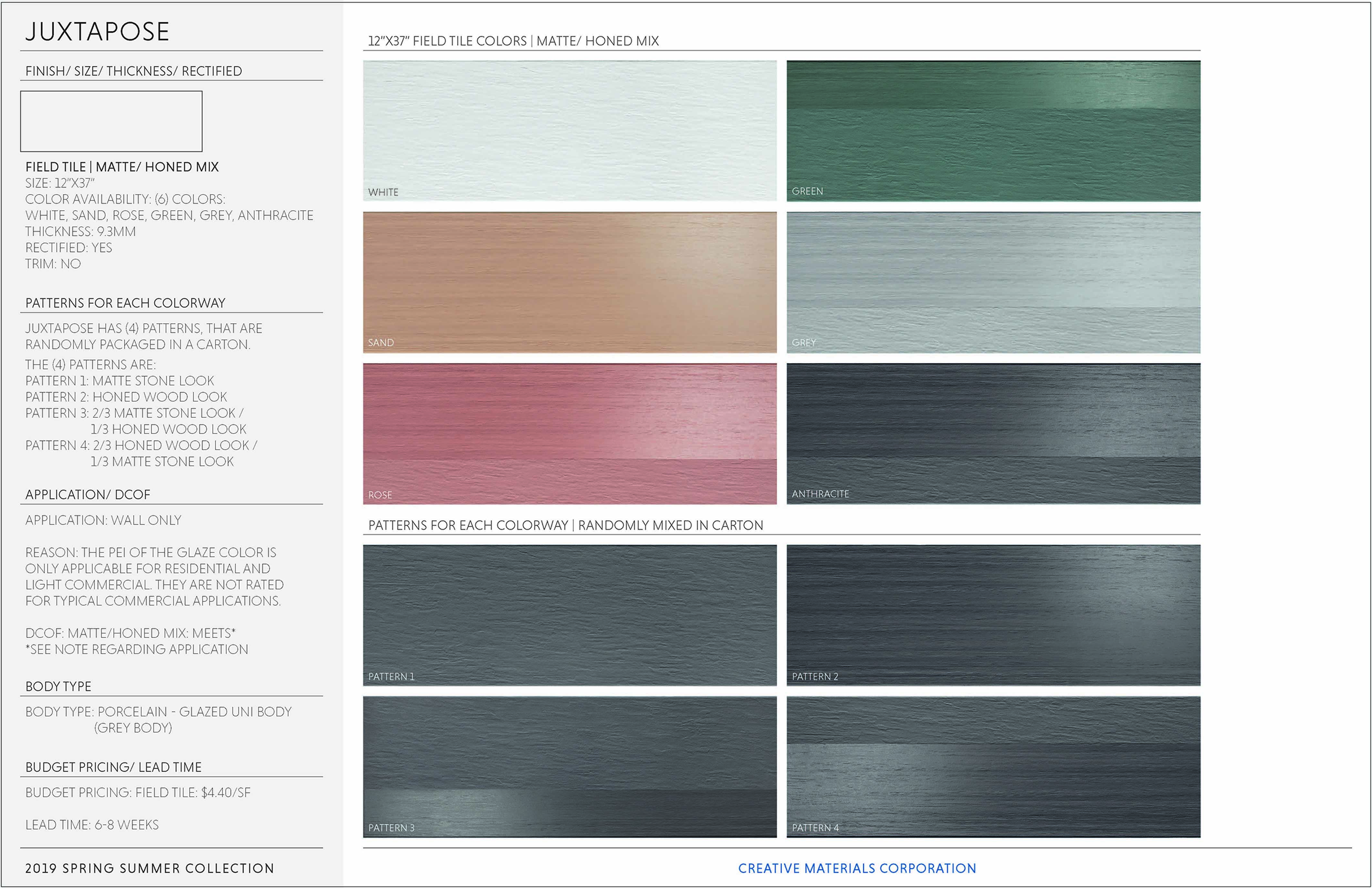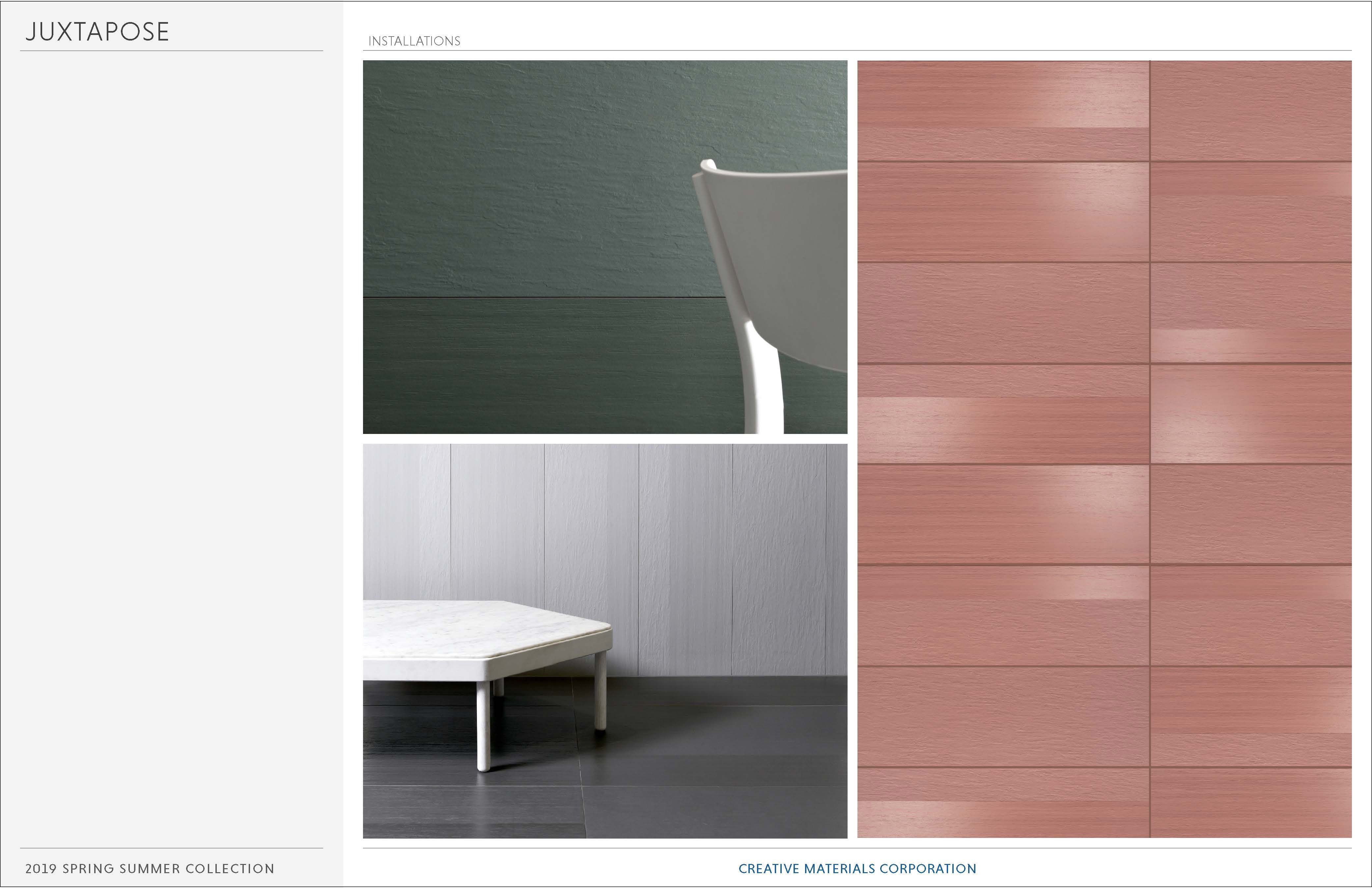 ---
ARC + ANGLES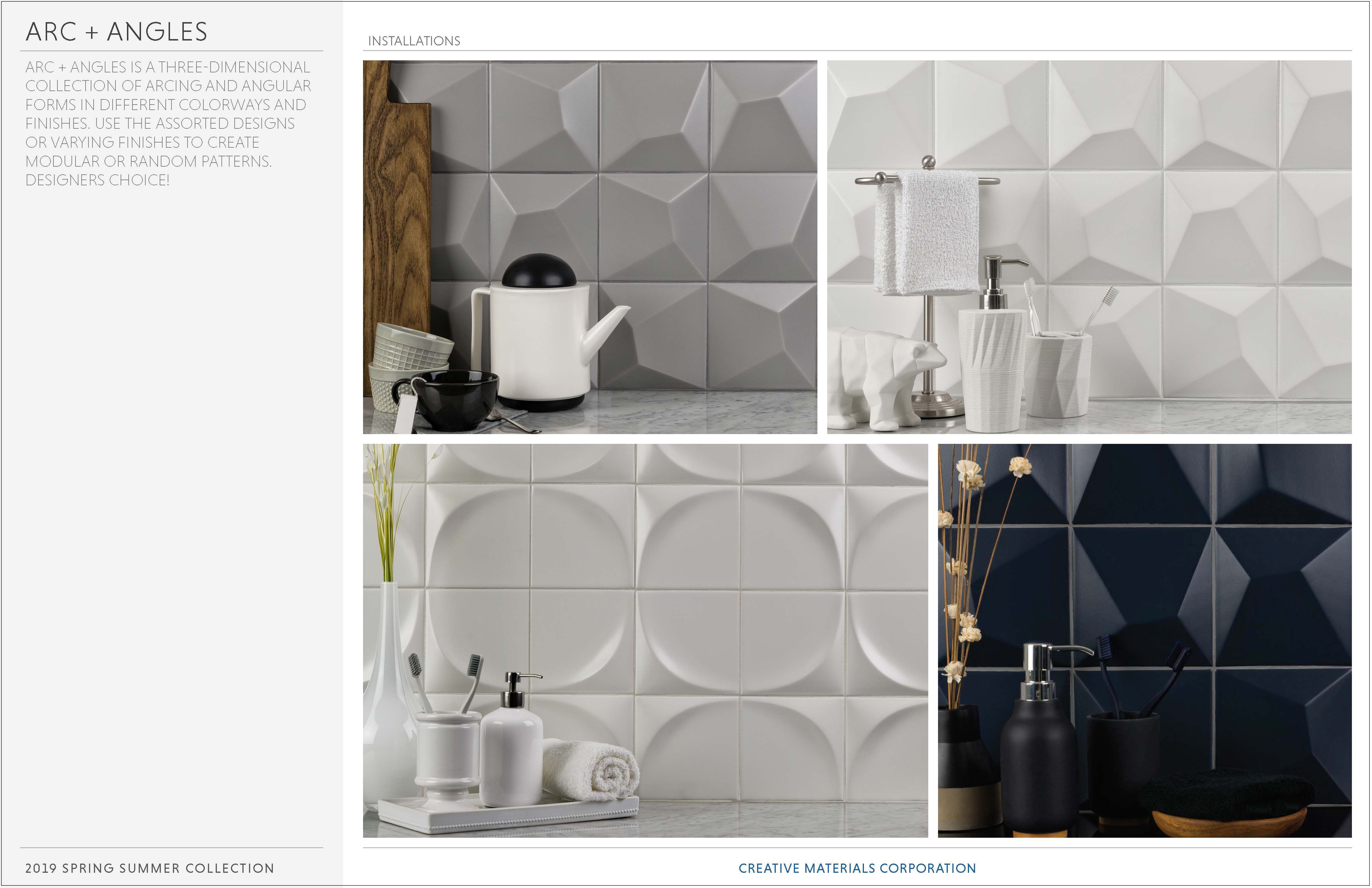 This next collection, Arc + Angles, features some great dimensional looks in multiple colors and finishes. The Angles piece has dual finishes in black and white, as well as some other great neutrals. I like the deep inky blue in the matte finish. I would pair a bright grout color with this tile to place emphasis on each tile and design (as long as it works with the design concept).
Here are some other helpful details about the collection: this collection doesn't have any coordinating trim, so I would recommend finishing the edge with a Schluter Jolly. They have a lot of colors that will closely match the palette; I would place cuts toward an interior corner or edge and keep whole tiles toward the outer edges of the layout. This depends on project specifics, but Design Services can assist with the laying pattern for your space. Keep the orientation of this tile in mind, in most instances Angles is shown quarter turned or random. When you request samples, ask for a couple of pieces and point the angles in opposing directions or in the same direction and see what different type of movement you can create.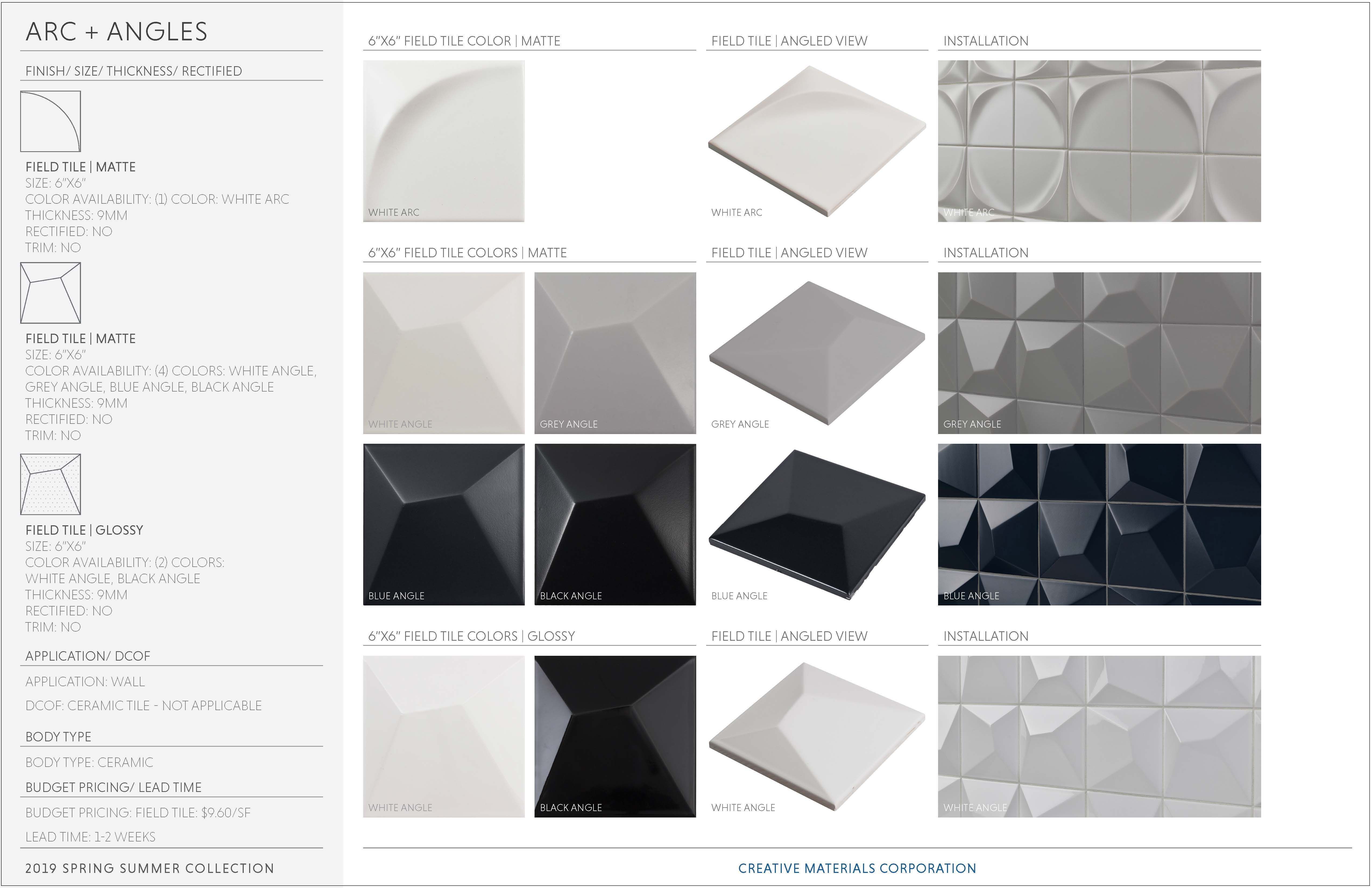 ---
PIETRA BEDONIA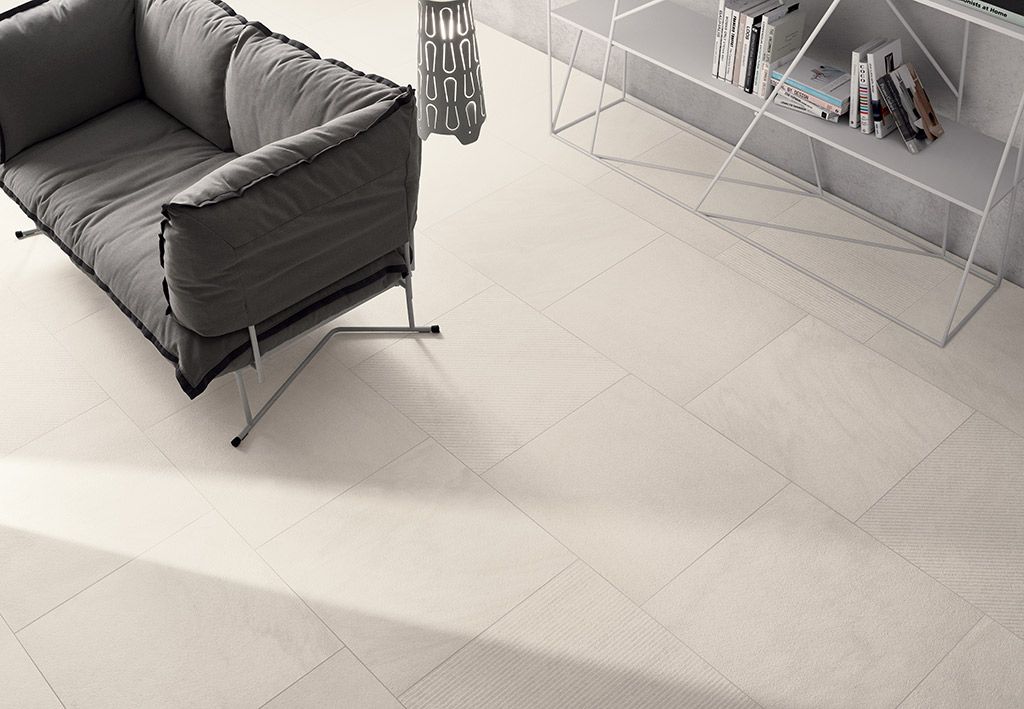 The previous two collections are great options for the walls in your project. So, what would you place on the floors that abut these walls? I wouldn't want something that would compete with the dual finishes and looks of Juxtapose or steal Arc + Angles limelight. So I would recommend Pietra Bedonia, which mimics a sandstone by the same name, and is also known as Pietra di Carniglia or Grigio (Grey) Bedonia. It ranges from a medium to dark gray and tends to lean cooler. Its grain has a soft and subtle flow giving it more movement than Pietra Serena, a porcelain look (based on the natural sandstone, Pietra Serena) featured in our 2019 Spring Summer Collection.
A quarry in Piane di Carniglia, Italy, a couple of hours northwest of Florence is where the Pietra di Carniglia line is specifically from. Pietra Serena is quarried in Castiglione dei Pepoli, halfway between Florence and Italy. These quarries are 2.5-3.0 hours away from each other. It's interesting to see the difference and changes to the stone in such a short distance.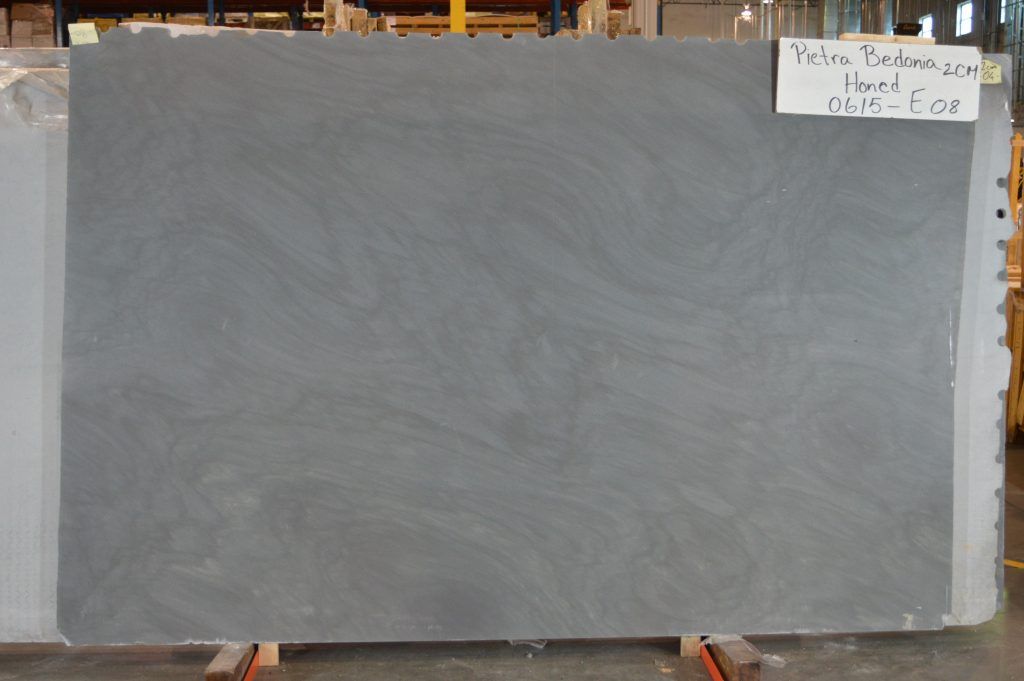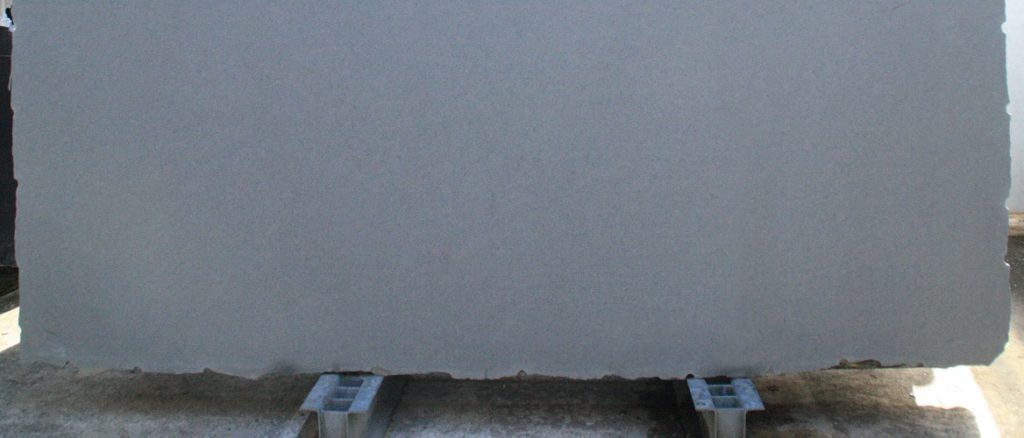 Below is an image from Artedomus, an Australian distributor, that has sourced Bedonia from the same Italian quarry for over 20 years. The image shows how the grain and color of the stone is transformed when different finishes are applied to it. I personally like it in the honed and sandblasted versions which maintains the natural flow and movement of the stone.
The images below are the porcelain version of Pietra di Bedonia. This collection has a gray similar to the natural stone and has taken artistic liberty with the rest of the color palette. They have also re-created some of the finishes found on Pietra di Bedonia, like natural, lappato or honed, R11 and textured.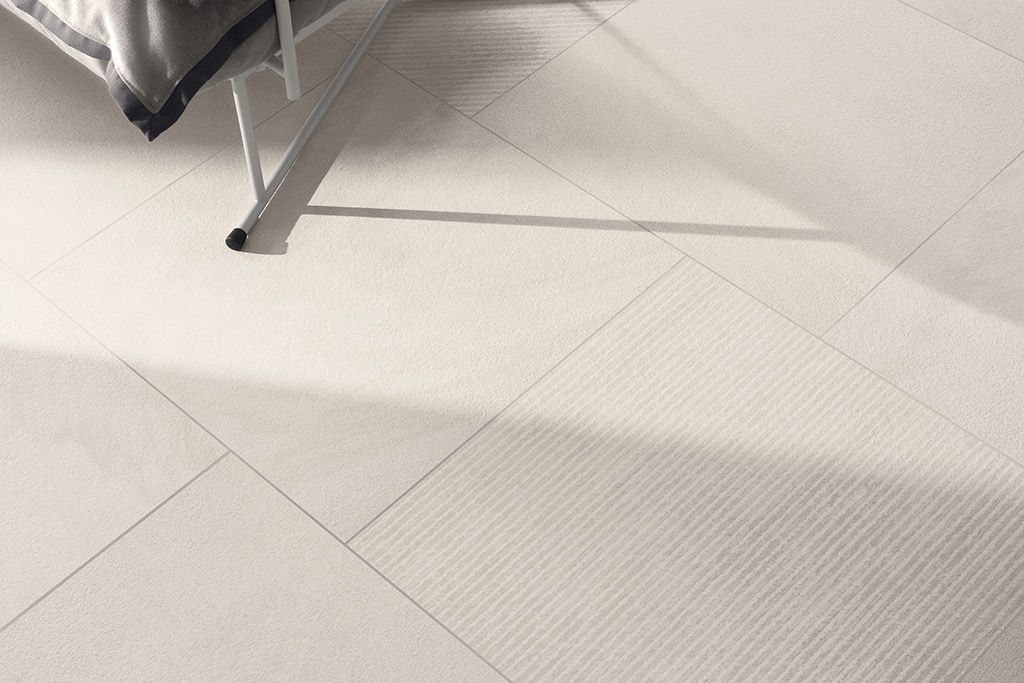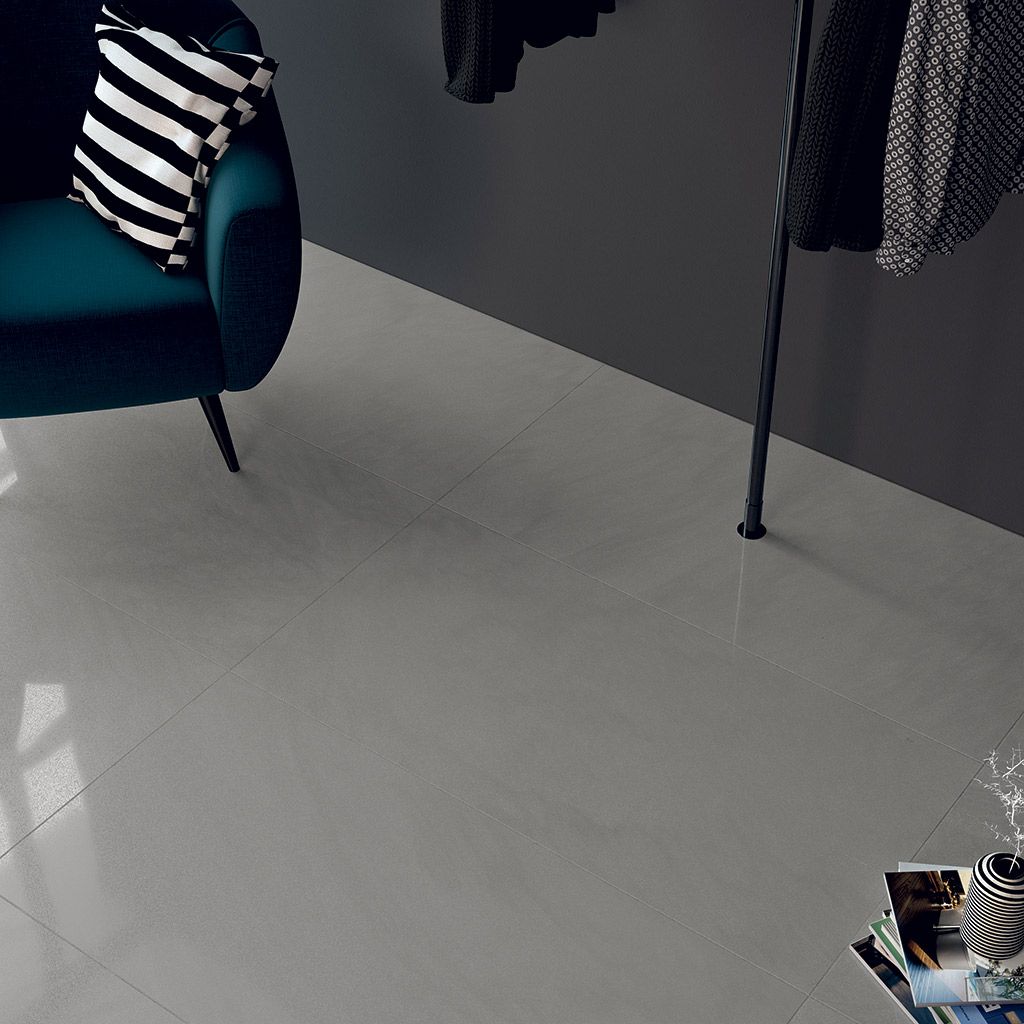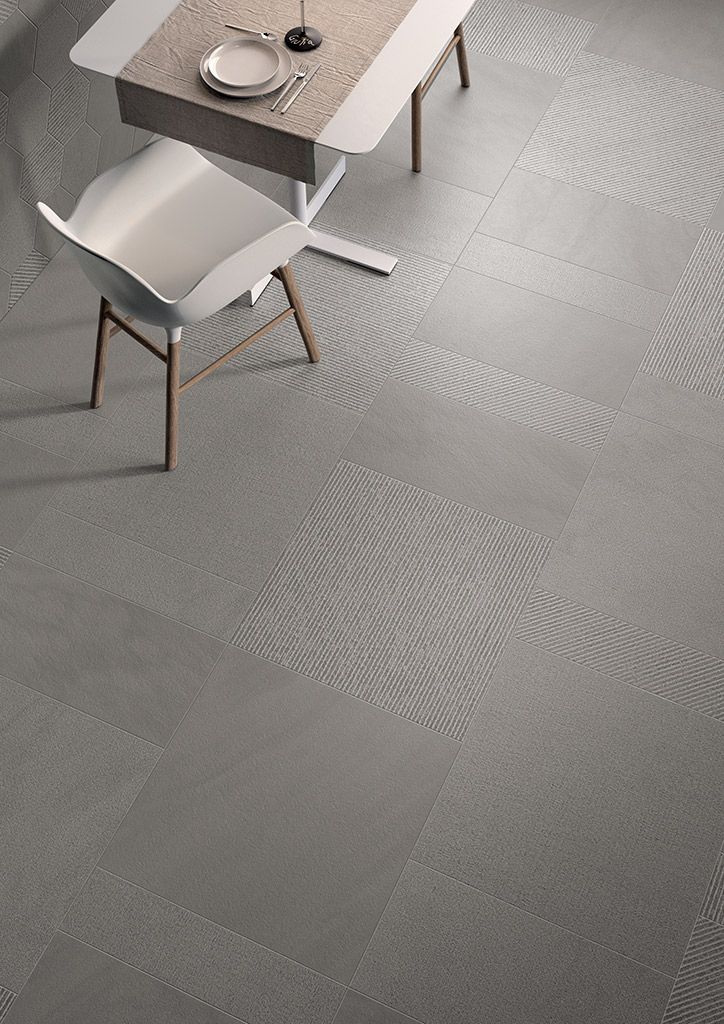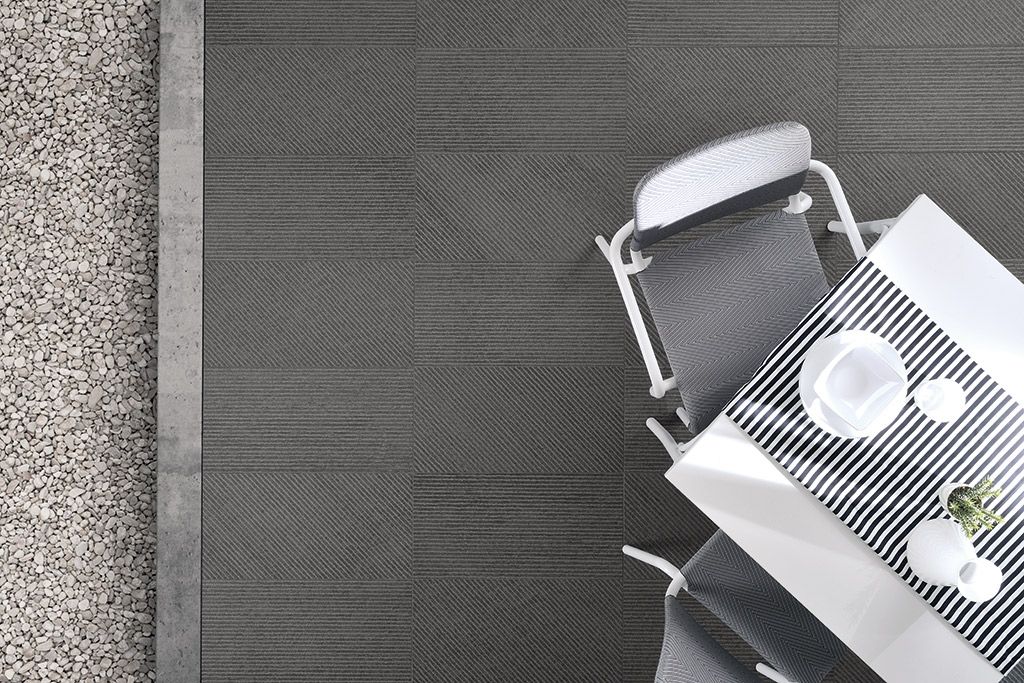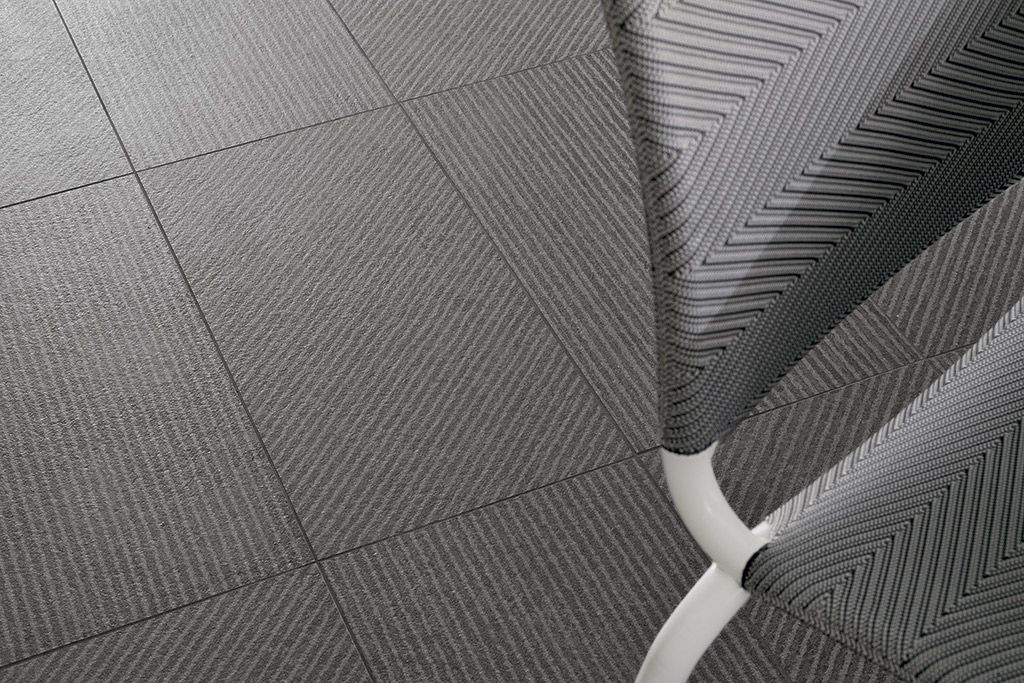 ---
I hope everyone had a great week!
Until next time…
E