On Assignment | Coverings 2019 Orlando
The trends this year at Coverings mirrored aesthetics we saw at Cersaie in 2018 with a few new ideas scattered in, so my overview may seem a little repetitive. What I did find interesting was the correlation of tile glazes/colors to the 2019 Sherwin Williams Colormix Forecast. I've never looked at the relationship of these two trends before, in the past there may have been similarities; this year in particular the Colormix Forecast and Color of the Year seemed like a perfect fit with a number of tile collections we saw at Coverings. If you're loving this Color Forecast, I have the perfect tiles to compliment them.
  Coverings 2019 Tile Trends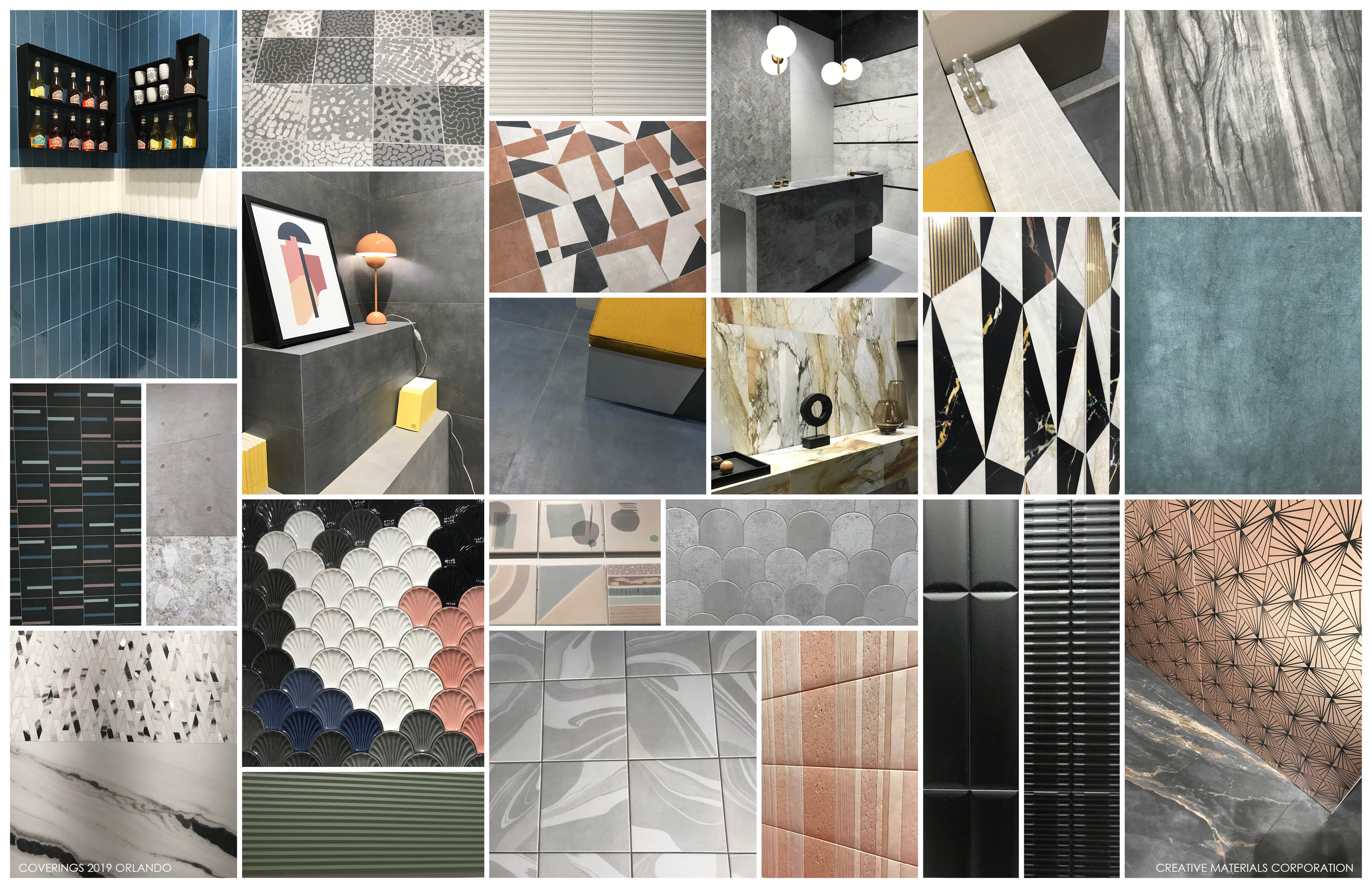 Patterns – Nods to the 70s, 80s, contemporary motifs
Concretes – Concretes with fine aggregates
Color – Darker muted and saturated colors
Dimensional – Sculptural silhouettes
Marbles – Continuation of exotic and rare marbles
Stones – Traditional stone aesthetics, travertine and quartzite, recreated
Metal – Cleaner aesthetics, new colors
  2019 Sherwin Williams Color of the Year + Colormix Forecast
Sherwin Williams 2019 Color of the Year is Cavern Clay SW 7701, I must admit if you asked me if I liked this color 5 years ago, I'd probably say 'Nope, hate it!' However, ask me today and I'll give you a very different response. I love these earthy, terracotta colors, it's something about the warmth and richness they have… don't get me wrong I still love grey and always will love grey, but there's a little sumpin' sumpin' about that Cavern Clay.
If you're not familiar with Sherwin Williams Colormix Forecast, here is how they describe it… "[Sherwin Williams] gathered 42 trend colors into a master palette, then arranged them into six unique color personalities." I'll show you the three that I think have the best tile collections to compliment these color personalities.
---
WANDERER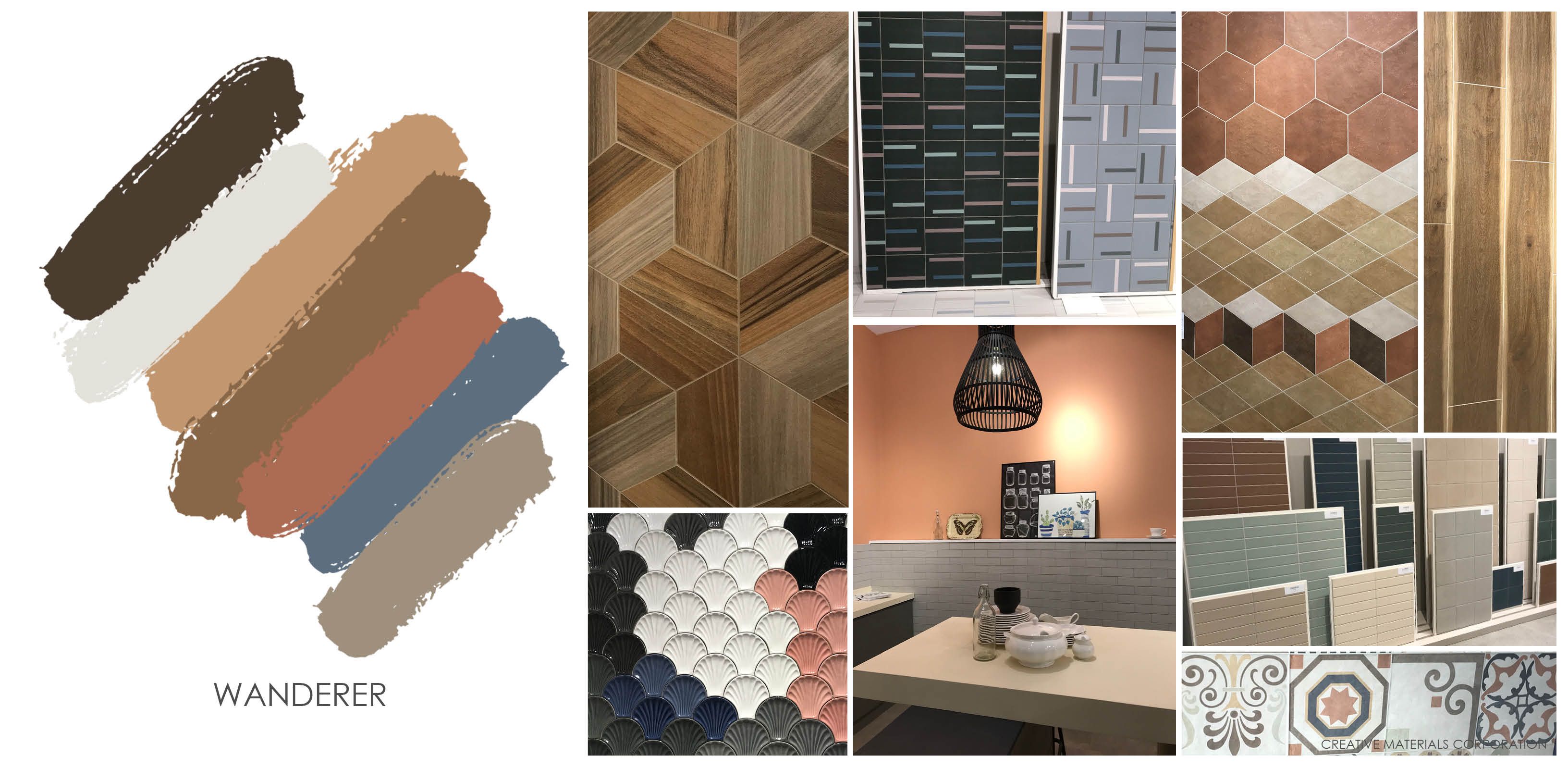 This first palette, Wanderer, incorporates the 2019 Color of the Year, Cavern Clay. This palette is inspired by the "subtle earthy colors of the high plains and desert. Sun-washed and warm, this palette can be seen in the baked clay canyons, worn leather and woven wool blankets of the true New West." Sherwin Williams, Wanderer
I can see the "New West" inspiration for this palette, and how that caters to encaustic like patterns. I also like how this same palette does a 180 in this contemporary 80s mod design… it is interesting how the same colors can be transformed into different design genres.
---
RACONTEUR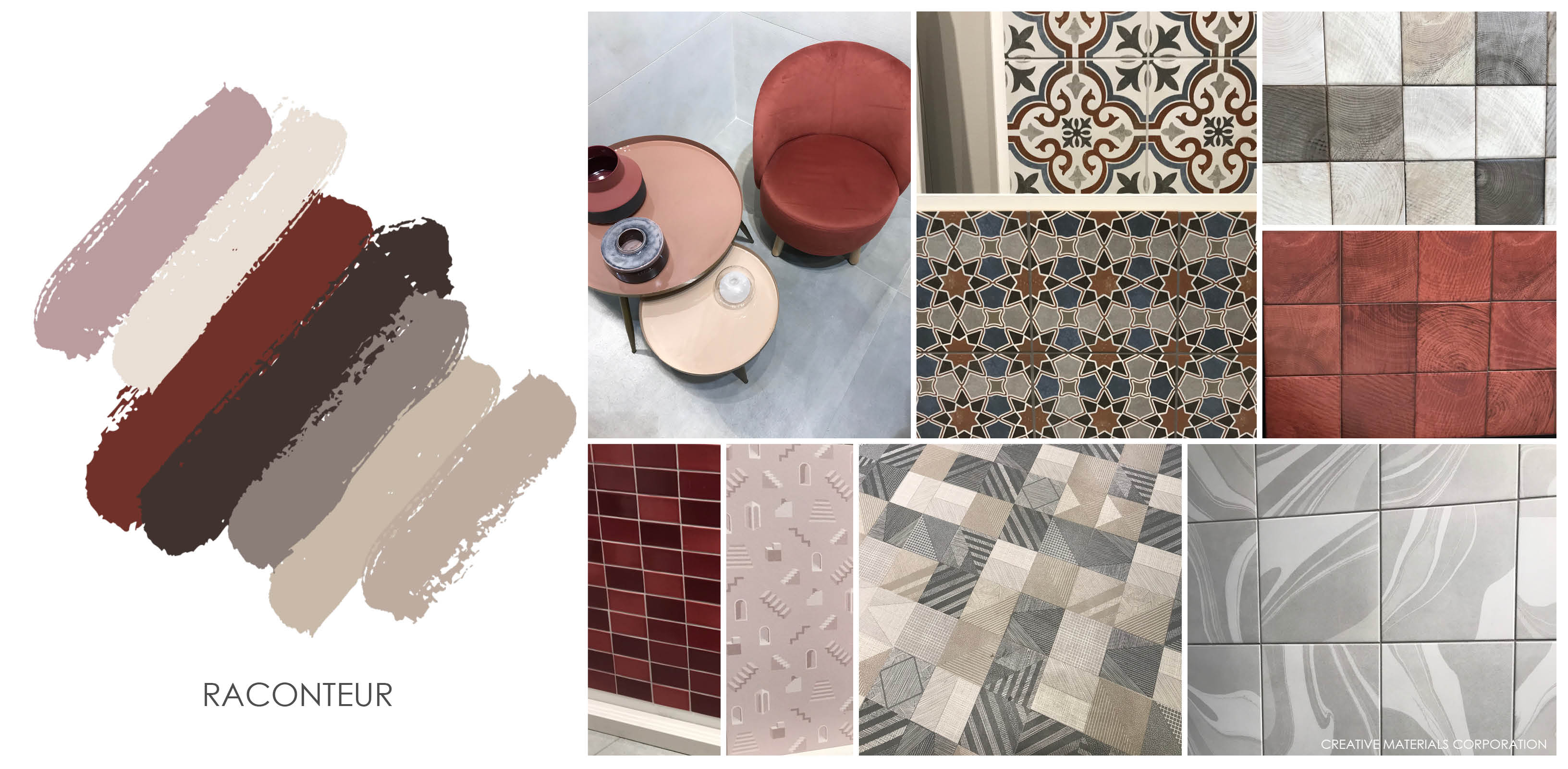 This next palette, Raconteur, draws inspiration from storytellers. "With colorful accounts they sum up our very nature and remind us how we're all connected. Passed from grandmothers, traders and nomads, the tales traveled the world, gaining artistry, until we've translated them into a rich and modern palette that spans space and time." Sherwin Williams, Raconteur
This palette definitely reflects a richness with its Rustic Red and Black Bean colors and is softened with a gradient of taupes. The modern element within the palette is the pale, mauve-like Orchid hue.
---
AFICIONADO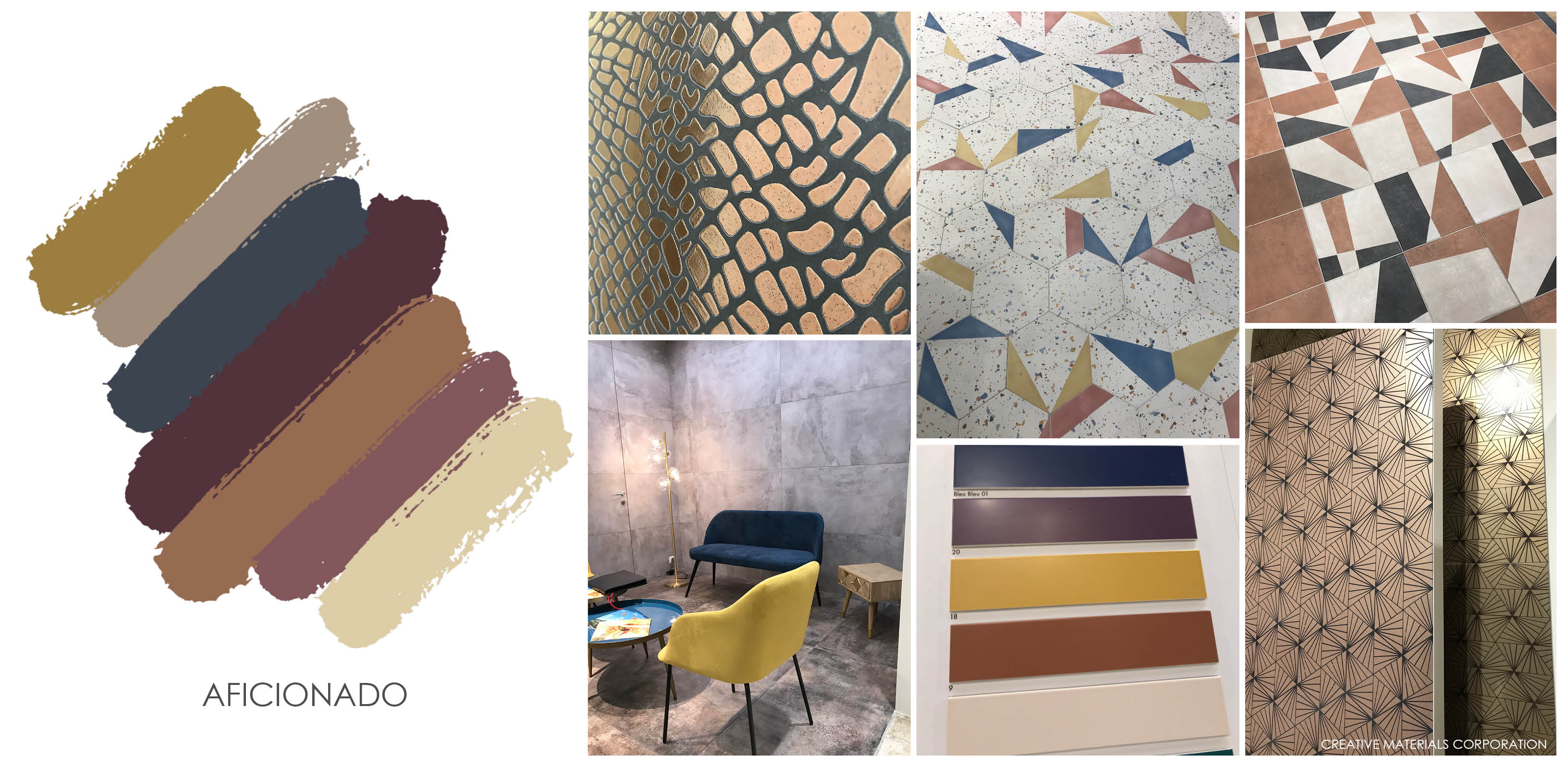 The final palette I'll cover today is Aficionado, "devotees of the best in life appreciate the well-worn, the bespoke and the rare. Like a bookcase of leather-bound classics, this polished palette evokes nostalgia and timeless tradition. With copper and gold anchored by merlot and deep, dark gray, these tailored tones make everything feel impeccable, tasteful and elegant." Sherwin Williams, Aficionado
The previous palette had two very rich colors which dominated it, this palette is much more balanced. There are several dark, saturated colors within Aficionado that balance one another out, I especially like the Charcoal Blue and Merlot combo with Grandiose, an over saturated chartreuse.
---
If you would like to check out the rest of Sherwin Williams Colormix Forecast, please click here.
Thank you for checking out the tile trends from Coverings 2019!
Until next time…
E