Get to Know Erin

What do you love about interior design?
I love the experience of stepping into a space, new or old, and scanning over every detail… how a designer executed a particular detail, how they treated a transition from one room to the next… each designer has their own story behind their design and those details are the defining elements of their story.
Who is one of your design icons?
When I began studying design, I was inspired by Carlos Scarpa's work… the way he created unique instances and details within his spaces. His buildings show the beauty of raw concrete, the way it mirrors back the material used to form it.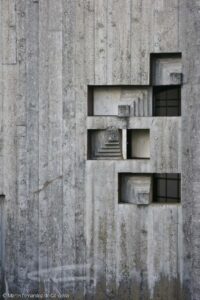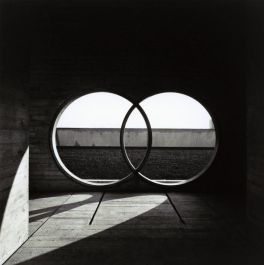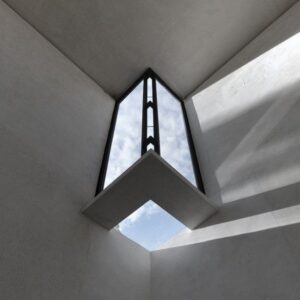 What social media do you use to look for tile?
I love using Pinterest to search for new inspiration for tile and interior design in general. It can also create challenges when I'm trying to track down certain products, but that's also part of the fun.
What are some of your favorite tile looks?
1. Black and White… it will always be the classic color palette. (I love when traditional patterns take on a contemporary appearance).
2. Reminds me of drawing class when you had to compose a drawing out of a series of lines or crosshatches.
3. Because everyone needs a Star Wars themed shower…
He also had a remarkable sense for how his details impacted the way lighting moved through the spaces. He manipulated the sunlight as it came through openings, it became moving artwork on the walls.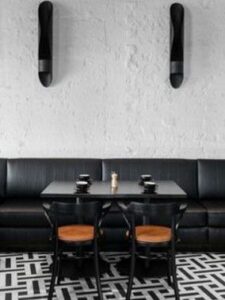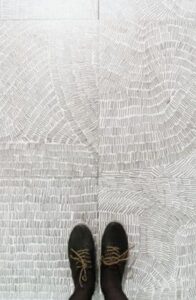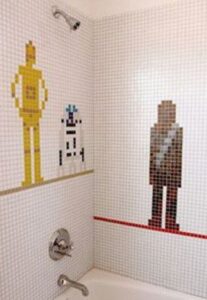 What are your favorite tiles from the 2017 Spring Summer Product Launch?
I love Madera and Multidimensional! This is like Legos for Designers… each collection has developed great patterns you can choose from or if you're feeling especially creative, the two collections work great together. Below are two panels on display at our Boston Design Center Showroom.
The panel on the left incorporates the Multidimensional White Diagonal 8'x8′ (wall only) with Madera Sabine Décor 8'x8′ (wall or floor) – I love that the two patterns play off one another. Multidimensional would be great for a feature wall or concierge desk and as it meets the floor, the triangles and diamonds transition into the Madera Sabine.
The panel on the right incorporates Madera Mahogany Décor Mix 8'x8′ (wall or floor). This comes as a mix of the (3) patterns which can be mixed randomly or you can create unique design blocks like below that can be intermixed with Mahogany field tiles.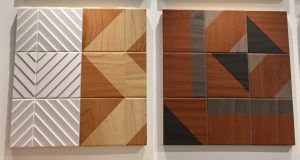 How does working with Creative Materials benefit Interior Designers?
As Interior Designers, we put a lot of time and effort into our material selections. This often involves multiple meetings with clients to get product approvals as well as time involved in documenting the material. Once the construction documents are distributed, it is in the contractor or subcontractor's hands to obtain pricing and lead time for the materials specified. When there is tile specified from, say 5 different tile distributors, on a finish schedule, that is 5 different calls the contractor has to make to obtain pricing and that's just for the tile. They are usually under the wire to get their bids in, so this is time-consuming for them as well.
We have also all been there when we have to make alternate selections at the last minute because they can't get the material in in time. This is frustrating for everyone involved. Creative Materials is a resource every step of the way. We provide designers with an extensive range of tile to get the look they desire for their space — all from a single source.  We've got it all — there is no need to go anywhere else. If you have something in mind, but can't find it or you need help figuring out a pattern, that's where my sourcing team can jump in to help. For the contractors, our client services and shipping teams provide pricing, lead times and management of deliveries. By specifying tile through one distributor, Creative Materials not only makes the process easier for the contractor, but ensures that designers are able to maintain the design aesthetic established with the client.
Why product sourcing?
That's a good question, I loved designing every aspect of a space, but there was always a part of me that really enjoyed learning about products and their technical characteristics. When I specified material for a project, I made sure I knew how that product would be installed in case any issues arose on site (and unfortunately, they do occur…). Tile has always been one of those products that I've loved. It's so versatile… it makes an impact on a space by being a neutral backdrop or it's the bold and defining element. It has also changed so much throughout the years, yet we see nods to details and designs of the past. It's a material that will be with us for many lifetimes.
So when this opportunity arose to be a 'tile geek,' I couldn't say no. It encompasses my love for tile and product knowledge.
What are your goals for this career?
My goal is to share my knowledge with fellow designers, so that they are well-equipped to face the challenges they may run into on their projects.
What are some of your favorite bands?
I love these bands… The National, St. Lucia, Glass Animals, and Ratatat. I could add more, but these are the ones I listen to day in and day out.
What was one of the coolest concert moments you have experienced?
At Osheaga Music Festival, a man in a wheelchair was carried by the crowd to the front of the stage just as Edward Sharpe and the Magnetic Zeros were about to start their next song. He was carried on stage as the lead singer began to sing, 'If I Were Free.' The coolest moment hands down… still brings a tear to my eye.
What are some of your hobbies?
I enjoy designing jewelry, mainly minimalist necklaces with unique stones I find at a local bead store.
I'm a movie buff, I've taken a couple of film courses in college and have gone to several local film meetups. I like most genres from film noir to comedies to action flicks… I can probably recite most of the lines from Ghostbusters (the original one all the way!)
Debuting next month… Erin's Picks!