Tile Trends from Coverings 2023
Check out the Top 3 Trends We Saw At The North American Tile Tradeshow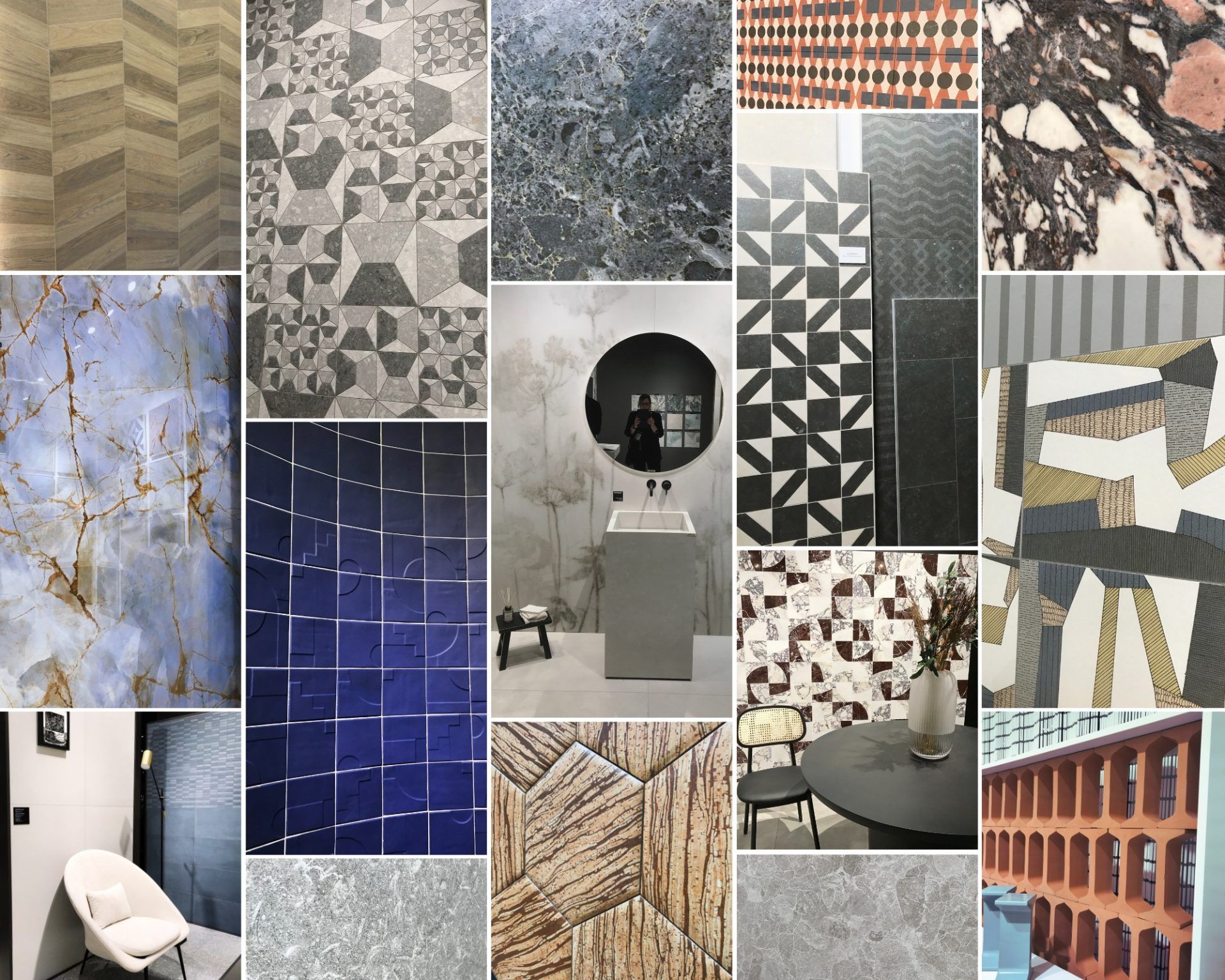 Every year, our team attends Coverings – North America's premier international tile and stone tradeshow –  to discover new trends and aesthetics developed by our US manufacturers. The show also recaps what Italian and Spanish manufacturers have unveiled at Cersaie and Cevisama; sometimes they even showcase a new collection for Coverings. (oooooh!)
Given everything that's gone on the last couple of years affecting supply chain, gas, raw materials, etc., I wasn't expecting to see a lot of new collections from most manufacturers. But, that definitely wasn't the case!! They brought their A-games and showcased great looks, including some very unexpected looks for US manufacturers who have historically leaned more toward residential design vs. commercial design. This was a very welcome surprise.
Let's take a look at the three trends we uncovered at Coverings…
---
1 | TRAVERTINE – The Unexpected Stone
'Oh hello, Travertine. We weren't expecting you.'
We were very surprised to see such a focus on travertine at Coverings, and when I say focus, it was e-v-e-r-y-w-h-e-r-e. Most booths displayed travertine collections capturing the natural color palette of travertine, its vein-cut or crosscut characteristics, or its honed and filled vs. its pitted visuals.
The world of tile has been flooded with white marble visuals for years, so it was a pleasant surprise to see the focus on a classic like Travertine. I think one of the reasons to focus on Travertine this season was in part to the advancements of the 3D digital printing technology and its ability to further capture the essence of natural stones. Travertine's pitting, for example, can be a challenging effect to recreate in porcelain, but the 3D printing is making that more achievable by utilizing its carving-like effect with its glazes in order to capture the pitting. Additional collections utilizing 3D print technology on tile  were featured in Erin's Picks February 2023.
The images below show the various travertine visuals and characteristics seen at Coverings.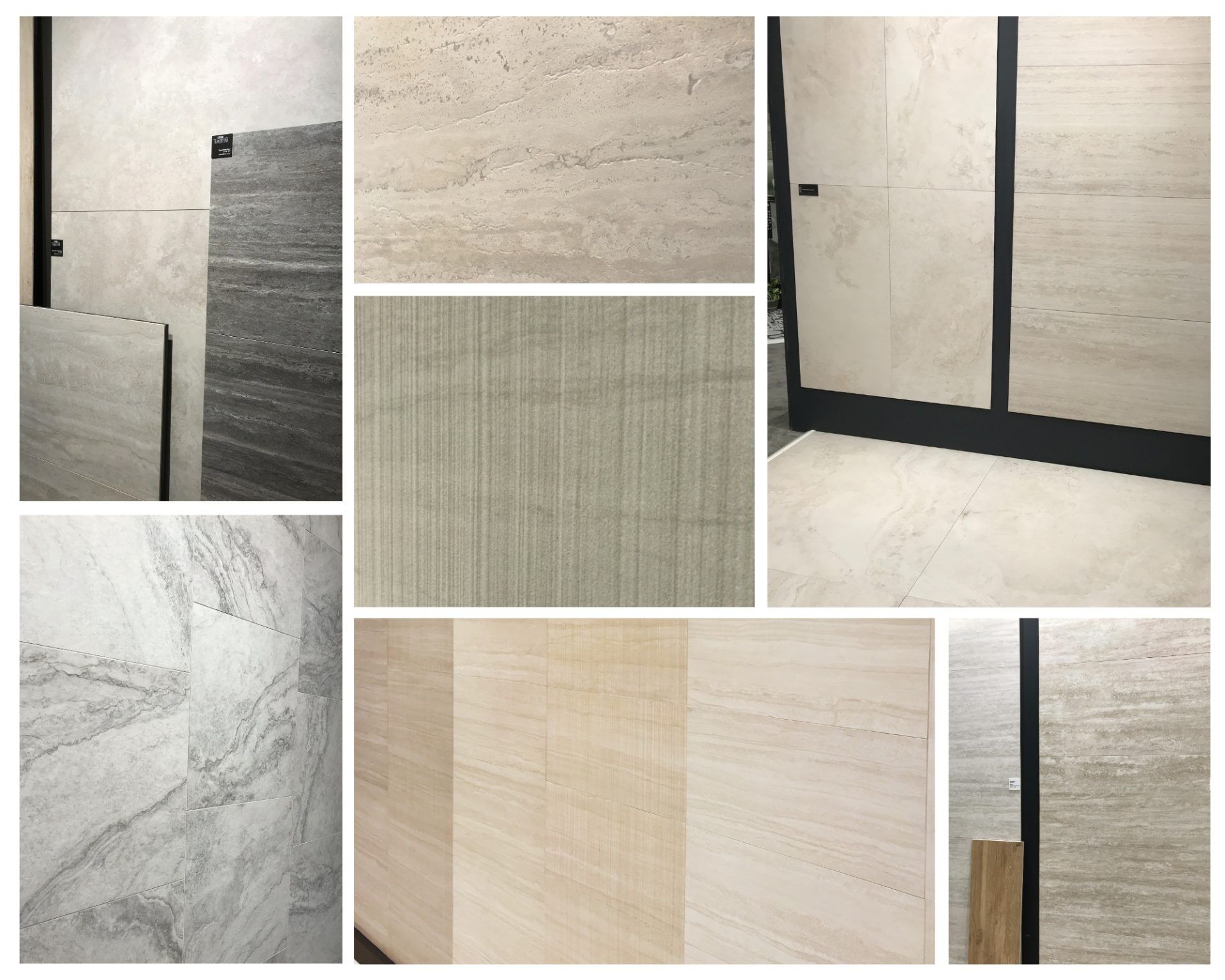 ---
2 | LINE – A Focal Design Element
"Every great space starts with a simple line" – Armstrong Ceiling & Wall Solutions
As designers, we know that the line is one of the most basic elements of design. Lines can be classified as horizontal, vertical, curving, or diagonal, and each has an impact on how we perceive space.
As we look at tile, its shape is made up of a series of lines, sometimes straight and sometimes with undulation. But it's not the shape that was the defining element of the show, it was the use of lines as a relief or intaglio – lines are being used in a multitude of ways, as a small, but impactful detail in a space, or as a bold design element that envelops an entire space. Either way, lines were a focal, if not macro, design element at the show.
The images below show how horizontal, vertical, curving and diagonal lines are being integrated into tile designs.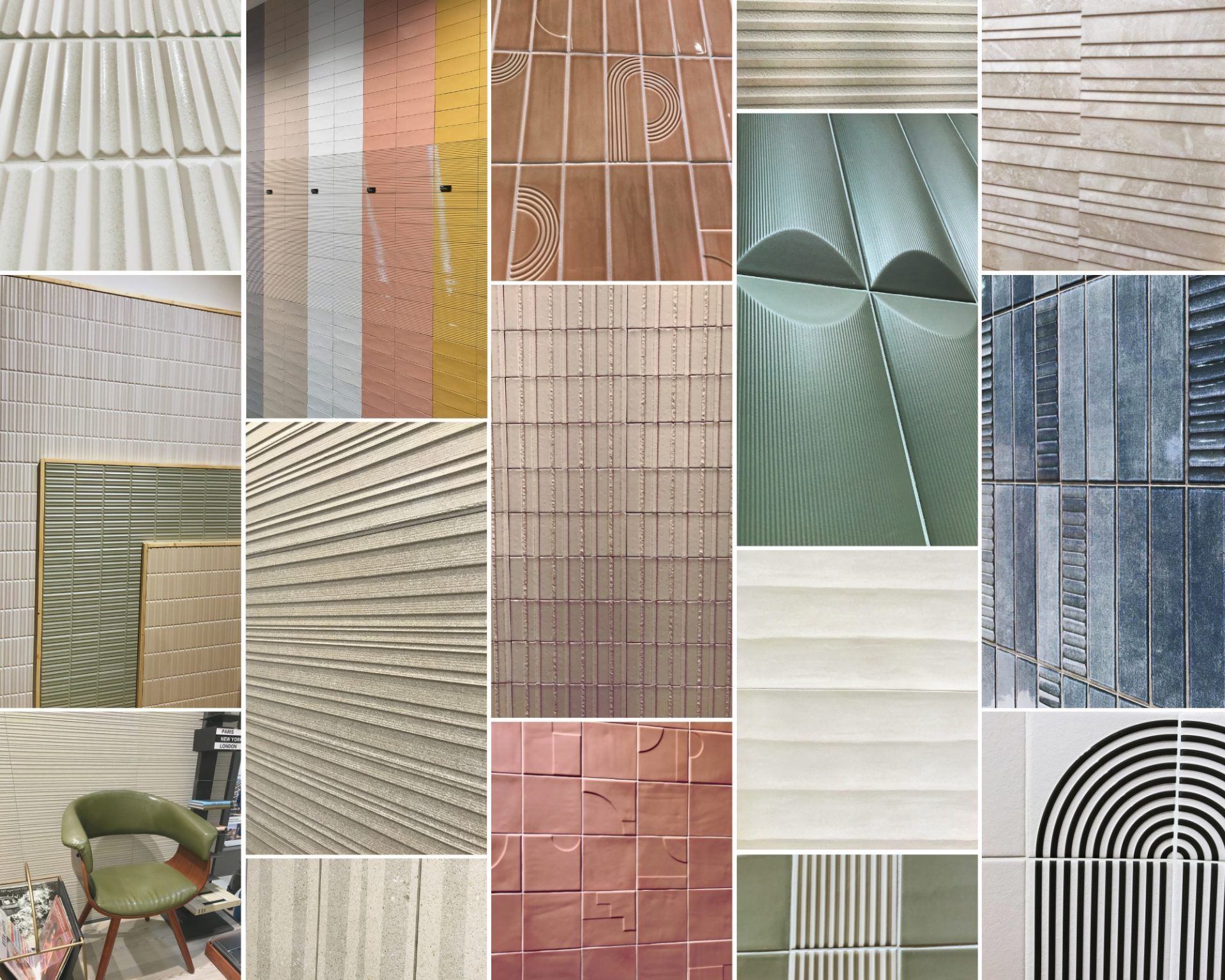 ---
3 | NEW FORMATS – Bricks + Mini Bricks
We've been seeing manufacturers playing with new small format tiles for a few years now, and I think it's safe to say that the brick and mini brick format of 2.5"x5" / 2"x6" / 2"x8" / 2.5"x9.5" / 2"x10" is here to stay, and I for one am loving it.
I'm loving it because some collections in these formats are modular, allowing us to create some cool patterns and design details as seen with our Muse collection. I also like the scale and portion of these tile sizes, they seem to fit and balance out spaces nicer than a 3"x12" or 4"x12".
The images below show some new bricks and mini bricks we saw at the show.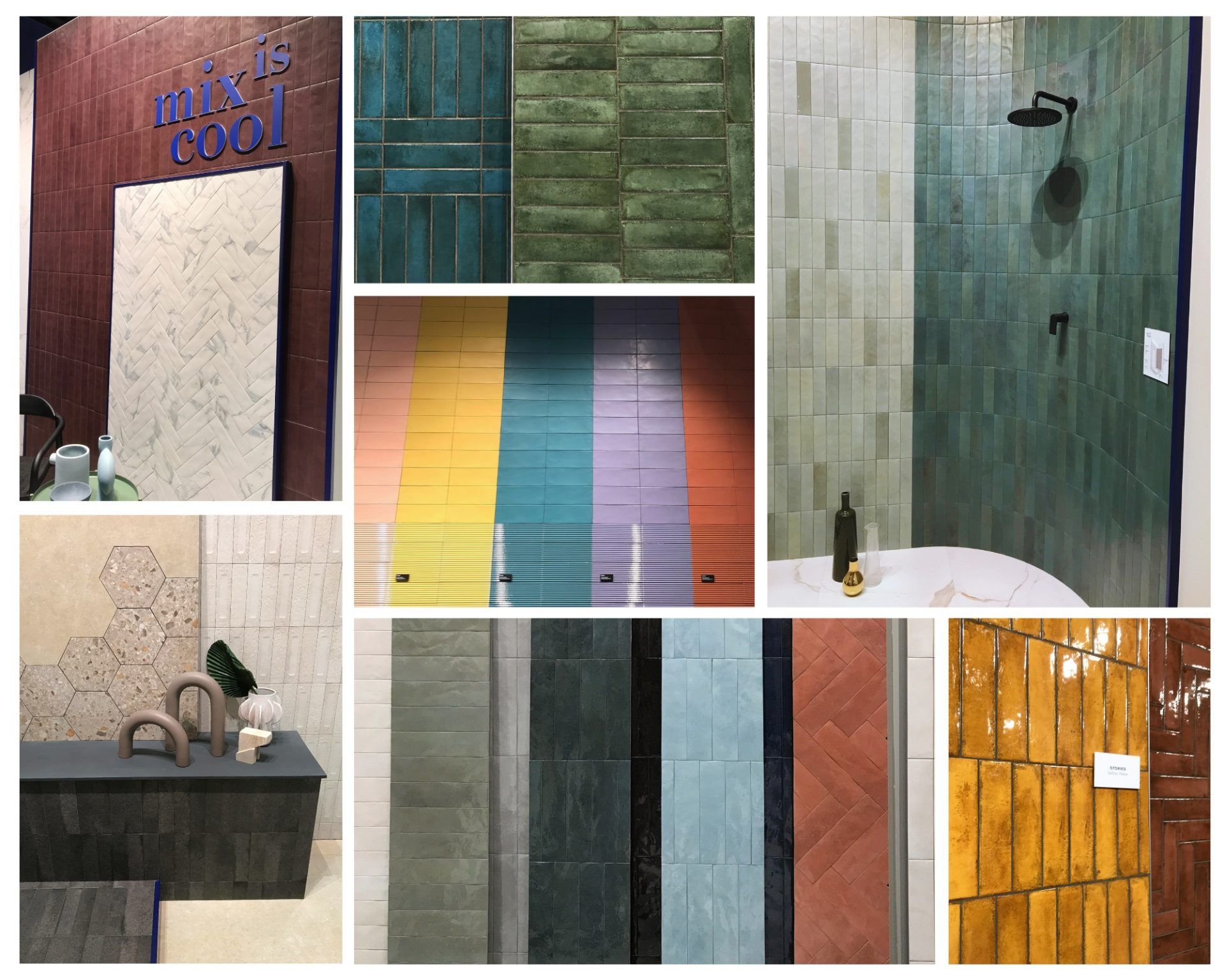 ---
In August, we will showcase our 2023 Fall Winter Featured Collections which will include some of the latest and greatest from our US, Italian and Spanish manufacturers,. Stay tuned for our release date! 
As always, please contact your Creative Materials' Architectural Sales Consultant or Design Services Consultant for any product and design-related questions.
Until next time…
E