Dominoes, Rhomboids and Yellow, oh my!
Happy Spring Everyone!
I hope you're enjoying some warmer weather! The temperatures in Albany look like a roller coaster ride right now… up/down/up/down. I'm hoping there won't be anymore snow!!
Last month I unveiled the Design Concepts for Tile created by Laura Wunsch and myself of Creative Material's Design Services department. This month I will dive into the last two Design Concepts for Tile which focus on spaces within a restaurant. (If you would like to see last month's Design Concepts, click here.)
  Design Concepts for Tile | Bold Collection
The Bold Collection is a close second to the Eclectic Collection. I love the colors and the feel of the space. To emphasize the bold element in this concept, we took high contrasting colors, black and white, and added a punch of yellow. The yellow adds a playfulness to the otherwise dramatic elements in the space. We brought this playfulness to other elements, like the Dominoes fabric by Maharam on the chairs and that punch of yellow as the piping on the banquette seating. If you look closely, the back of the banquette seating is constructed of Cementing Cross Hatch, which has a soft crosshatching gold glaze on it. The wireframe light fixtures create a fractured illumination giving drama to the space, which is exaggerated by the glossy surface of the Yellow and White Chroma.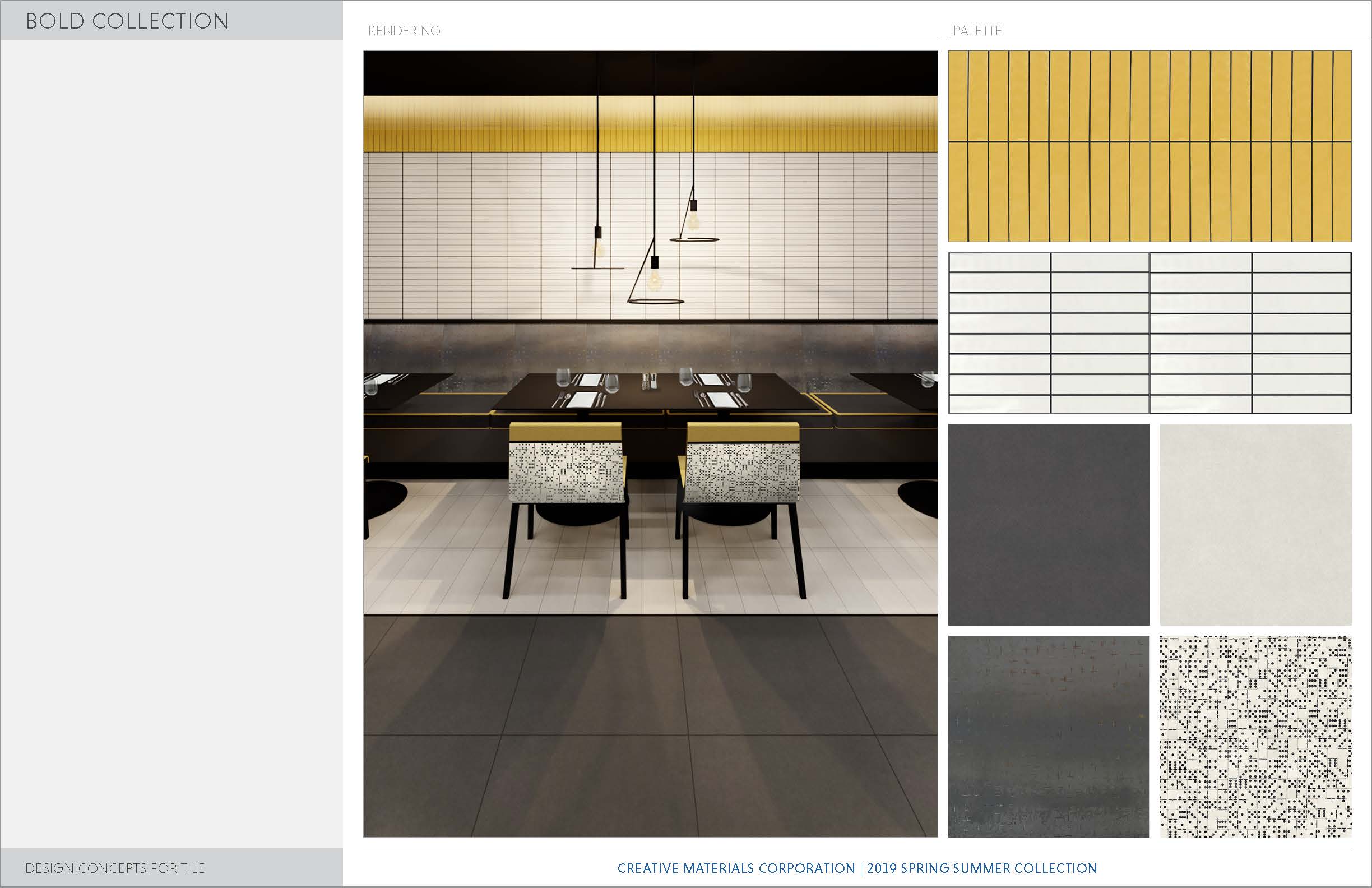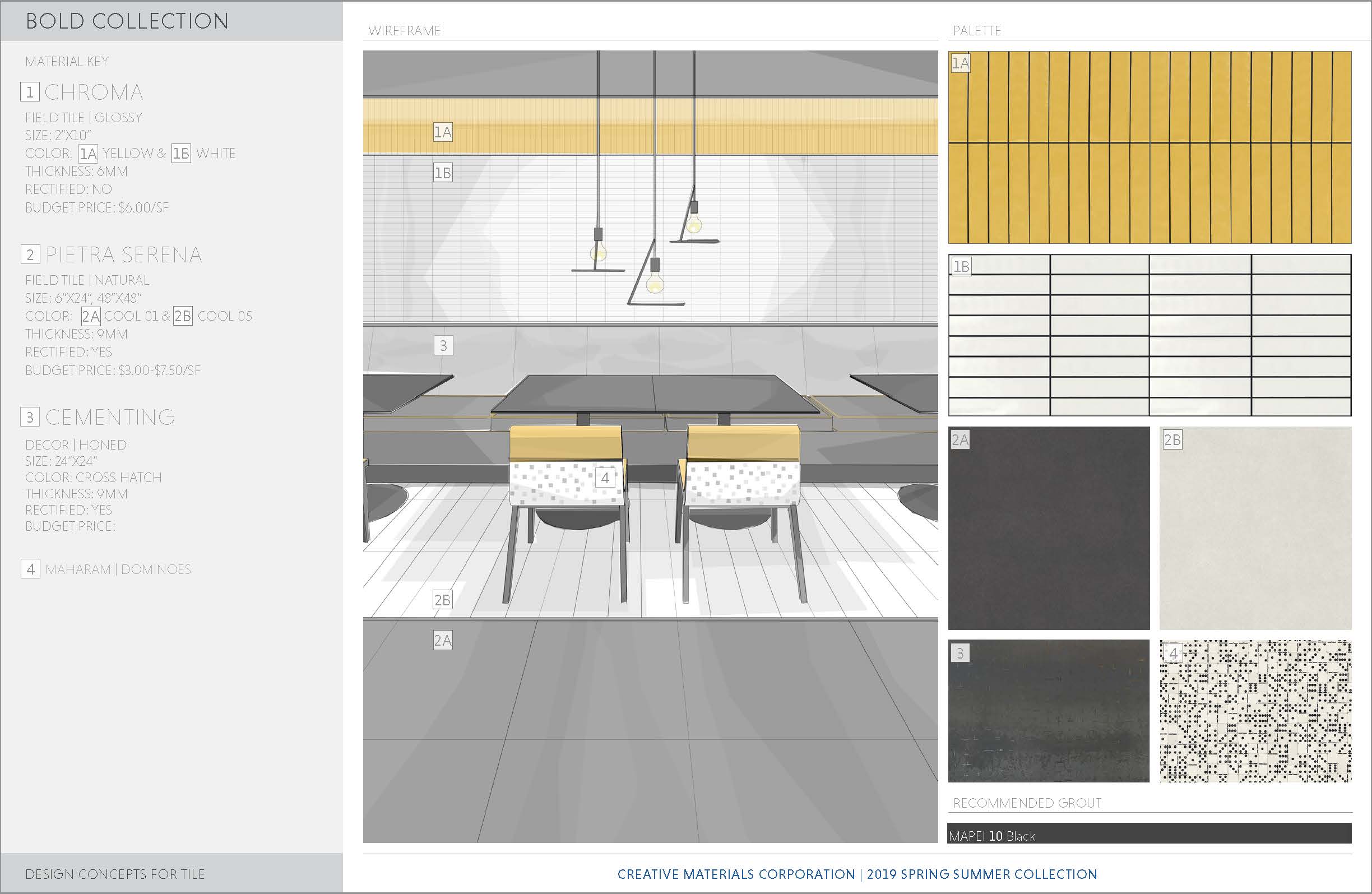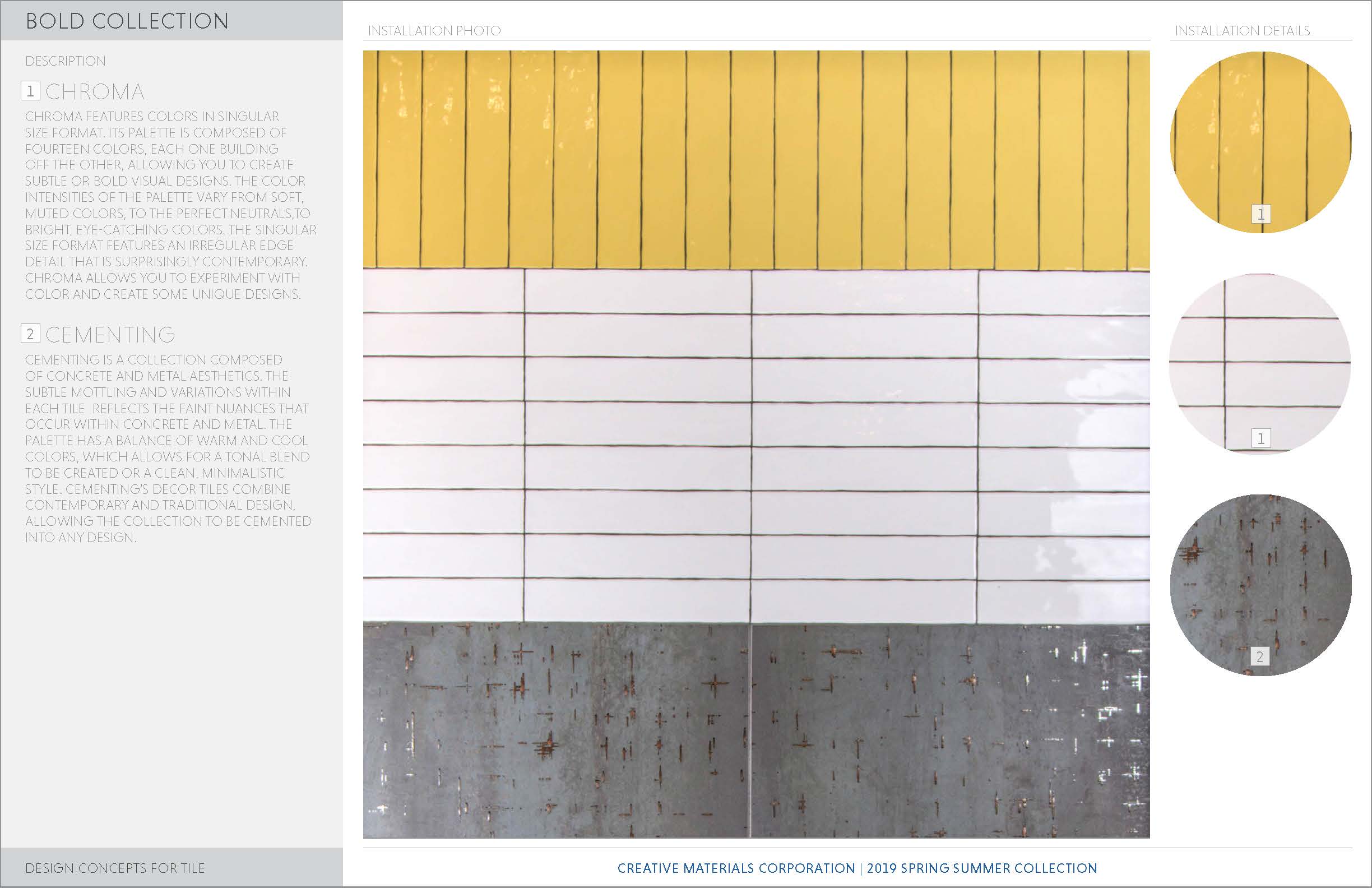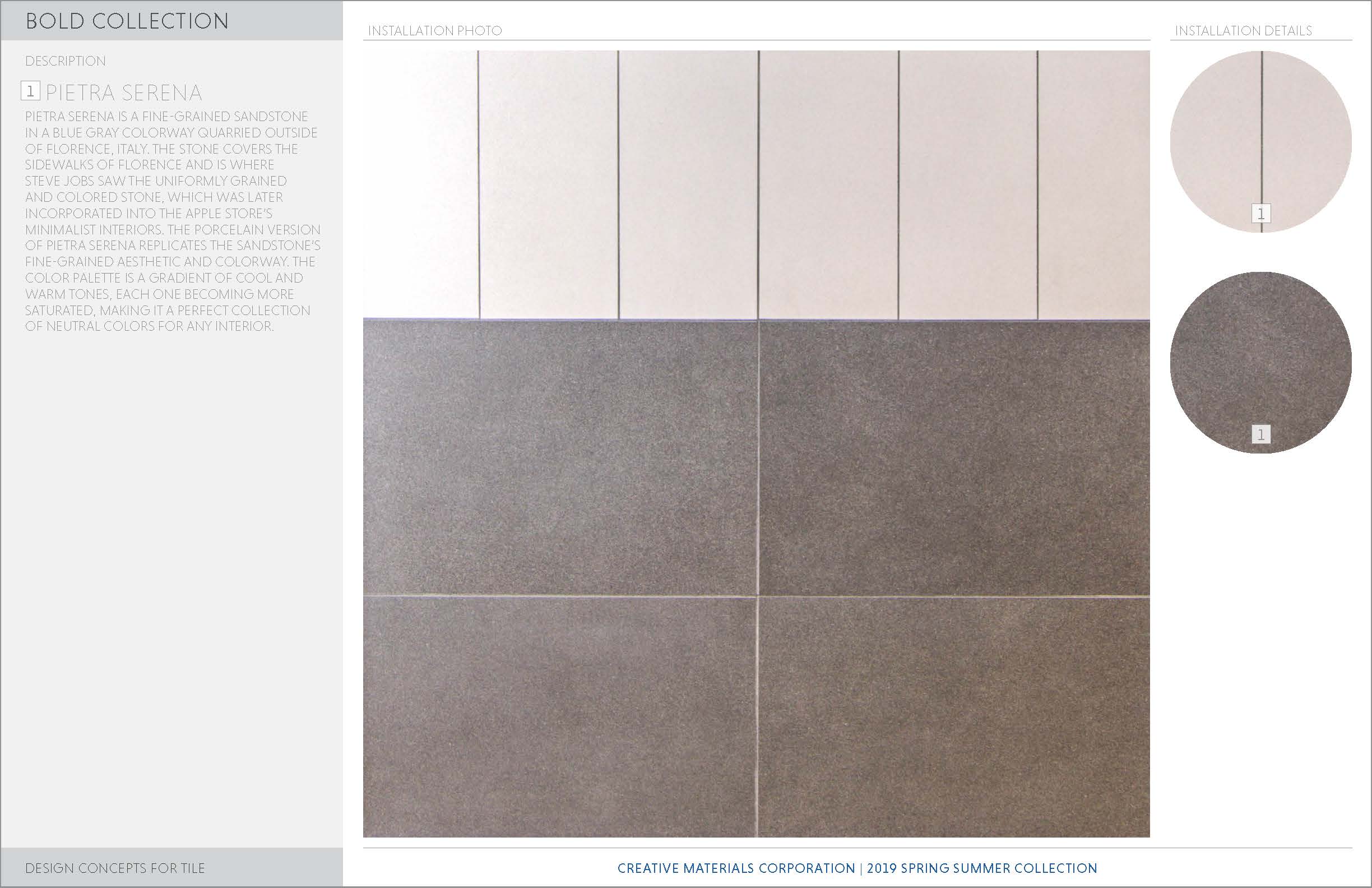 The Bold Collection features the following tiles and grout colors:
From our 2019 Spring Summer Collection: Pietra Serena with Mapei grout in 10 Black
Request samples of Pietra Serena, Chroma and Cementing.
  Design Concepts for Tile | Transitional  Collection
The Transitional Collection displays a unique mix of traditional materials in contemporary formats mixed with rich colors and materials. I like how the old, weathered terracotta look of Cotto + Wood is transformed simply by changing the format to an elongated plank. This change in format allows you to create playful movement across the floor by mixing in other colors. It also allows you to create minimal panel like stacks with a straight set layout. The Geo Cemento rhomboid creates an interesting diagonal movement in the space when turned on its side. This contemporary format has an irregular and organic glaze that nods to traditional ceramic glazes of the past. This mix of aesthetics makes Geo Cemento and Cotto + Wood perfect for this Transitional concept.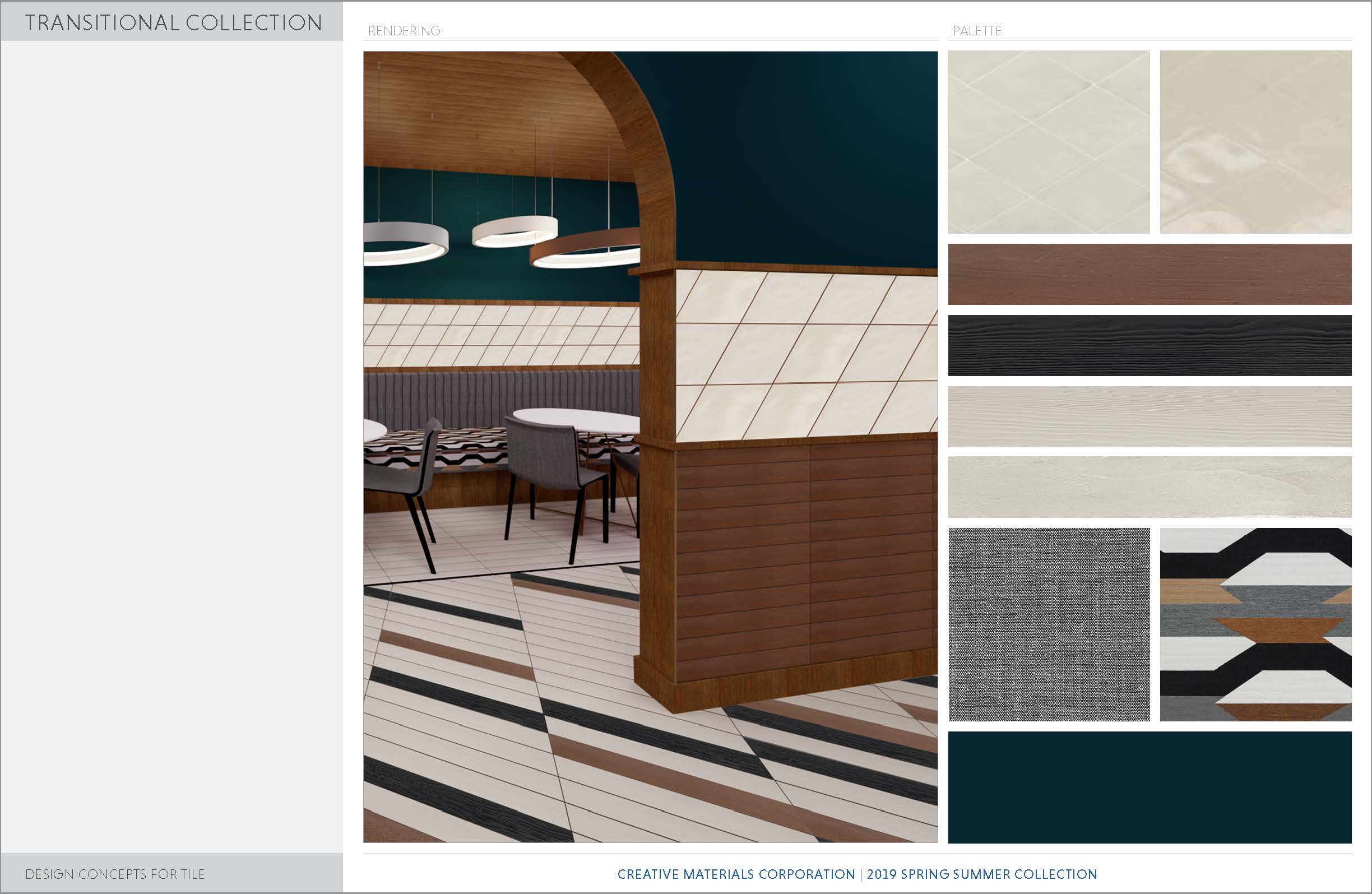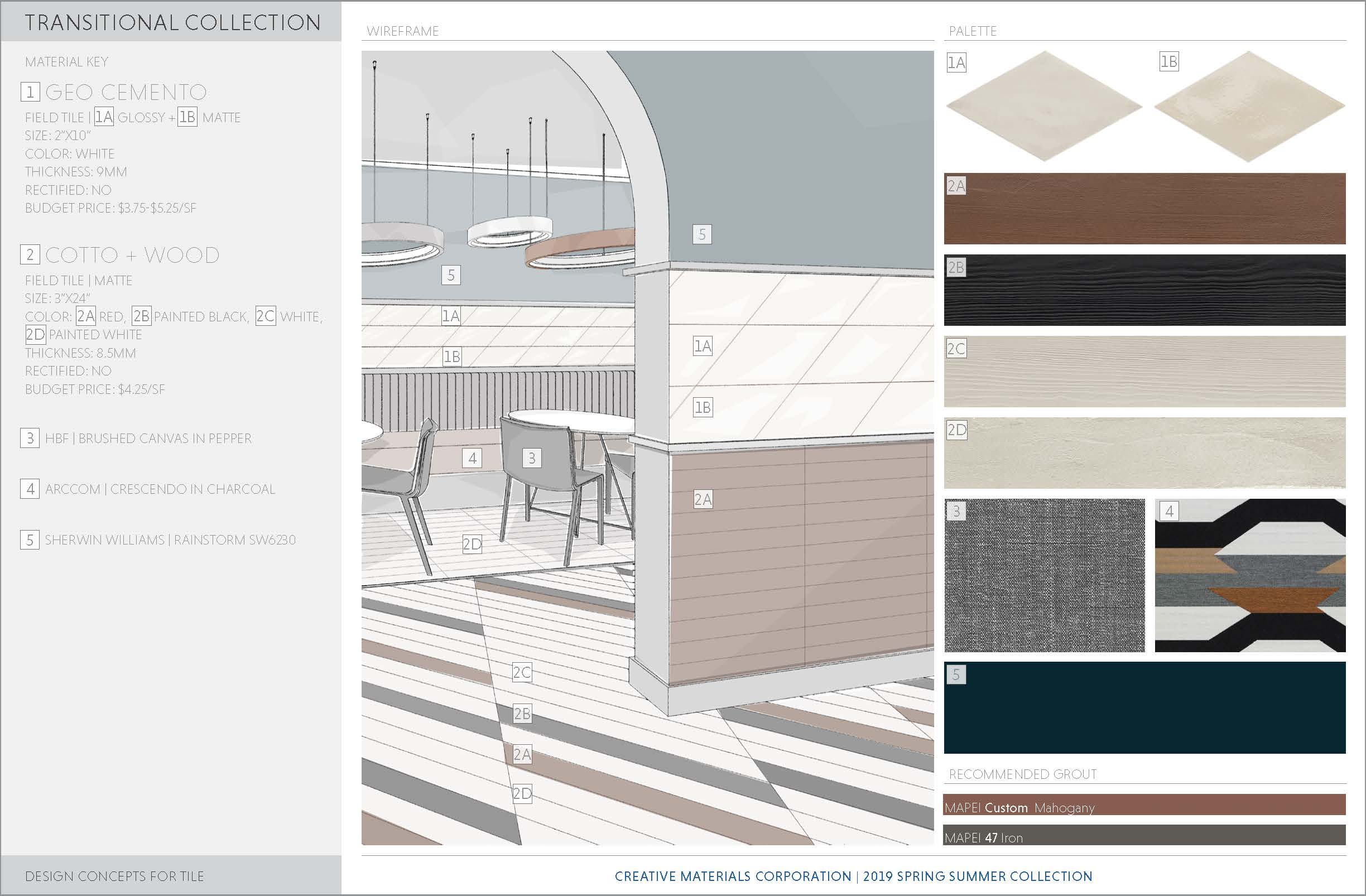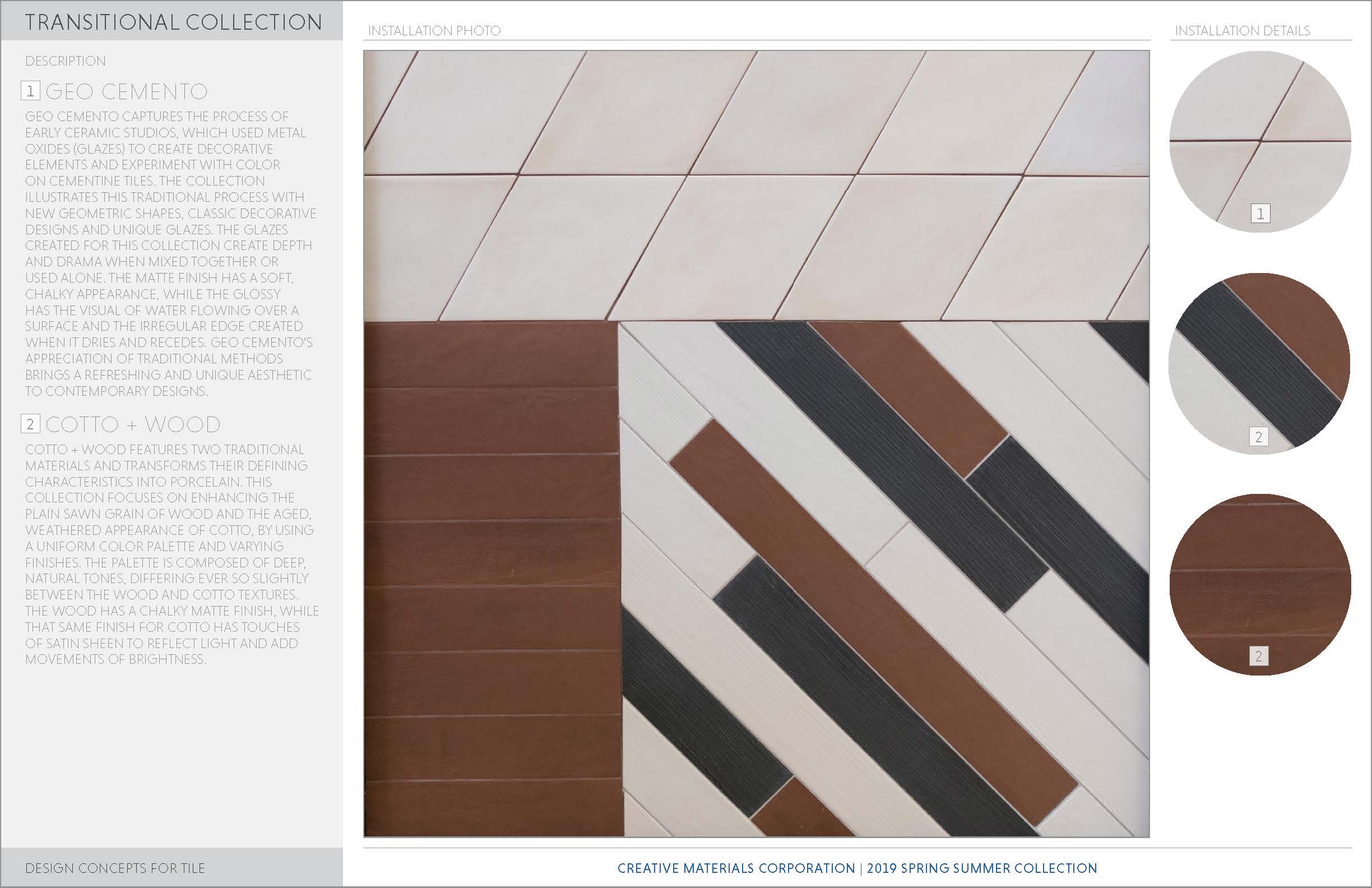 The Transitional Collection features the following tiles and grout colors:
From our 2019 Spring Summer Collection: Geo Cemento and Cotto + Wood with Mapei grout in 114 Mahogany and 47 Iron
Request samples of Geo Cemento and Cotto + Wood.
  The Takeaway From This Project
Our renderings are obviously emphasizing a lot of hard materials, which may not be realistic for every space, but soft materials like area rugs or window treatments could be integrated to provide softness under foot or help with sound absorption. Our goal was to give you ideas of different ways to combine and orientate materials within a space.
These concepts were created in Revit and Photoshop. The layouts were formatted in Adobe InDesign. If you have a project where you'd like the Design Services department to assist in the development of your design or pattern layout, please send us an email to [email protected]. We look forward to creating with you soon!
Until next time…
E