Sustainability has emerged as a key driving force in the built environment. As society becomes more aware of the pressing need to address climate change and create healthier spaces, architects, designers, and specifiers embrace sustainable practices and materials. This blog delves into the growing influence of sustainability in the built environment and how it shapes behavior. Additionally, it explores the rising popularity of LEED (Leadership in Energy and Environmental Design) and WELL contributing products, including the reasons behind their ascent.
Influence on the Built Environment
The built environment-encompassing buildings, infrastructure, and communities significantly impact climate and human well-being. As a result, there has been a paradigm shift toward designing and constructing sustainable structures that minimize negative environmental impacts and promote occupant health and comfort.
In a circular approach to design, sustainability now exists as a fundamental consideration in the decision-making process. Conscious creation is a way of approaching the process which promotes longevity through thoughtful environmental practices. Specifiers are crucial in selecting construction project materials, products, and systems. They increasingly prioritize sustainable solutions that offer environmental benefits, energy efficiency, and occupant well-being. These practices drive market demand for sustainable products, encouraging manufacturers to develop innovative, eco-friendly solutions.
Sustainable materials such as tile and LVT have become essential for achieving sustainability goals, offering many environmental benefits, including reduced energy consumption, improved indoor air quality, and lower carbon footprints. Furthermore, these materials are known for their durability, longevity, and ease of maintenance, contributing to their credentials.
Tile: A Sustainable Choice
Due to tile's aesthetic appeal and durability, it has been a popular choice for architects, designers, and specifiers. Additional sustainable advantages include:
Recyclability: Ceramic and porcelain tiles can be recycled at the end of their life cycle, reducing waste and conserving resources.
Manufacturing: Manufacturers are adopting energy-efficient technologies and utilizing recycled materials in their productions. Additionally, they source regional raw materials.
Low Energy Needs: Ceramic and porcelain tiles can absorb, store, and slowly release heat, helping regulate fluctuating temperatures in buildings, ultimately leading to reduced energy consumption.
As a result, tile can contribute to green commercial design and help reduce a building's overall carbon footprint.
Luxury Vinyl Tile (LVT): A Sustainable Alternative
Luxury Vinyl Tile (LVT) has gained prominence among flooring materials. It is known for versatility, durability, and, much like tile, the ability to mimic the look of natural materials.
FloorScore® Certified: FloorScore® is the most recognized indoor air quality (IAQ) certification standard for hard surface flooring materials, adhesives, and underlayments. Qualify for: LEED v4, WELL Building Standard, BREEAM International, BREEAM UK, Collaborative for High-Performance Schools (CHPS), Green Globes, Green Guide for Health Care 2.2, and more.
Manufacturing: Manufacturers have introduced phthalate replacements, including bio-based plasticizers and a terephthalate called DOTP. Additionally, some are adopting closed-loop manufacturing processes.
As LVT continues evolving through innovation, it will gain more traction in the sustainability movement.
Cost and Delivery of Sustainable Products
Sustainable products, other than tile, may not always be the fastest or cheapest due to reasons such as:
Manufacturing Processes: Sustainable products often require a more meticulous manufacturing process to ensure environmentally friendly practices.
Materials Selection: Sourcing FSC-certified wood for flooring or using recycled materials in tile production can sometimes result in higher costs than conventional alternatives.
Quality and Durability: Sustainable products are designed to withstand wear and tear, reducing the need for frequent replacement costs with a higher upfront cost.
However, in the case of sustainable tile products, budget-friendly and quick-supply options are available due to several factors:
Market Demand and Competition: As sustainability gains traction, manufacturers are encouraged to offer affordable options that cater to various budget ranges.
Advances in Manufacturing Technology: Manufacturers have developed innovative techniques that allow for cost-effective production, including optimized material usage and streamlined production processes.
Access to Recycled and Eco-Friendly Materials: Sustainable tile options often utilize recycled content through established networks or partnerships for sourcing, ensuring a consistent and quick supply chain.
Scalability and Availability: With higher demand in the market, manufacturers produce these products in larger quantities, often helping to drive down costs and ensure delivery to meet project timelines.
While materials required to construct the built environment may not always be the fastest or cheapest across all industries, Creative Materials proudly offers budget-friendly options with sustainable attributes.
Material Partner Selection
To fully embrace sustainability, architects, designers, and specifiers recognize the importance of collaborating closely with their material partners. Manufacturers and suppliers alike play an essential role in providing the necessary information and resources to make sustainable material choices.
These documents provide valuable information about a material's environmental impact, including its carbon footprint, energy consumption, and content of harmful substances.
Recycled Content Documentation
Through research and careful selection of manufacturing partners, Creative Materials proudly offers over 250 LEED-Friendly products. This due diligence affords confidence to our clients that together we can work towards a greener and healthier built environment. Transforming how we design, construct, and inhabit buildings for a sustainable future.
It's important to note that beyond the products, a team of experts at Creative Materials are LEED Green Associates (link to definition), and one is a WELL Accredited Professional (link to definition). Their extensive knowledge offers several advantages:
Expertise in Sustainable Design: LEED Green Associates and WELL Accredited Professionals possess an in-depth knowledge and understanding of sustainable design principles, strategies, and certification requirements. Their expertise can help guide architects, designers, and specifiers through the complexities of sustainability by providing valuable insights. This includes recommendations for selecting surface materials that align with standards.
Comprehensive Product Knowledge: Their expertise enables them to provide detailed information about the sustainability attributes, environmental performance, and health impacts of various surface materials.
Customized Solutions: LEED Green Associates and WELL Accredited Professionals can offer tailored solutions that meet the specific sustainability goals of a project. They can provide surface material recommendations that address a given design's unique requirements and challenges.
Guidance on Certifications and Compliance: These experts can assist with documentation and data collection of our products to enhance the chances of project success.
Access to Innovative Products: Staying current with the latest advancements in sustainable surface materials ensures that product selection has a wide range of innovative, environmentally friendly, and health-conscious products.
Partnering with a surface materials supplier retaining in-house experts safeguards valuable guidance and knowledge sharing with the commercial construction industry. It enhances the decision-making process, facilitates the selection of sustainable materials, and increases the chances of achieving desired sustainability certifications, all while prioritizing the health and well-being of building occupants.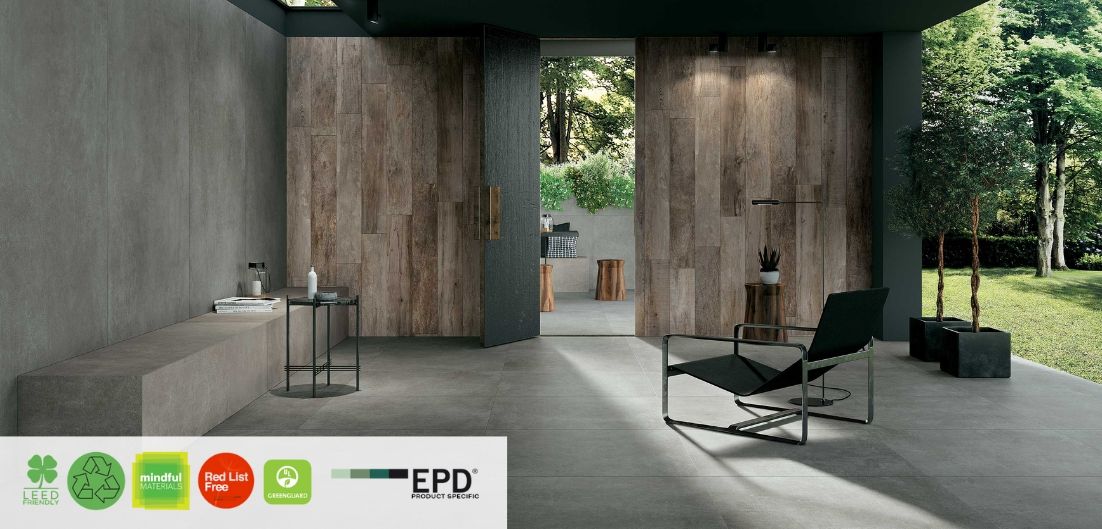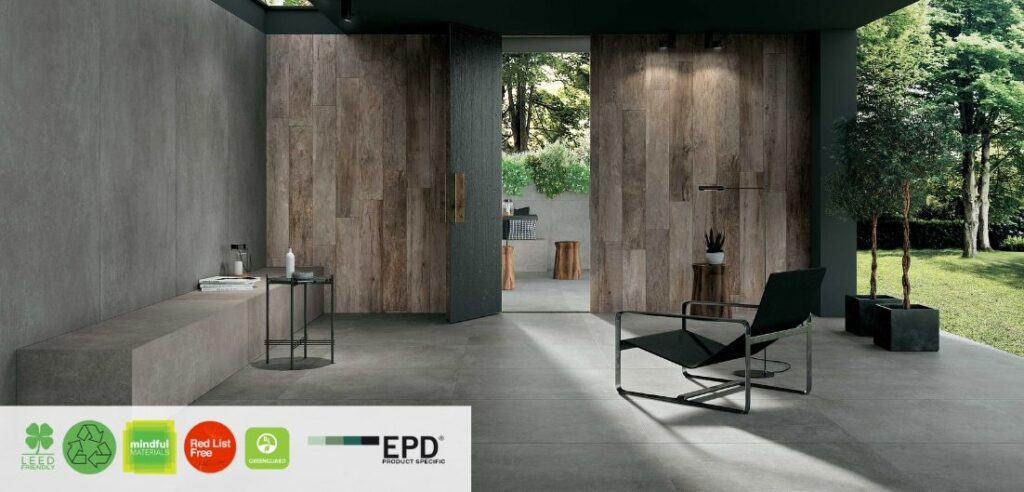 The Rise of LEED and WELL Contributing Products
LEED and WELL Building Standard certifications have become highly sought after in the industry, representing internationally recognized standards for sustainable building design and operation. Architects, designers, and specifiers are turning to products that contribute to achieving these certifications, leading to a surge in the popularity of contributing products. Let's explore the reasons behind their rise: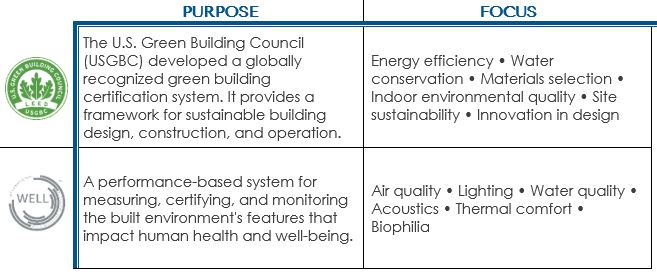 The Power of Specification
Architects and designers influence the market by specifying sustainable project materials. Prioritizing sustainable options like tile and LVT drives demand, encourages innovation, and shapes the future of sustainable design.
Through the specification of products that fit within LEED and WELL categories, specifiers contribute to overall sustainability, and resilience of the built environment is promoted. These products improve the overall quality of life for occupants. Projects that achieve these certifications gain recognition for their commitment and meet the growing market demand for sustainable, healthy buildings. Specification choices impact the immediate project and have a ripple effect on the industry.
Sustainability's influence in the built environment will continue to grow, driven by the urgent need to address climate change and create healthier spaces. Architects, designers, and specifiers embrace sustainable practices and materials, recognizing their role in shaping the future. Key factors such as circular economy principles, passive design strategies, resilience and adaptation, biodiversity considerations, social equity, and technological advancements contribute to the evolving landscape of sustainable design and construction.
With this blog, we hope you better understand how partnering with a surface material supplier who understands the importance of sustainability can enhance sustainable design processes; how the influence of specification meets stringent sustainability criteria, inspires innovation, and propels the market forward.
Ultimately, power lies in the collective ability to shape the future of sustainable design.
Successful, sustainable building practices begin with supporting the people making sustainable choices. Creative Materials emphasizes that support throughout our company and client reach.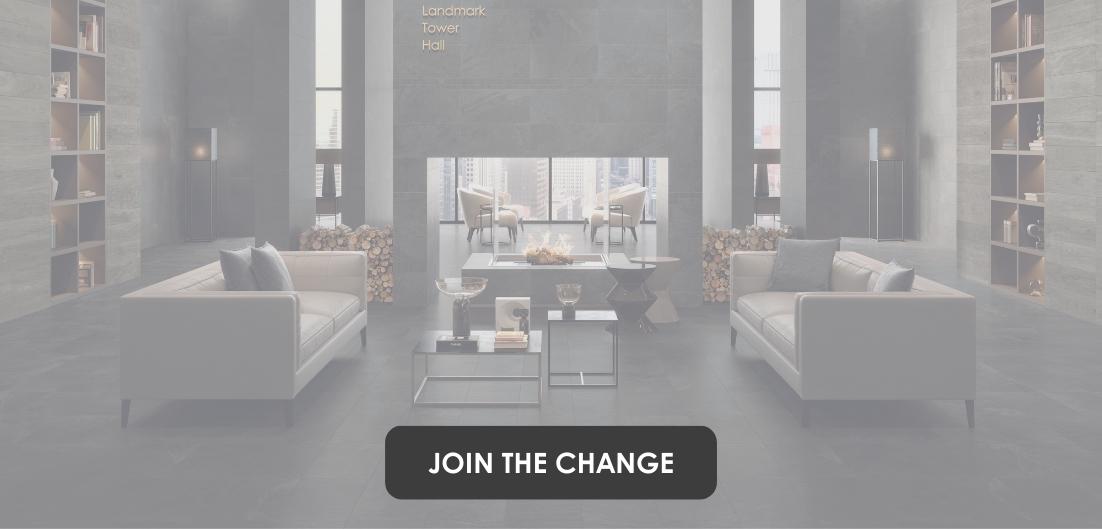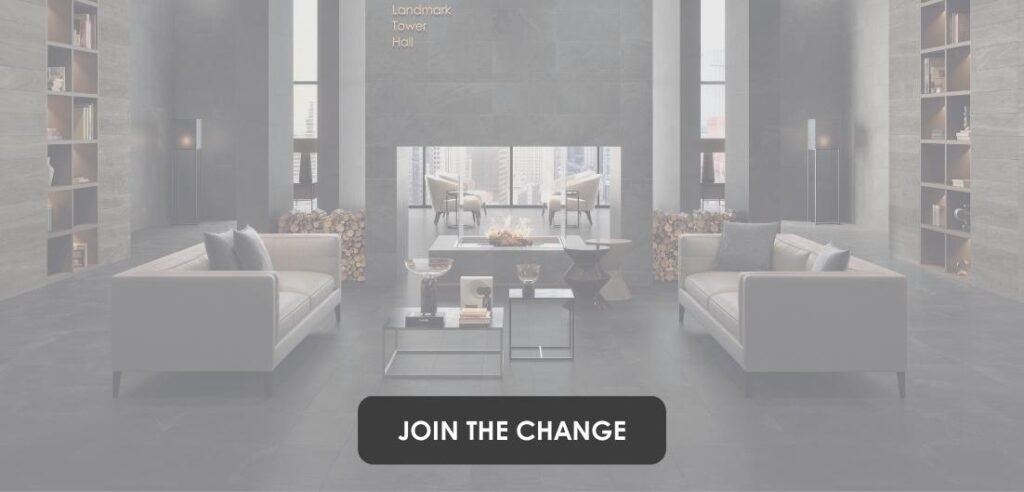 Read more about EPDs and HPDS on our blog – Why are EPDs and HPDs Important in Green Commercial Design?