A good tile specification in a commercial construction project lays the foundation and groundwork for a successful installation, providing detailed step-by-step instructions along the way. A comprehensive tile specification ensures the project meets design standards, quality expectations, and durability requirements. Additionally, a thorough specification guides and protects all parties from job site failures, construction delays, time-consuming RFIs, and costly change orders. Working in this industry for over 25 years has taught me the true value of minding and using the carefully laid out specification guidelines available. "An ounce of prevention is worth a pound of cure," "measure twice, cut once," and all the other classic adages make sense and prevent a world of hurt…and cost!
Ok, ok. I think I've made my point. While you already may know the how, what, and why of specifications, this blog offers a bit of insight into the general layout of a tile spec. We'll also cover deeper thoughts, tips, and explanations for each section to help guide the specification process.
---
Project Assessment
A project assessment determines the scope of the project. It identifies the areas where tiles will be installed, such as lobbies, bathrooms, kitchens, locker rooms, BOH (back of house), etc. Considering the project's purpose, foot traffic, light or moderate commercial traffic, environmental conditions, and design aesthetics are essential in this process. Although you may think this is all preliminary work, it is an ideal time to involve your Architectural Sales Consultant. These experts offer extensive experience and knowledge to assist you with identifying areas optimal for tile placement. There may be areas you never considered before that may now make sense to carry exciting elements of design into new spaces. Think porcelain pavers for patios and porcelain brick looks or metal-look gauged panels for exterior walls or fireplace surrounds! Additionally, working with our experts may save you time and money on your project along the way, and who wouldn't find value in that?
Tip: Be Specific | Based on your knowledge, you may think that using a broad and generic ANSI standard is enough. Unfortunately, I'm here to inform you that it is not. The reason is genericity. (I had to check and ensure that it is an actual word.) ANSI standards are recommendations only. There is no rule or law stating those standards must be followed. A better way to achieve the goals set in the project's initial conception is to list specific TCNA (Tile Council of North America) methods for each area where tiles will be installed. Providing specific TCNA installation methods per scope and area removes ambiguity and uncertainty. This benefits all parties involved in this part of the design and construction process. While it does take some initial attention, the result outweighs any extra effort put in at the beginning. (Adages are starting to make sense now, right?!)
Material Selection
Updating an old, recycled master specification with new and relevant methods is vital. Delete all non-applicable terms and methods in both the Product and Execution portion of the tile specification. Your tile specification must also be current and relevant, with tile, grout, and setting material products constantly changing and evolving. Choose the appropriate body type of tile based on the project's needs and specifications. Consider factors such as durability, water resistance, slip resistance, maintenance, accessibility, and aesthetic appeal. And remember, this step should be completed for each area of the project using tile. Different areas require different products and setting materials.
Another advancement technology provides is the ability to carry one aesthetic or a complementary look from the interior to the exterior of a building. Several porcelain tile collections offer colors and sizes in standard thickness and 20mm, in varying finishes ideal for an exterior application. Inside to outside dining areas, hotel porte-cochere to lobby; designs can seamlessly flow between areas using the same product. Perhaps the polished version of a classic marble look can be used throughout the lobby of a hotel, yet in the same color, carried to the porte-cochere in a porcelain paver with a grip finish. Possibilities have come so far.
While it may feel overwhelming, you can rest easy knowing that our experts are your lifeline to achieve this quickly. Knowing and understanding what materials work best in which areas to achieve a successful result is merely one feature that sets Creative Materials apart. Sorry for the shameless plug, but partnering with the average "tile rep" is not the same.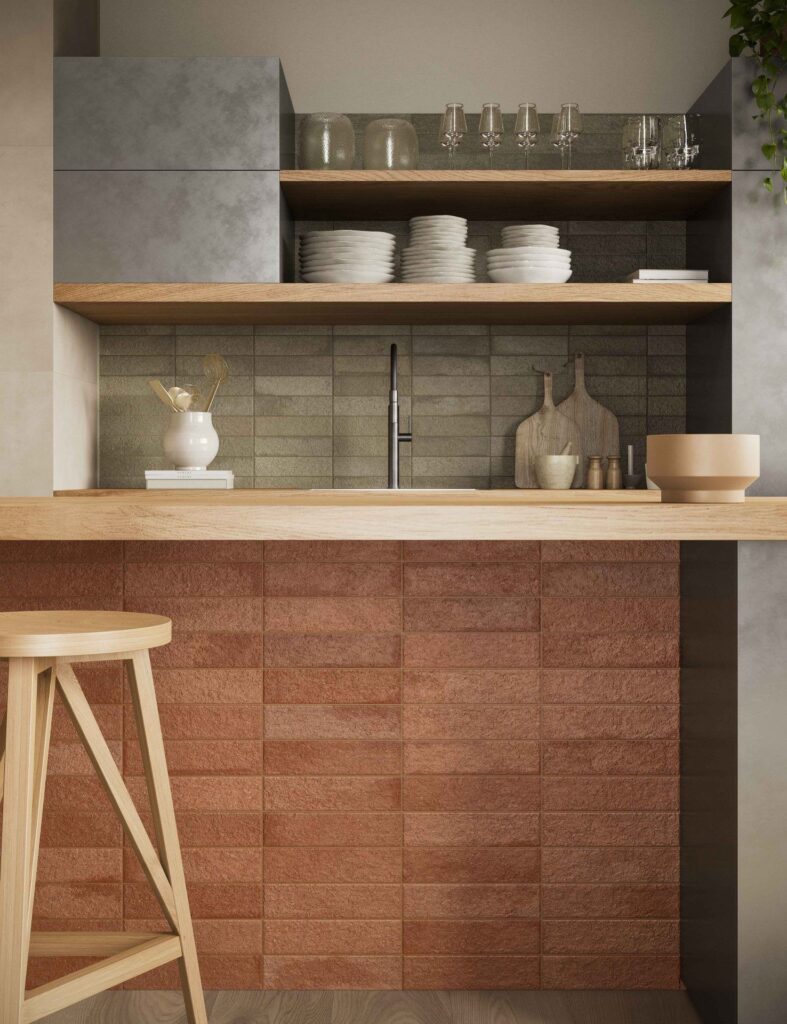 Considerations
Tile Size & Pattern: Specify it! Common sizes like 12 "x12" and 24 "x24" are no longer the only options. The options are limitless, from small brick formats to gauged porcelain slabs that can save time and money on remodels. Decide on patterns like herringbone, staggered, diagonal, or straight lay to create visual interest or include dimensional wall options.
Grout and Adhesive Selection: Specify the type of grout and adhesive suitable for the installation. Different tiles and areas require specific adhesive and grout types to ensure proper bonding, water resistance, and longevity.
Substrate Preparation: Define the requirements for preparing the surface where tiles will be installed. This may involve subfloor leveling, waterproofing, and ensuring proper structural integrity.
Installation Details: Outline the installation methods, including substrate preparation, adhesive application, tile placement, grouting, and curing times. Specify any special considerations, such as expansion joints, movement accommodations, or transitions between materials.
Quality Standards: Specify industry standards and tolerances that the installation must meet, such as the TCNA (Tile Council of North America) Handbook guidelines or local construction codes. Detail expectations for tile alignment, joint width, edge straightness, and overall appearance.
Testing and Mock-ups: Consider requesting sample tiles and mock-up installations before proceeding with the entire project to ensure that the chosen materials, patterns, and installation methods meet expectations. Now, it's finally time! Time to order those wonderful samples! And don't worry about receiving tile samples that won't work for your project and lay around collecting dust. Because you've worked with a knowledgeable ASC, you only receive options that could work. See how much time you've saved already? Exciting, isn't it?
Maintenance and Care: Provide guidelines for the ongoing maintenance and care of the installed tiles to ensure their longevity and aesthetics. This may include recommended cleaning products, frequency of maintenance, and any precautions that should be taken.

Tip: Care and Maintenance documents are available on our website and can be customized for your project.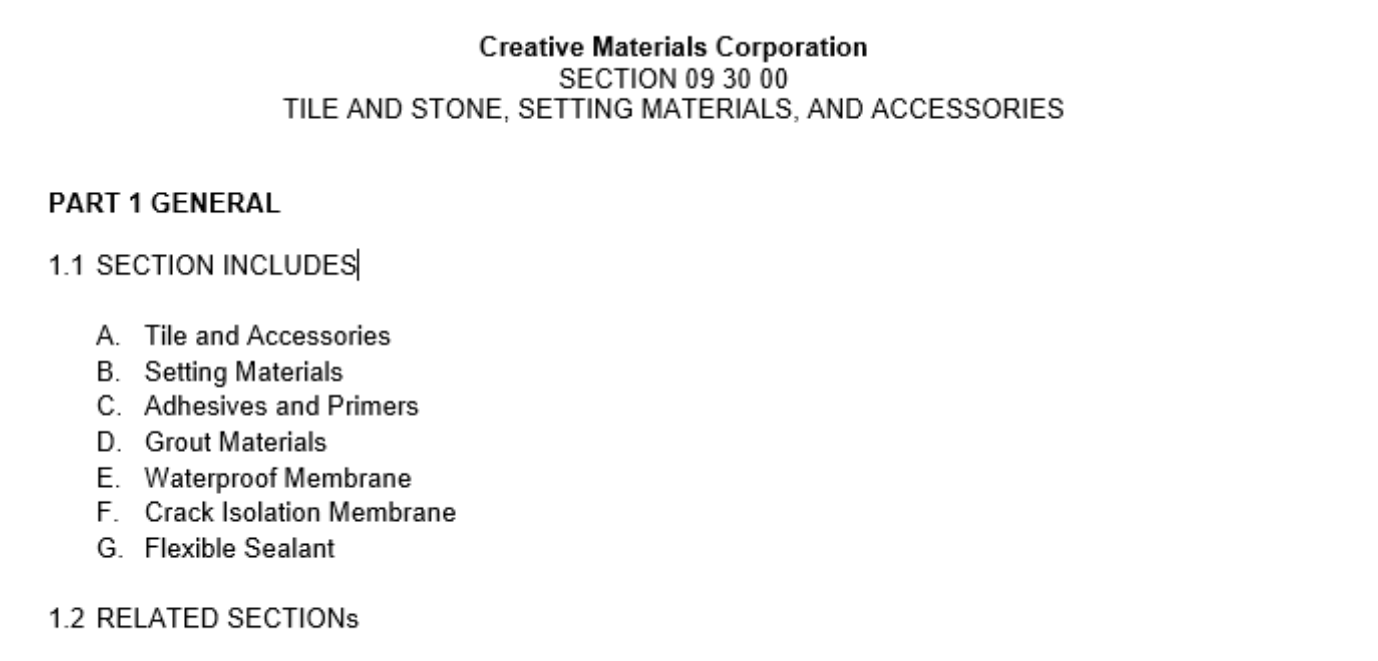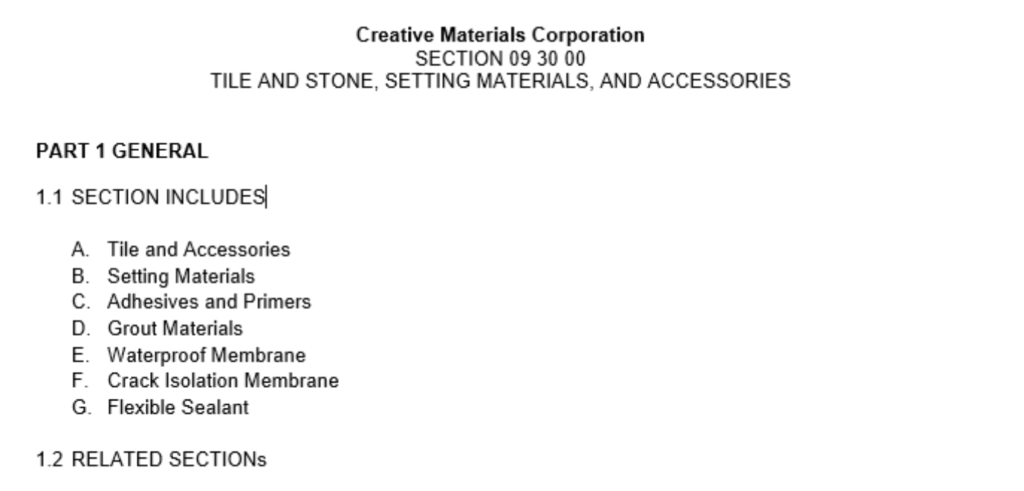 Communication & Documentation
The responsibility for communicating and documenting tile specifications within a project can vary depending on the specific project, its complexity, and the roles and responsibilities of team members. That said, this step is crucial regardless of responsibility. Here are some key stakeholders who typically play a role in this process:
Project Manager: The project manager is often responsible for overseeing all aspects of a project, including communication and documentation of specifications. They may coordinate with various team members and stakeholders to ensure that tile specifications are clearly defined, documented, and communicated effectively.
Architects or Designers: In construction or architectural projects where tile specifications are critical, architects or designers often play a central role in specifying the type, size, color, pattern, and layout of tiles. They communicate these specifications to other team members.
Tile Supplier or Manufacturer: Sometimes, tile specifications may come directly from tile suppliers or manufacturers. They can provide detailed information about the tiles they offer, including technical specifications, colors, patterns, and installation requirements.
Contractors or Installers: Contractors or tile installers are responsible for implementing the tile specifications on-site. They need clear and accurate documentation to ensure the tiles are installed correctly and meet specified standards.
Project Team Members: Depending on the size and complexity of the project, various team members, including engineers, interior designers, and subcontractors, may be involved in specifying and documenting tile requirements.
Quality Assurance: This person or team ensures that the tile specifications are adhered to during installation. They may document and report any deviations from the specifications.
Documentation Specialists: In some cases, especially in larger projects, dedicated documentation specialists or technical writers may be responsible for creating and maintaining detailed documentation of tile specifications. They ensure that all relevant information is accurately recorded and easily accessible to the project team.
Effective communication and documentation of tile specifications are crucial to ensure that suitable materials are used, that the installation process runs smoothly and that the final result meets the client's expectations and project standards. Therefore, collaboration among these stakeholders and clear lines of communication are essential to the project's success. It helps prevent misunderstandings, ensures consistency, and contributes to a successful commercial construction project.
In Conclusion
The specification process is more than what we've summarized here. It involves understanding inherent tile industry factors contributing to long lead times, discontinuations, stock-outs, and budget overages. To learn more about what this means, sign up for our Spec Smart: Understanding What Happens After You Specify Tile CEU.
Have more questions? Contact the QA&T Team. We're happy to help or walk you through our 3-part specification guideline. We love hearing from clients and talking about your projects!