We all know the limitless design and aesthetic possibilities that ceramic tile offers.  Whether you are looking for functional and utilitarian, or bold and daring, ceramic tile offers an unmatched array of design choices from which to select.  Interestingly, despite the many benefits, many specifiers seem to forget or are unaware of the economic advantages that come with using ceramic tile.
Independent construction cost consulting firm, Scharf-Godfrey (a Division of Phoenix Engineering, Inc.), conducted a Life Cycle Cost study comparing various types of ceramic tile, including porcelain, mosaic, and quarry, to 12 other commercially popular floor finishes such as hardwood, laminate, concrete, stone, carpet, vinyl, and poured epoxy (see complete list below).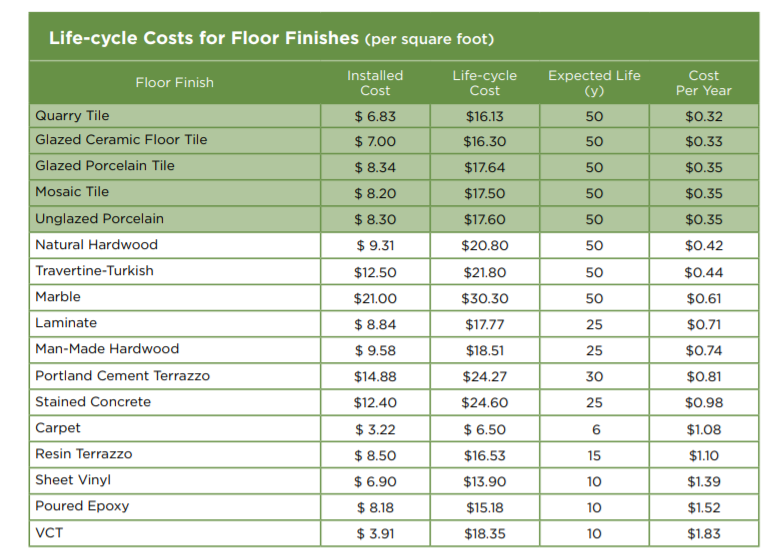 Life-Cycle Cost Analysis is a method of project evaluation in which all costs arising from owning, operating, maintain and disposing of a project are considered important to the decision.  This means Life-Cycle Cost includes original installation costs, maintenance expenses, and upkeep costs, along with removal expense over the product life cycle.  Keep in mind, for accuracy, the analysis is based upon high professional practices and methods for all related parties through the lifetime of the product.
Let's be honest – being a tile professional for the past 15 years, I may be a little biased when it comes to tile and all its benefits.  However, if you believe that ceramic tile is just too costly, think again; the numbers don't lie.  Factoring in all related costs, as listed above, tile costs less than all other floor finishes over the life of a building.
Unmatched durability, limitless design possibilities, green sustainability, and ease of maintenance are only a few benefits gained when specifying tile. Factor in cost savings, and you've got a win-win situation!