Whether you are an architect, designer, contractor, developer, or owner, there are a number of reasons we have seen a huge increase in tile-over-tile applications. Luckily for our industry, improved product technology, and advancements make this once illusive practice a reality.
Have a demanding construction schedule with fast-paced needs? Tile-over-tile serves this purpose, as demolition and abatement are eliminated. Factor in quicker turnaround times, and you can see why it is growing in popularity.
Concerned about going over construction costs? Tile-over-tile reduces overall labor and time.
What about aesthetic needs such as larger panels and thinner profiles? Tile-over-tile utilizing gauged porcelain panels get the job done.
How about environmental impacts related to renovations? Tile-over-tile greatly reduces post-construction waste, as little to no waste is created.
However, before you start slapping down tiles, don't overlook these prerequisites:
Top 5 Considerations for Tile over Tile:
Foundation – Consider the overall condition of the existing tiles and substrate. Tiles must be well bonded to the existing substrate. If any tiles are loose or damaged, these must be replaced before moving ahead. In addition, there should not be movement or deflection in the overall assembly. If this is the case, start from scratch – new tiles are only as strong as their weakest link.
Clean It – Before installation of any kind – clean, degrease, and eliminate contaminants from the existing tiles. Focus on grease, dirt, oil, paint, adhesives, and any other type of foreign agents that impede bonding strength.
Prime It – After cleaning, existing tiles must be properly primed to receive the new tile. I've been asked many times why this is so important. Think of it like this – the surface of modern tiles (whether glazed, unglazed, matte, grip, etc.) are inherently super effective in reducing surface buildup.  This is a good thing, as it makes contaminants difficult to thrive.  For this same reason, most adhesives and mortars used for the installation of the tile, also have a tough time meeting mechanical bond strengths if the tiles are not properly primed. The good news is, just about every thin set, mortar, and adhesive manufactured in the United States now carry appropriate substrate primers solely for this purpose.
Flat is a Good Thing – I've been to jobsites whereby there is every indication that the proper steps were taken. All except for measuring the flatness of the existing tiles. Going tile over tile doesn't mean you can ignore standard flatness tolerances required for tile installation.  Remember, ¼" in 10'-0" flatness for tiles less than 15" on any one side.  Tiles that are greater in size require a flatness standard that does not exceed 1/8" in a 10'-0" span. If hollow tiles and lippage aren't your things, make sure you level it out.
Movement Joints – I'll keep this short.  If there are existing expansion joints, control joints, saw-cut joints, and cold joints…respect them.  There's a reason why they are there.  Do not tile over these joints.  Allowing the proper movement in a finished tile assembly will allow your floor or wall surface to last as long as the building is standing.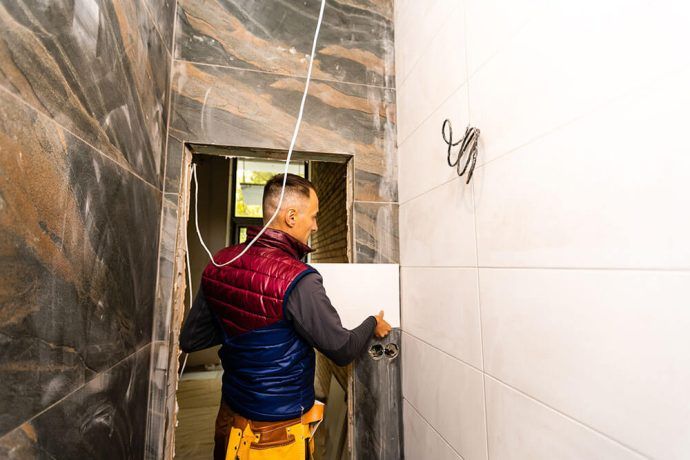 There you have it guys! Tile-over-tile is here to stay and will only grow in popularity as improved technology and appropriate products continue to support it. Just remember, the tile assembly is only as strong as its weakest link, so a mindful, thoughtful approach will guarantee the best results.
Until next time…
Ken