Skittles of Glass Penny Rounds
BLOSSOM
THE DETAILS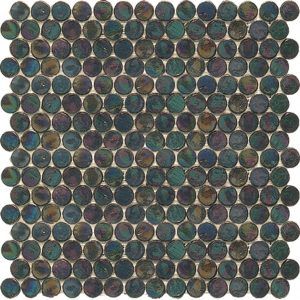 I call this series the Skittles of glass penny rounds! It's a fun palette, with some bright pops of color, including Aquamarine, Ruby Red and Honey, as well as some nice metallics; Gold and Grey (with a lovely silvery champagne tone to it), and the staple colors; Black and White. The Black reminds me of peacock feathers, containing overtones of emerald green, gold and purple on the black body.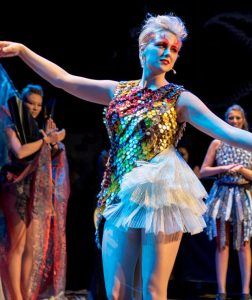 THE APPLICATION
These colorful glass pennies are a great option if you're tired of the neutral penny palette. They will also give your design greater depth than the traditional porcelain pennies. And if you're looking to use penny rounds, for say, a dress, they work wonderfully for that as well! Check out the award-winning dress design by Perkins Eastman for the IIDA Stitch event that took place in Chicago in March ~ a truly awesome design!
THE TILE POINTS
Aesthetic: Glass Mosaic
Size: 5/8′ Penny Round on 12'x12′ Sheet
Location: Stocked Domestically
Budget: $$ [out of $$$$$] Application: Wall
View the Blossom collection or request a sample
STARLIT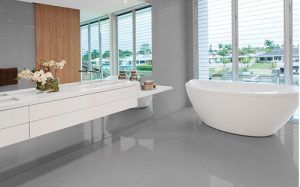 Often find yourself searching for 'that' grey or 'that' white? Starlit is the answer – every time. Take Benjamin Moore's Edgecomb Gray HC-173 down a couple of notches and BAM, you have Warm White! Don't be scared by the name (it doesn't have pink undertones). Starlit also offers a great ice white option: Bright White glazed (suitable for wall only because it does not pass DCOF). All other colors are through-body. The shades of warm and cool grays hit different areas of the gray spectrum, always important for this neutral! And last but not least, Black; you don't always have the option of matte and polished black in the same series – this collection fills that niche!
THE APPLICATION
I can see this going in a hotel bathroom where you would want a monolithic look, but budget prohibits using a large format gauged tile; the 24'x24′ tile will give you that aesthetic. I also like the ability to play with the matte and polished finishes; this allows you to take a monochromatic palette and add some visual interest to it.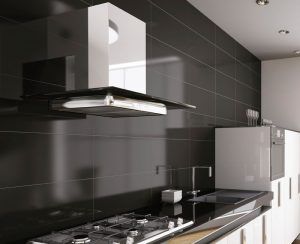 THE TILE POINTS
Aesthetic: Monochromatic
Sizes: 12'x12'*, 12'x24′, 24'x24′ and 2'x2′ Mosaic | *available in Bright White, Warm White, Black
Location: Stocked Domestically
Budget: $ [out of $$$$$] Application: Wall and Floor