Trends Focused Around New Print Technology
I hope everyone had a fun and sugar-ful Halloween! We didn't get as many trick-or-treaters as we hoped, so we are going to be on quite the sugar high this week. 🙂
I've definitely been enjoying all things fall since I got home from Italy at the end of September. It has been even more enjoyable with our two 4-month-old goldens, Cooper + Lola; and yup, we did the crazy thing and got 2 puppies because everyone said it would be easier with two. It has been interesting and exhausting, to say the least! Haha! But I would do it all over again and get 2 because they are the sweetest and most loving dogs!
They have also been loving all things fall – from the apples we brought home from Indian Ladder Farms – to playing in the leaves! I restrained myself from getting them Halloween costumes because they would have torn them to shreds, but next year it's happening!!
But now back to September and our trip to Italy. It's crazy to think that a month ago, we were eating all the cured meats and cheeses, and looking at the latest and greatest in porcelain and ceramic tile.
Before I dive into some looks and trends we saw at the show, I want to discuss the macro trend (overarching theme), which is the "why" behind the looks and trends we saw at Cersaie.
Cersaie 2022 – The Defining Macro Trend
The defining macro trend for Cersaie was technology-based and focused on 3D digital printing, and let me tell you it was impressive!!
New 3D digital printing creates an additive and subtractive quality for porcelain tile. From what I understand of this process, the printer creates glazes that add or build onto the surface of the tile, or that create a carved effect. These details sync with other design elements occurring on the tile, enhancing the visual aspect.
Here are a couple of examples that are enhanced with the 3D print technology…
A slate look that has a natural cleft effect is captured well with standard digital printing, but it's taken to the next level with 3D. The new 3D technology accentuates the natural cleft even further by adding more visual depth with an incredibly subtle sheen to the cleft edge.
With pitted travertines, digital printing can only capture so much of the natural stone look. The pits look fake and flat, but with the new 3D technology, the glazes added to the pitted areas create visual depth to the pitting giving the porcelain a more realistic look.
If you don't know the evolution of creating graphics on tile, I'll give you the cliff notes version for technology used prior to digital printing, screen printing, and rotocolor; along with the how behind digital printing on tile.
Screen Printing is the process where individual or groups of tiles were printed with ink forced through a stencil on a screen. (This process has been used for centuries for printing designs on fabrics and carpets, and gained industry use on tile in the 1960s.) Colors were layered in this process, the designer would cut away or block areas of the stencil to add or keep color out of a particular area of the design. This process required a lot of set-up and was a lengthy process due to one color being applied at a time. – "Custom Printing: How Do they Print Ceramic Tiles?" by Printing Industry Exchange, LLC
Rotocolor is a relief process in which a series of rubber rollers lays down the inked pattern on tiles as they pass under the rollers on a conveyor belt. This became the preferred method for decorating tiles when compared to screen printing, gaining popularity in the 1990s. The process allowed for more variety and less image repetition from tile to tile vs. screen printing. – "Custom Printing: How Do they Print Ceramic Tiles?" by Printing Industry Exchange, LLC
Digital Printing or Inkjet Printing – The digital printing process on porcelain utilizes the CMYK color system, which is the same system a color inkjet printer uses, in which it overlaps Cyan, Magenta, Yellow and Black to generate many colors. In porcelain digital printing, the print has no contact with the tile surface, the opposite of what occurs with paper. The porcelain system utilizes a droplet expulsion system called Drop-On-Demand, to get color on the surface of the tile. When the technology first came out, the tiles looked pixelated due to the images being low resolution (DPI), but as technology has advanced in cameras and imagery, so has the quality of the visuals printed on porcelain.
If you'd like to geek out on digital printing, here are some links to additional information on the process and the types of machinery used:
Cersaie 2022 – Technology Focused Trends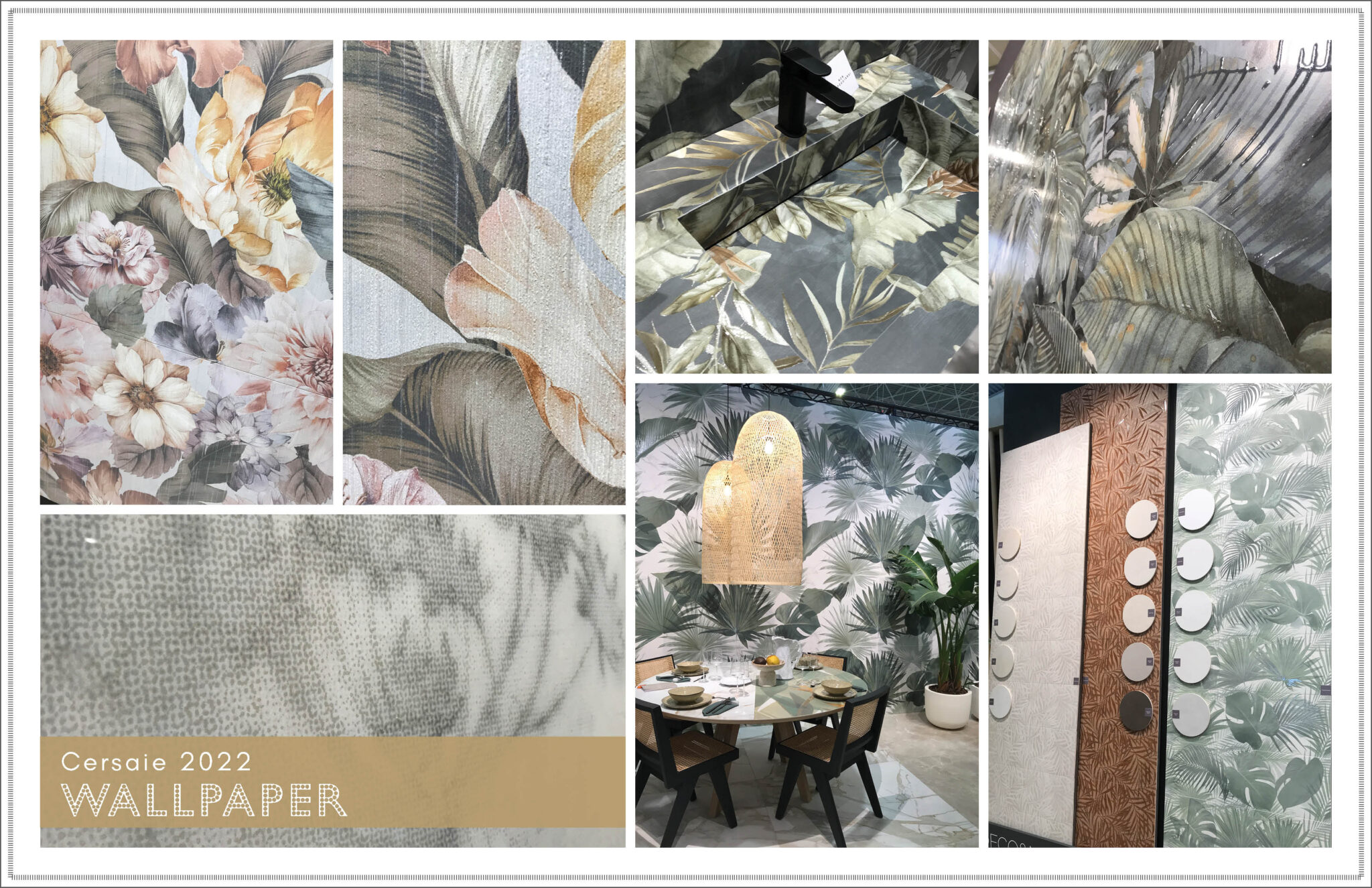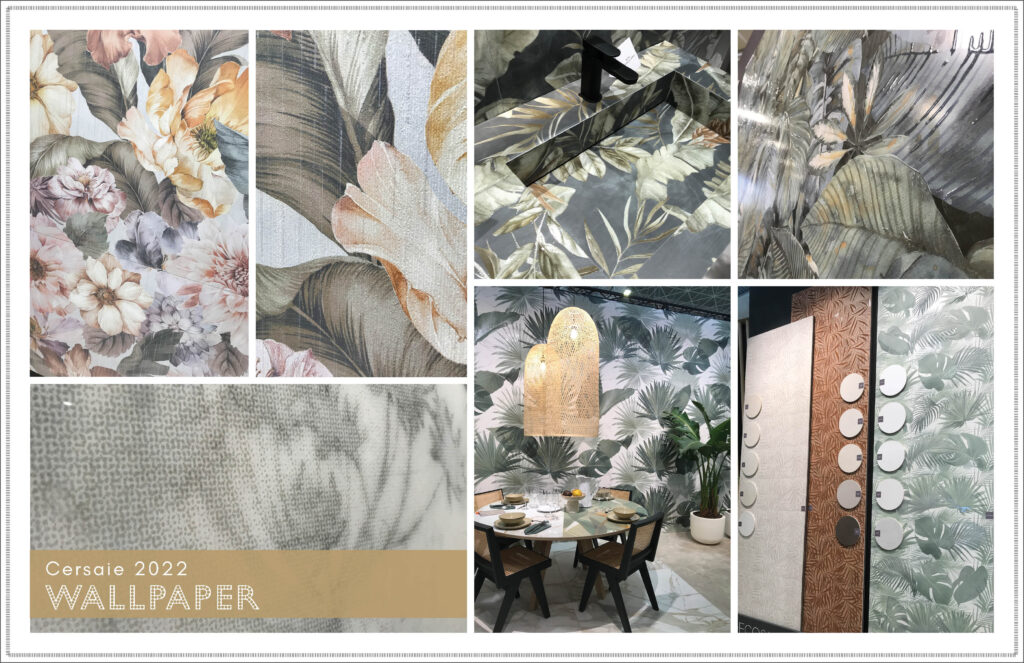 Wallpaper – Advancements in 3D Digital Printing bring porcelain wallpapers that were otherwise flat and lacking dimension to the next level this year. Spot glazes accentuate design elements, and provide added texture and depth.
So what did we see…
Multiple Size Formats – This season's wallpapers are available in a variety of size formats, from 12″x36″ to 24″x48″ to 48″x109″. This is a welcomed change because past wallpapers were only available in large format gauged slabs, which don't always work for budgets or ease of installation.
Expanded Visuals – Wallpaper visuals continued to display biophilic elements with tropical botanicals to expanded floral offerings to abstract visuals.
Pattern Scale – The last element I'd like to touch upon with porcelain wallpapers is pattern scale. The introduction of additional size formats allows manufacturers to play with pattern scale by exaggerating the size of floral elements with an Alice in Wonderland-like effect and creating clever repeats of large format designs on small format tiles.
---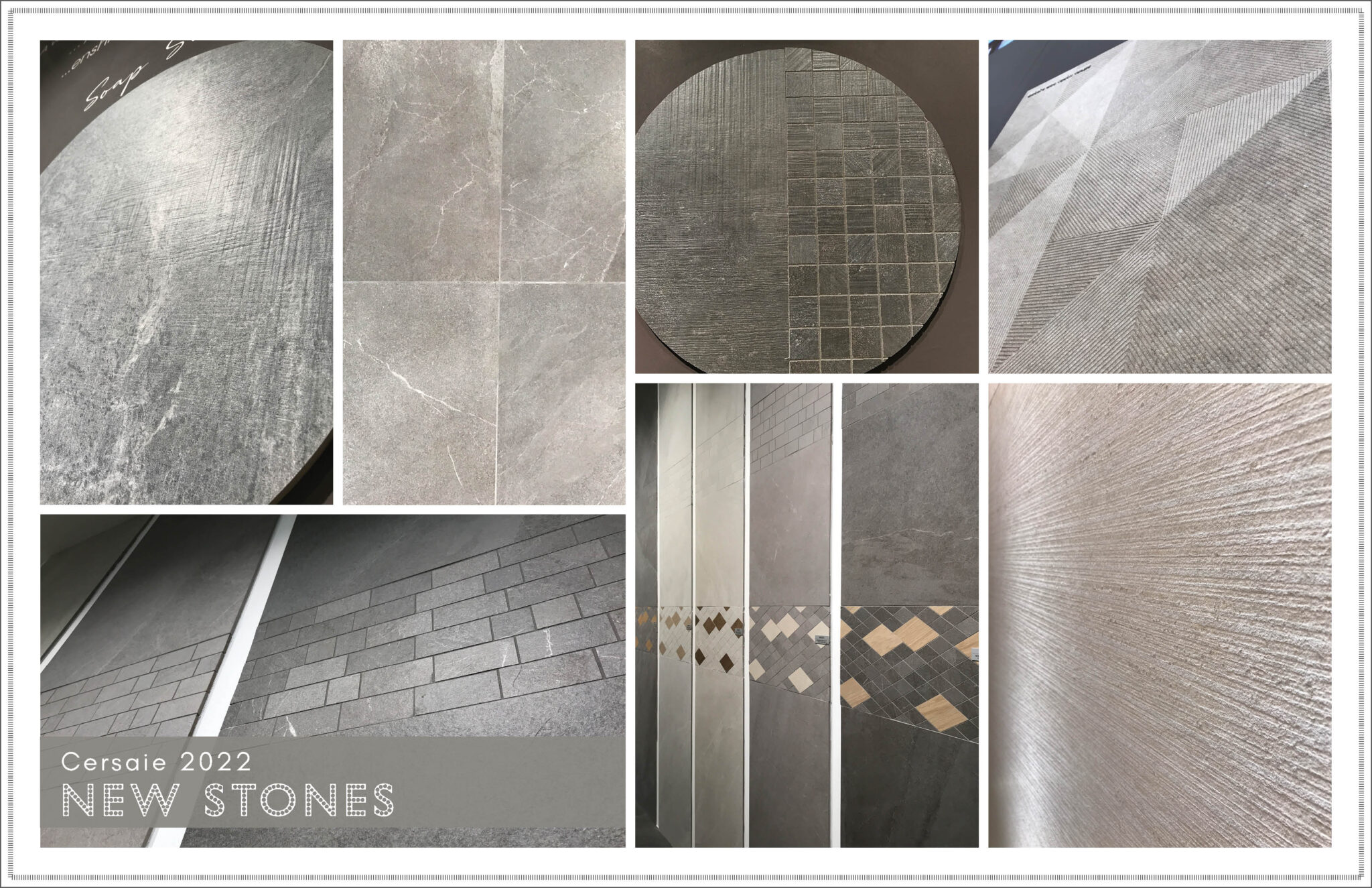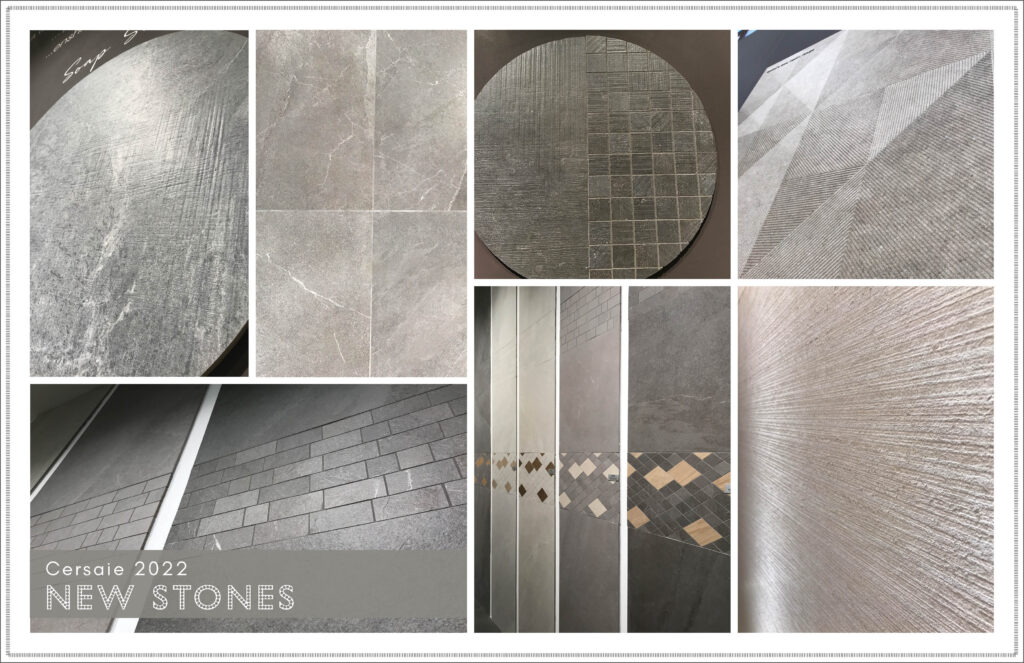 New Stones – These looks also capitalized on the new 3D digital printing with the most realistic visuals to date. With the spot-on precision of veins to spot glazes, and textures to visuals, stone looks ranging from travertines to slates to incredibly rare stones are making a comeback with even more depth and dimension in their look, making it increasingly difficult to tell the 'real thing' from its porcelain counterpart.
---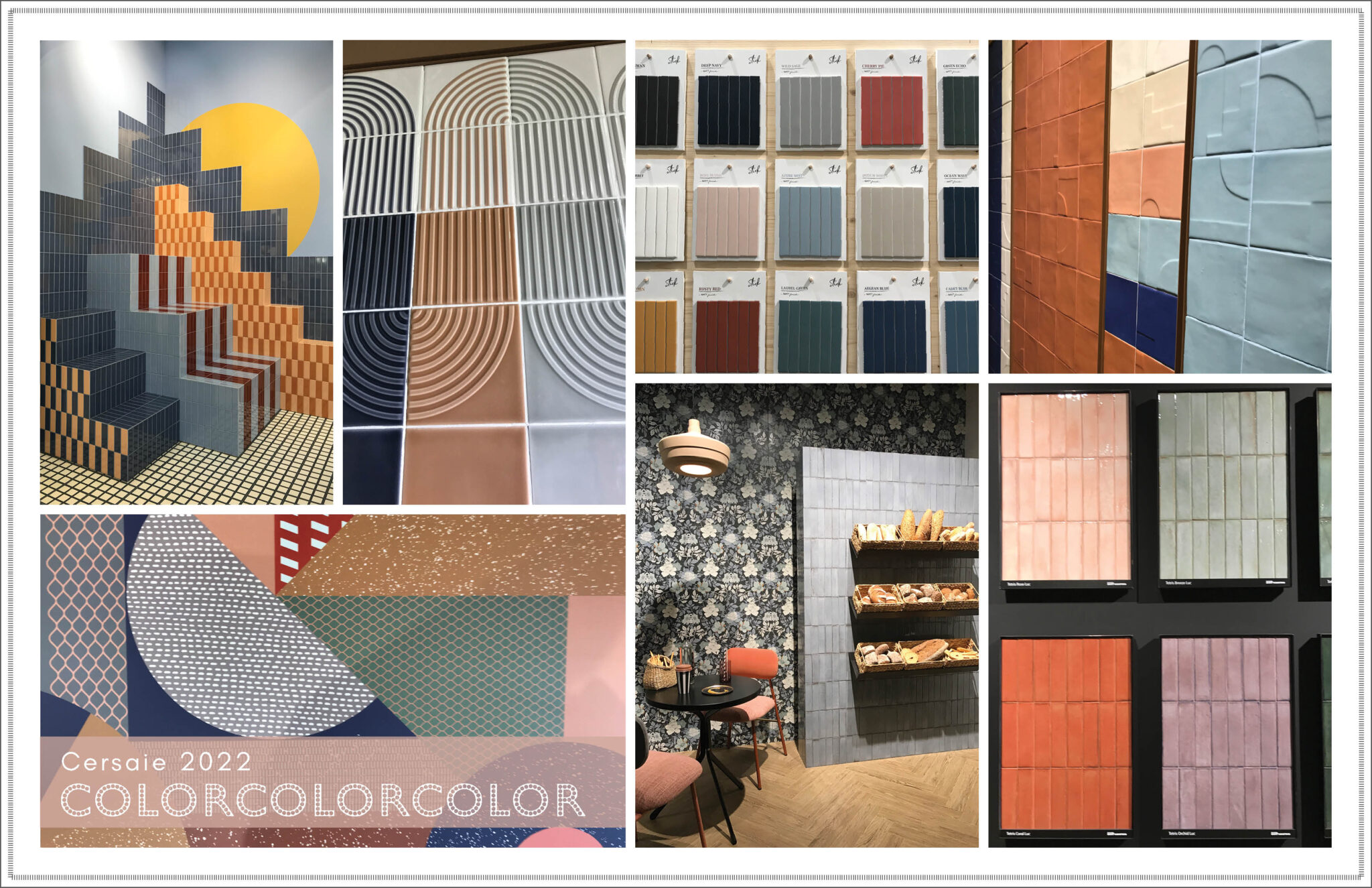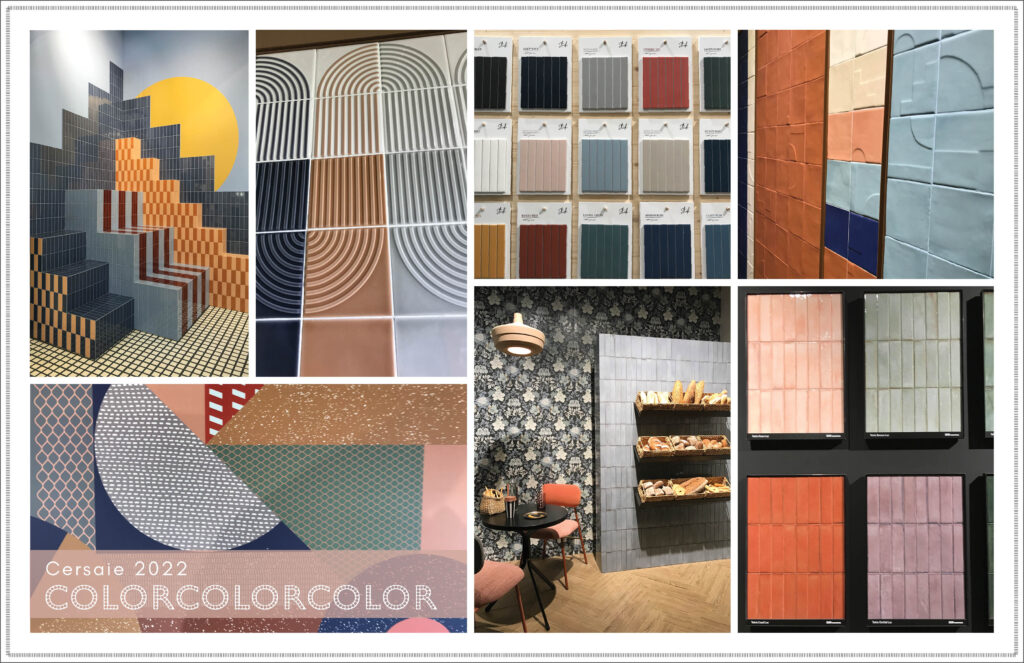 ColorColorColor – It felt like we were enveloped with color at every booth we walked into… Warm, muted earth tones were very present and mixed with new yellows and oranges that reflected the tones of natural minerals. The expansion of wallpapers this season also brought more color and patterns into booths, which also added to the feel of color being all around us.
---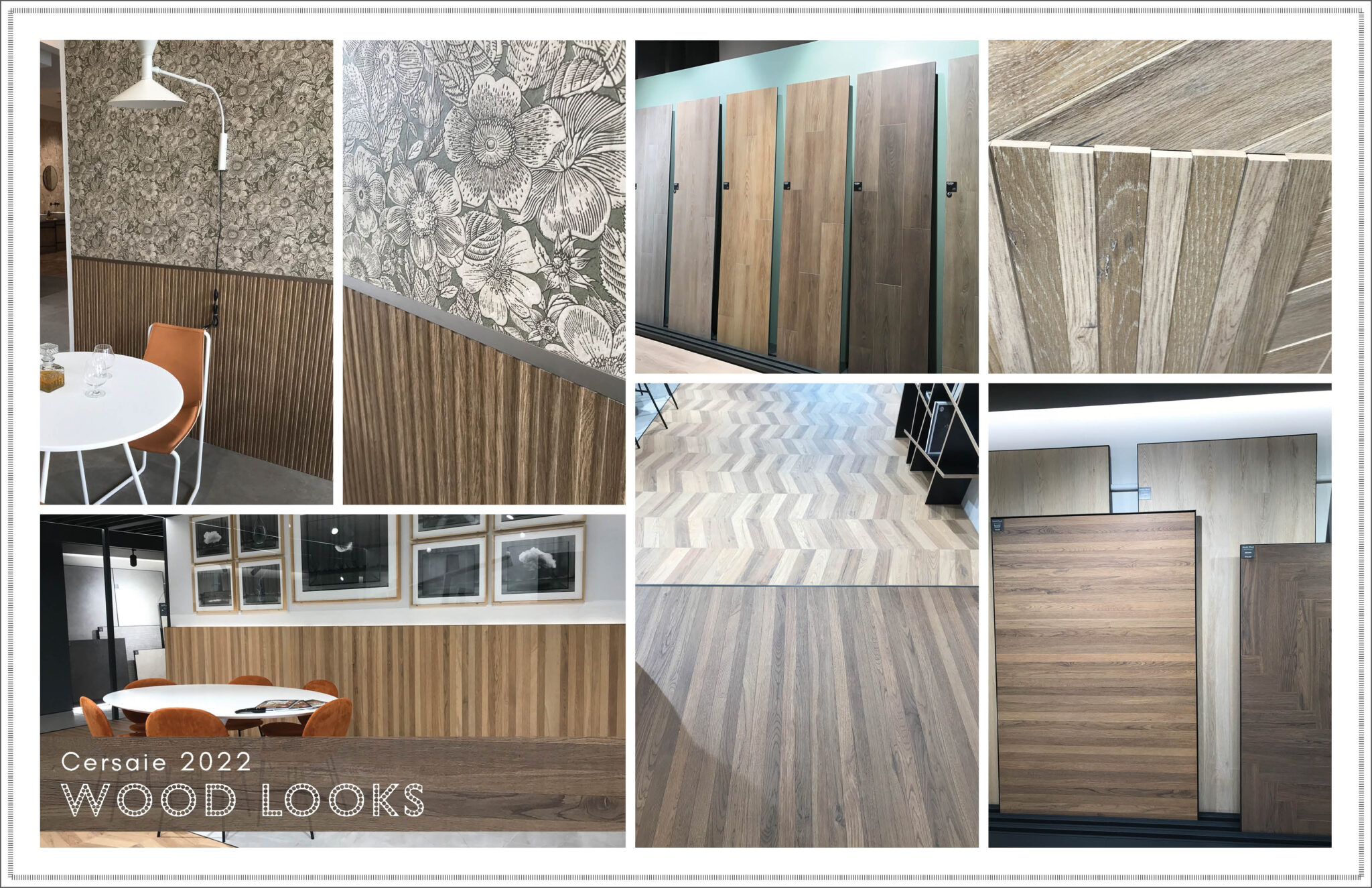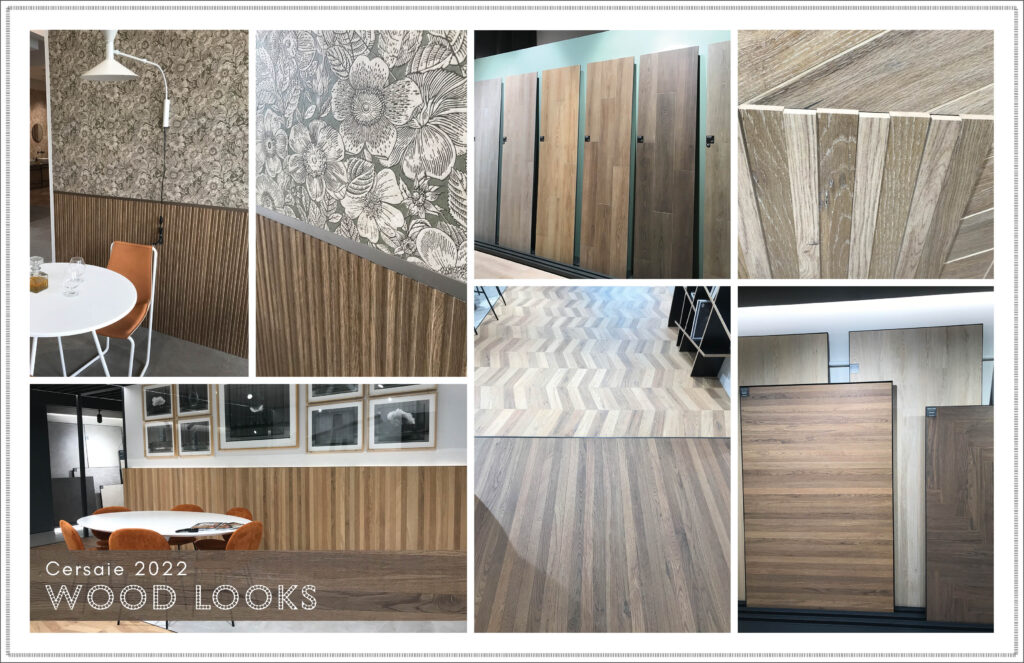 Wood Looks – The wood looks we saw this year were not too weathered, but not too natural wither. They were just right! Slap some new print technology on those visuals, and you've got yourself a very realistic porcelain wood.
So what did we see…
Slightly rustic visuals with splits and open knots in the wood meant to look like they were filled with a black epoxy
Mid-century modern wood slat effects in mosaic and large format tiles
Expanded color palettes, so instead of only light natural or  warm tones, palettes ranged from very light to medium to dark tones in a single collection
---
Next year on National Tile Day, we will launch our 2023 Spring Summer Featured Collections that will display the new 3D print technology, along with a sprinkling of additional trends seen at Cersaie.
We're very excited about this new technology and can't wait to see how you will use it to elevate your next project!
As always, please contact your local Creative Materials' Architectural Sales Consultants or Design Services for any product and design related questions.
Until next time…
E