Featuring Tile from our 2019 Fall Winter Collection
Hi everyone – I can't believe it's September next week?! Where did the summer go?? I hope you had a great one! I am looking forward to Fall though… I love sweater and leather jacket weather… and Halloween and everything pumpkin spice! Hopefully I'm not walking on thin ice with you because I brought up pumpkin spice, it seems to be a touchy subject for some. I, for one, am a fan.
  DESIGN CONCEPTS FOR TILE | HOSPITALITY COLLECTION
If you are familiar with our Design Concepts for Tile, feel free to skip to the next paragraph. For those of you not familiar with our Design Concepts for Tile, this is a new idea by Creative Materials' Design Services Department. We wanted to show designers ways in which they can incorporate one or more of our Featured Collections into their projects.
This Fall's Design Concepts for Tile draws inspiration from Hospitality design. The very talented Laura Wunsch, Design Services Coordinator, created different spaces you would see in a hotel and composed different palettes for each one. I love how each of them came together. The 2019 Fall Winter Collections work so well together! My personal favorite is Collection 06. What is your favorite?
---
COLLECTION 05 | GUEST BATHROOM
In last month's blog, I gave a preview of our 2019 Fall Winter Collection and in that blog, I discussed how this season's palette focuses on the study of shape and dimension. Collection 05 Guest Bathroom is a prime example of both shape and dimension.
Hotel guest rooms and bathrooms are constantly striving to be more efficient and functional, as well as exceed guest expectations with an interesting layout and design palette. The tile palette for this guest bathroom is not a pairing I would have necessarily put together, but when Laura was laying out the tiles, it surprisingly worked. The colors complimented one another nicely and I love the play on shapes of Kaleidoscope's Arches with the oblong rectangle of Pastille that stamps the tile's surface. The soft feel of curving shapes was further emphasized with the mirror and light fixtures.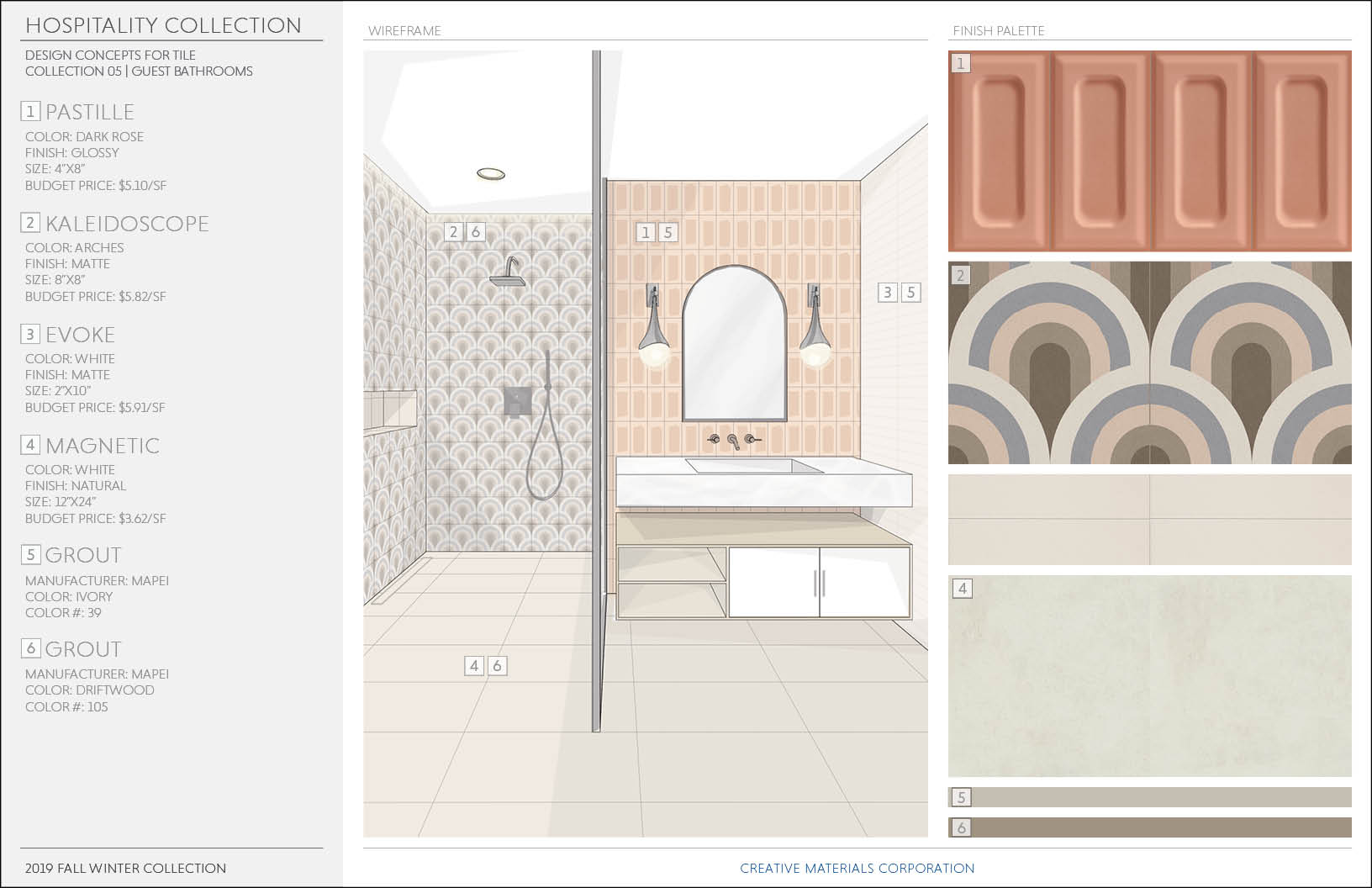 ---
COLLECTION 06 | AMENITY SPACE
Collection 06 features the ever-popular bar in a hotel's amenity space. This is a space where people come to gather. It could be a place for friends to catch up, or it could be a meeting place for coworkers traveling for work, but no matter what this place has a lot of functionality. In the design of this bar, Laura chose a more playful color palette that emphasized linear movement. Underline's linear movement is more prominent with the varying line lengths and colors, while Wavelength's linear movement is softer and more sculptural. The linear movement of the space is contained by a band of Tune's Blue Glossy on the wall, while Phases 2.0's White Fine Aggregate creates a quiet backdrop on the floor.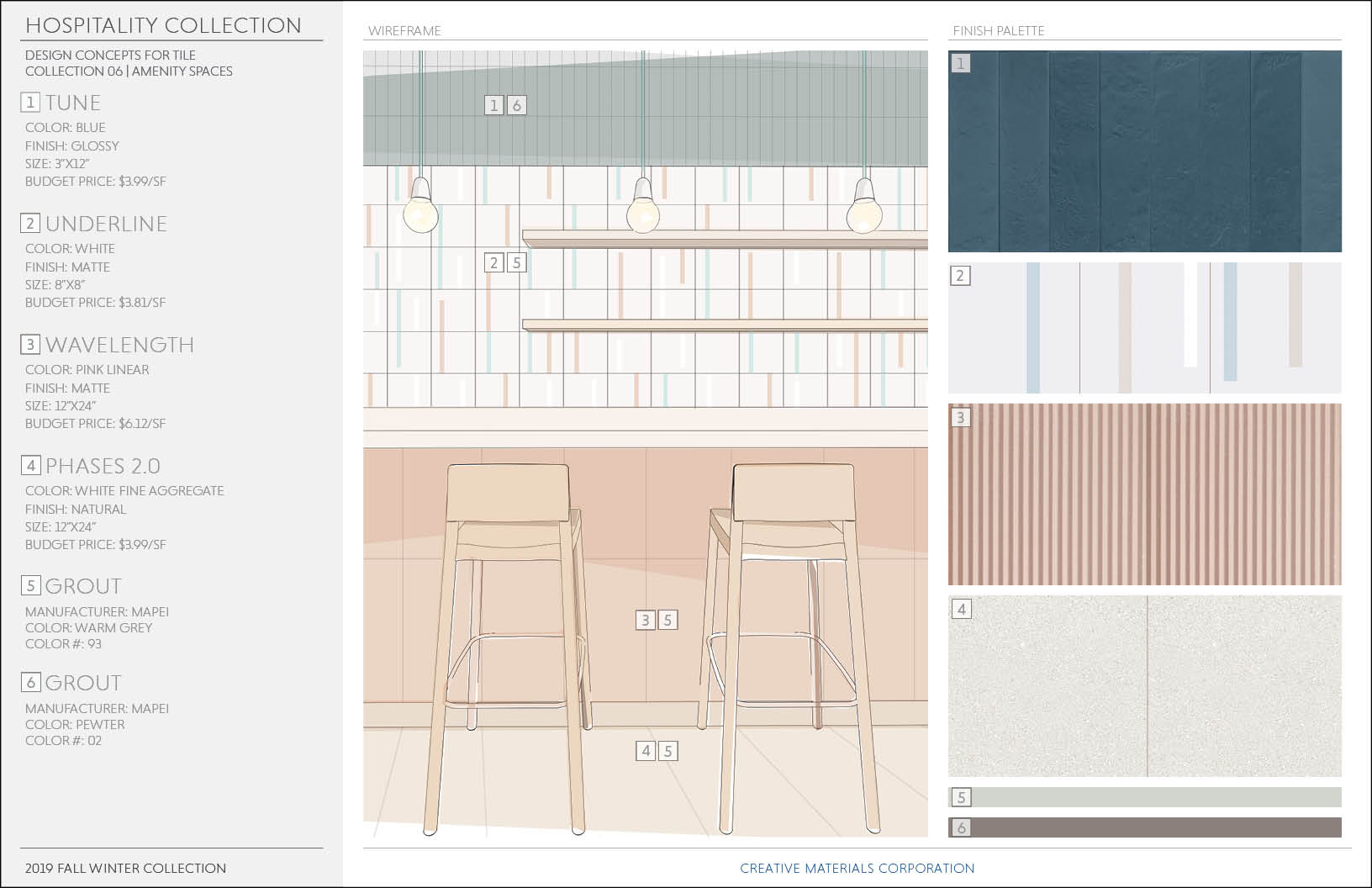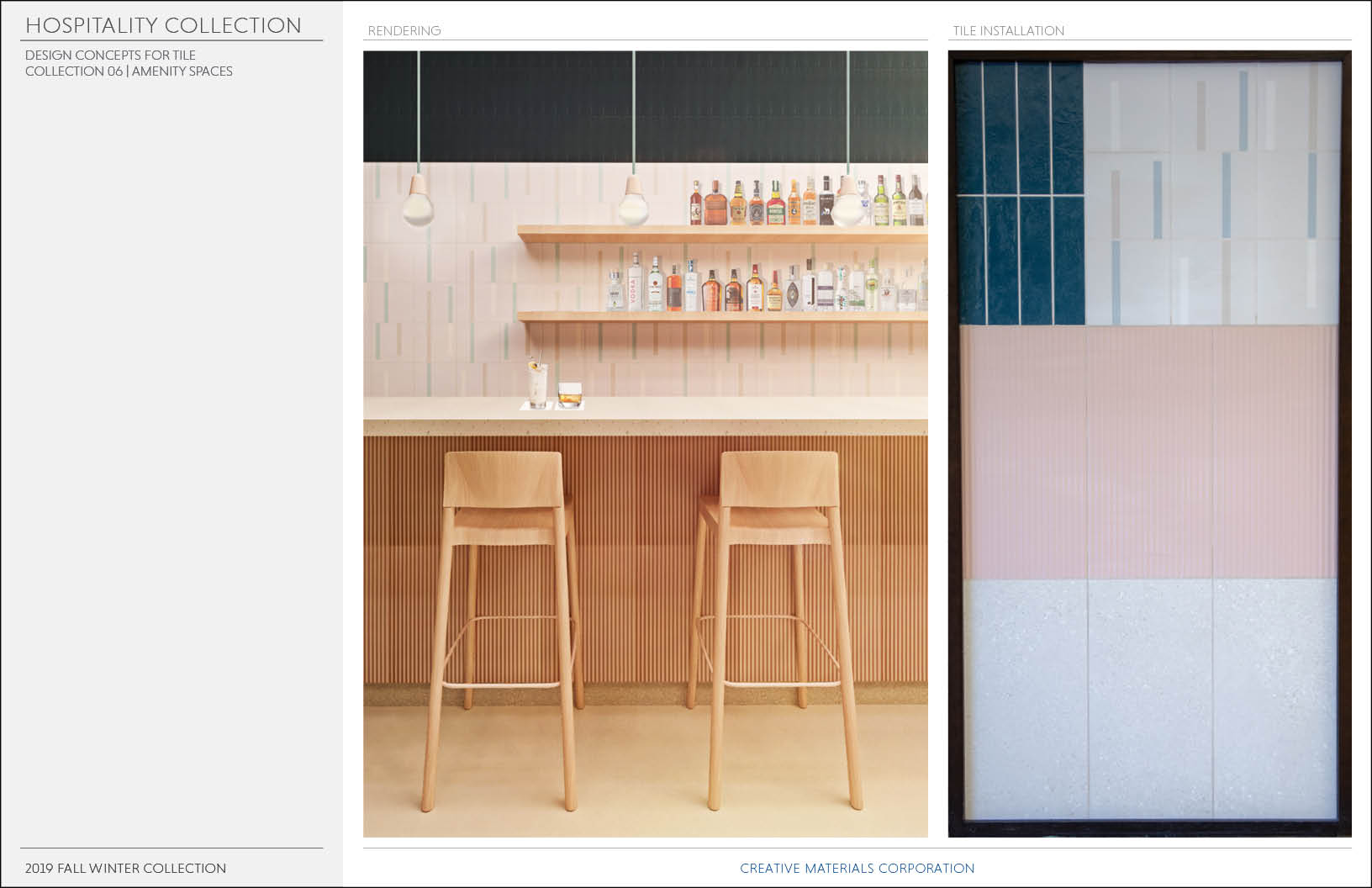 ---
COLLECTION 07 | AMENITY SPACES
Collection 07 features another popular amenity space, a dining area within a hotel's restaurant. I think unbeknownst to both Laura and me as Laura was creating it, this tile palette once again plays on lines and dimension. The color palette of this space focuses on the high contrast play of black and white, a usual go-to of mine, but Collection 06 has won my heart this season.
Take a look at the wireframe perspective vs. the rendered perspective. I love how the sculptural and dimensional quality of Tune's Black Measure and White Pitch transform the wall. The space would have far less visual interest if that were just a flat wall tile or a painted wall. I also like the contrasting play-in-line work of Catalonia's Ivory + Graphite Angle and Graphite Frame Hexagon.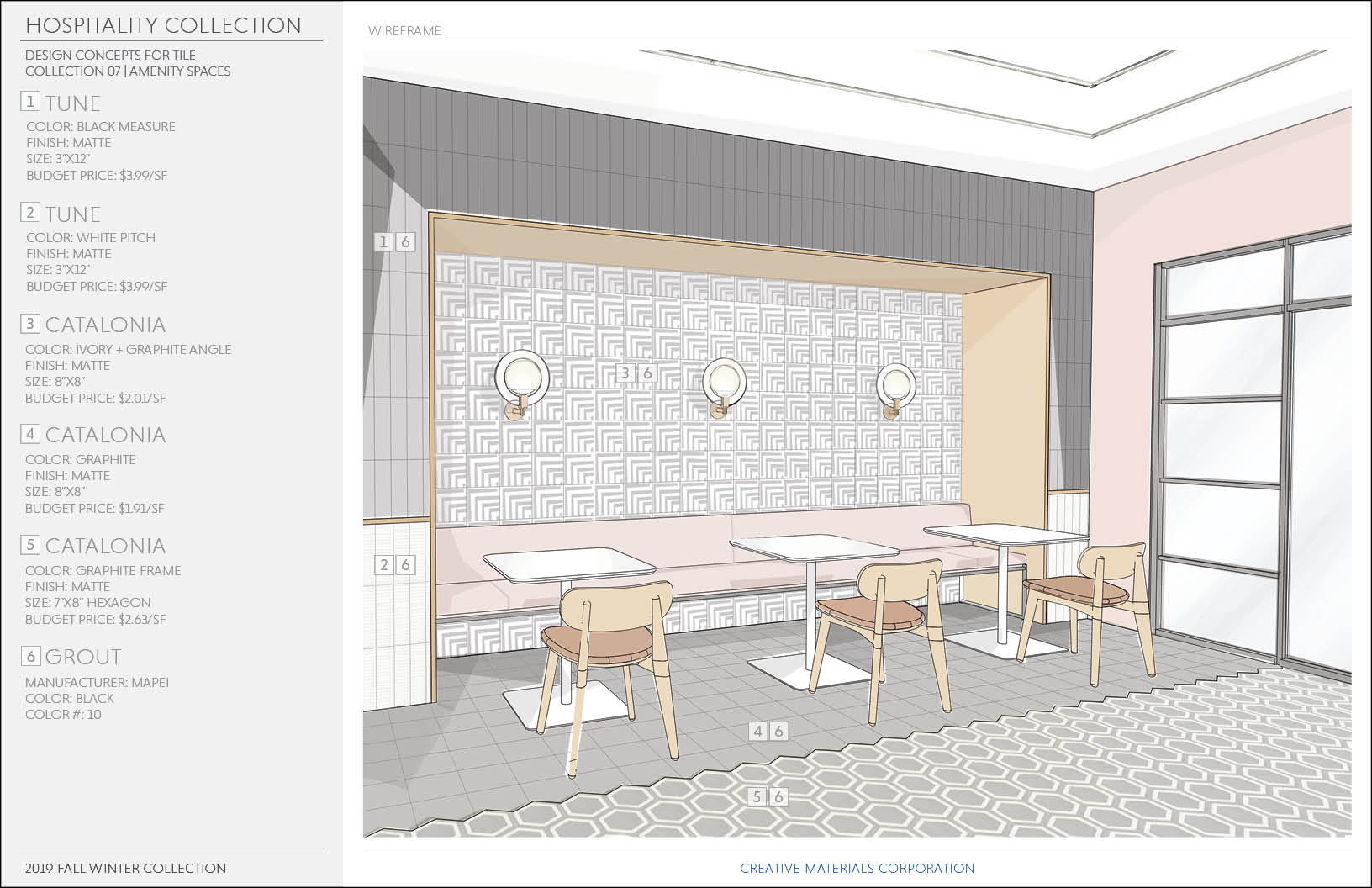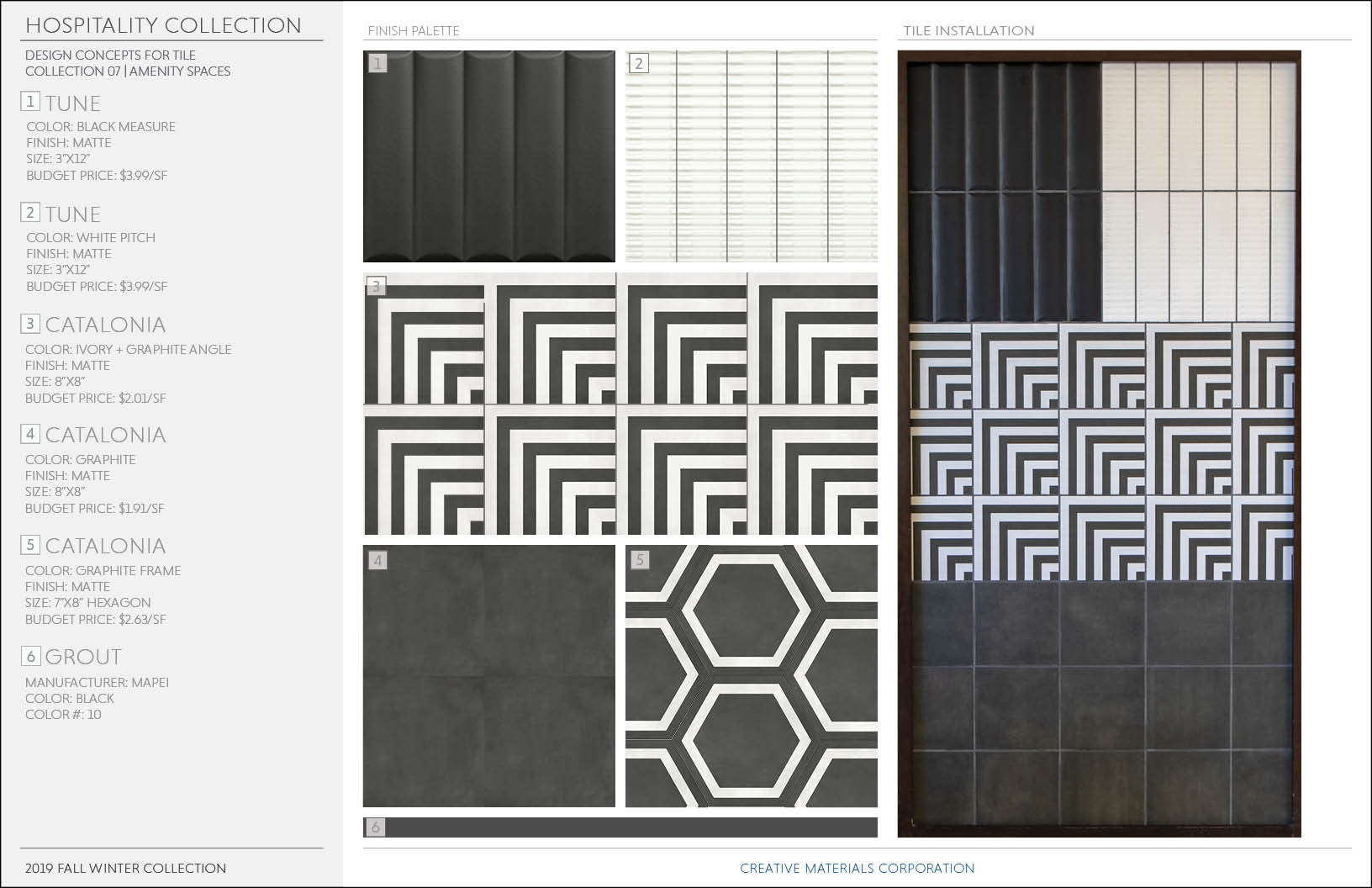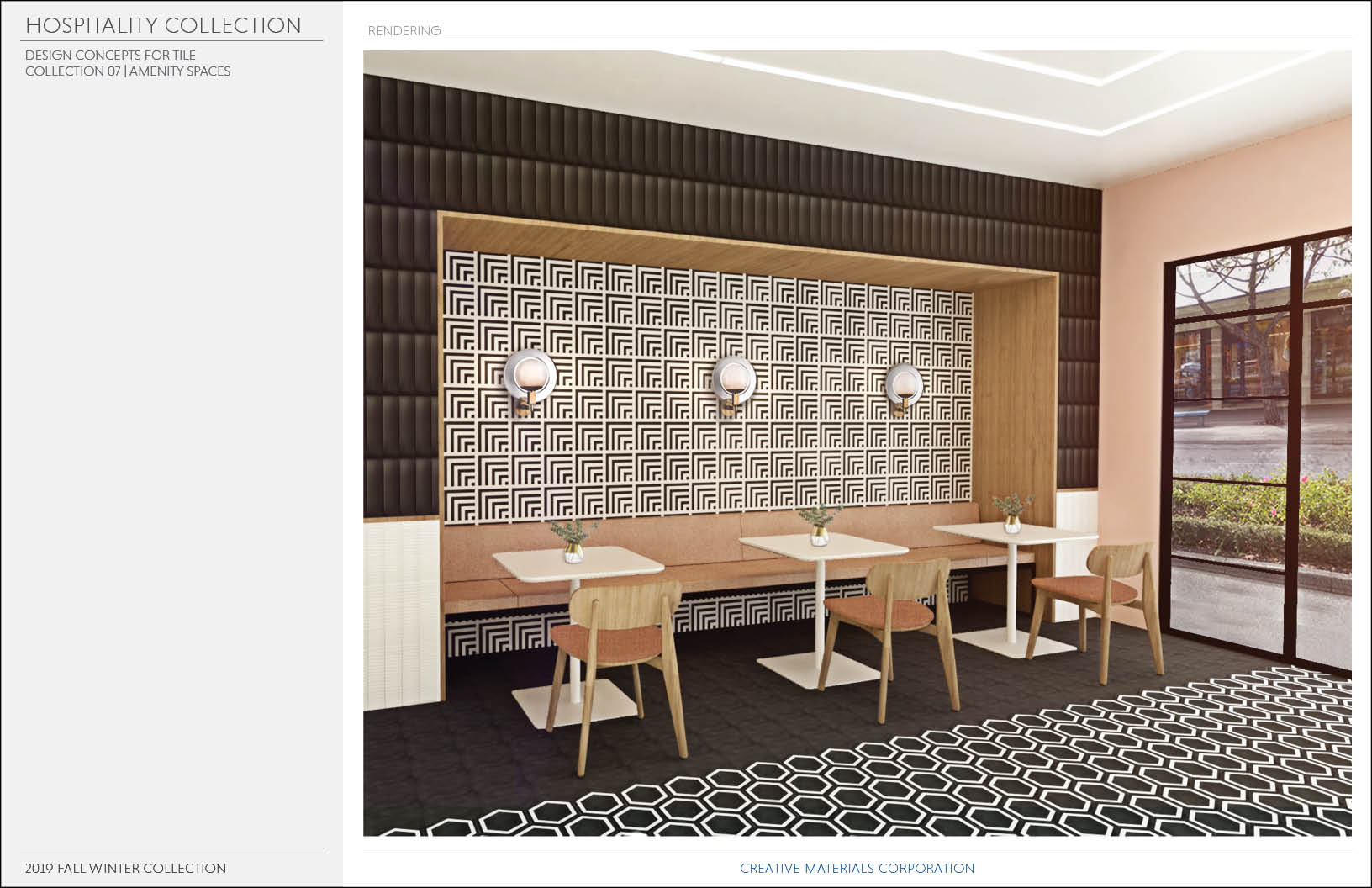 ---
Laura and I would love to hear your thoughts on our Design Concepts for Tile. Let us know if there is a particular space or tile pattern you would like us to use for our 2020 Spring Summer Collection Design Concepts for Tile. Send us an email with your ideas!
I hope you have a great Labor Day weekend!
Until next time…
E