Micro + Macro Trends for 2021
Hi Everyone!
Since tradeshows are still not back to their regularly scheduled programming, identifying trends has been a bit of a challenge, so I'm going to take a different approach this season…
In a 'normal' year, I'm usually bringing you the trends that we're seeing from Coverings, 'the largest international tile and stone exhibition and conference in North America.' However, Coverings has been delayed until July and it's TBD on who will actually exhibit.
Another popular international trade fair typically held in February is Cevisama (Valencia, Spain). This fair was initially postponed to this weekend but has now been canceled. To combat the cancellation, Tile of Spain created a 2021 Digital Look Book and explored the macro and micro tile trends of 2021. This is an interesting way to explore trends – the micro trends cover the nuances and physical elements we will see in ceramic and porcelain tile, while the macro trends are the big-picture, overarching design themes coming through. I, for one, can get behind this very interesting approach!
So in this month's blog, I'll pick my favorite micro and macro trends from Spain, and see how they compare or contrast to Italy's 2020 Fall Winter Trend report from Cersaie. (FYI Cersaie is 'the world's largest exhibition of ceramic tile and bathroom furnishings,' we attend in the fall in Bologna, Italy.)
Let's dive into the trends…
---
TILE OF SPAIN – 2021 MICRO TRENDS
The 2021 Micro Trends are…
MATTE FINISHES
MUTED HUES
SUBTLE TEXTURE
ELEMENTS OF NATURE
DYNAMIC DESIGN 
GEOMETRIC EXPRESSION
LUXE LOOKS 
The reason I'm liking Tile of Spain's thinking for the micro and macro trends is that we typically see different sides to trends but don't differentiate them. It always seemed odd to me, that you have trends that capture the physical characteristics and looks mixed with trends that capture high-level design themes; splitting into 2 different categories makes sense.
My favorite 2021 Micro Trends are…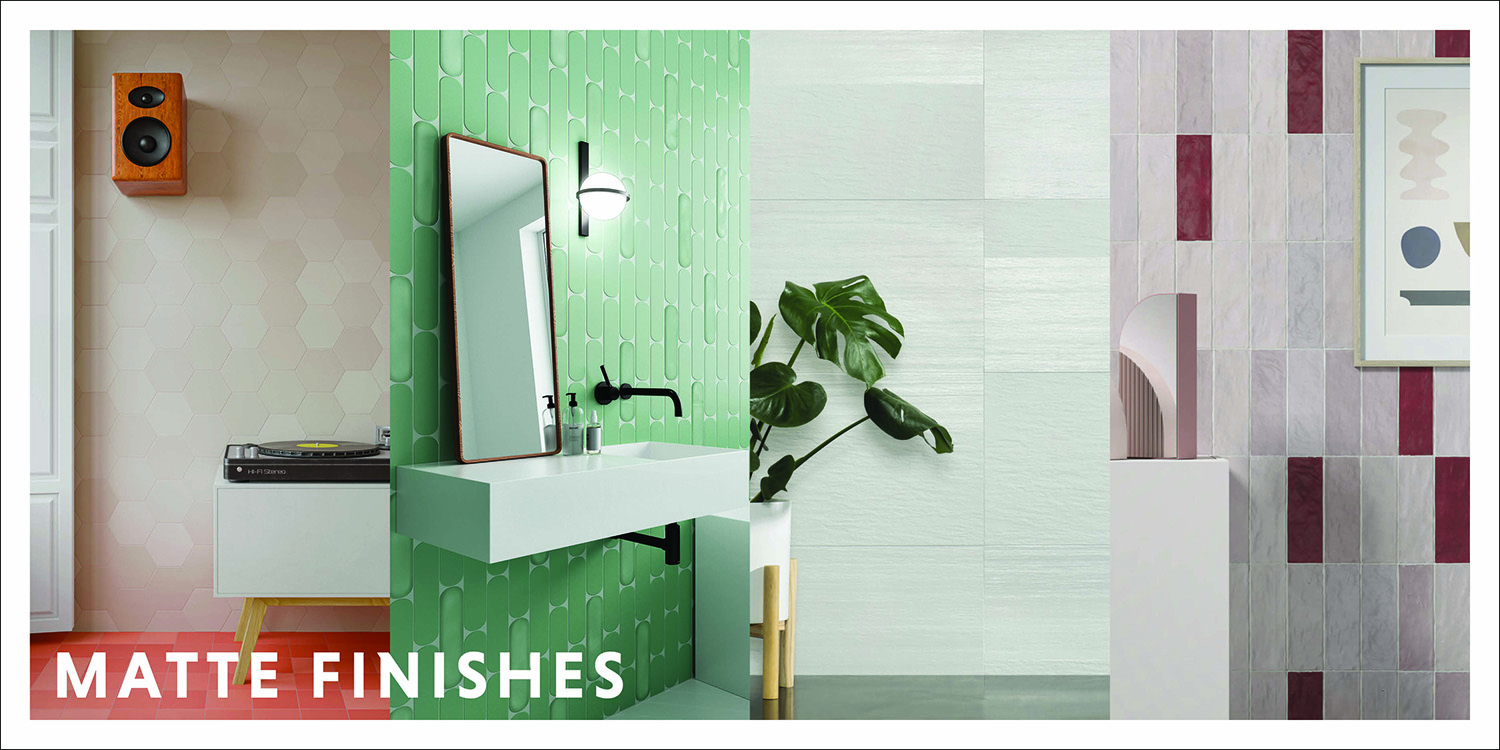 MATTE FINISHES – 'The clean lines and smooth surface of this simple finish reinforce the value of simplicity and a return to ceramic's purest roots. These honed looks provide a simple backdrop for the subtle and natural variation of raw materials allowing them to shine.' Tile of Spain – 2021 Micro Trends
ECD – I'm a big fan of matte and satin finishes and any other non-glossy surface. I think the reason for this is the simplicity and capturing tile in its purest form. And the other reason is photography and hot spots; photographing glossy surfaces is so hard!!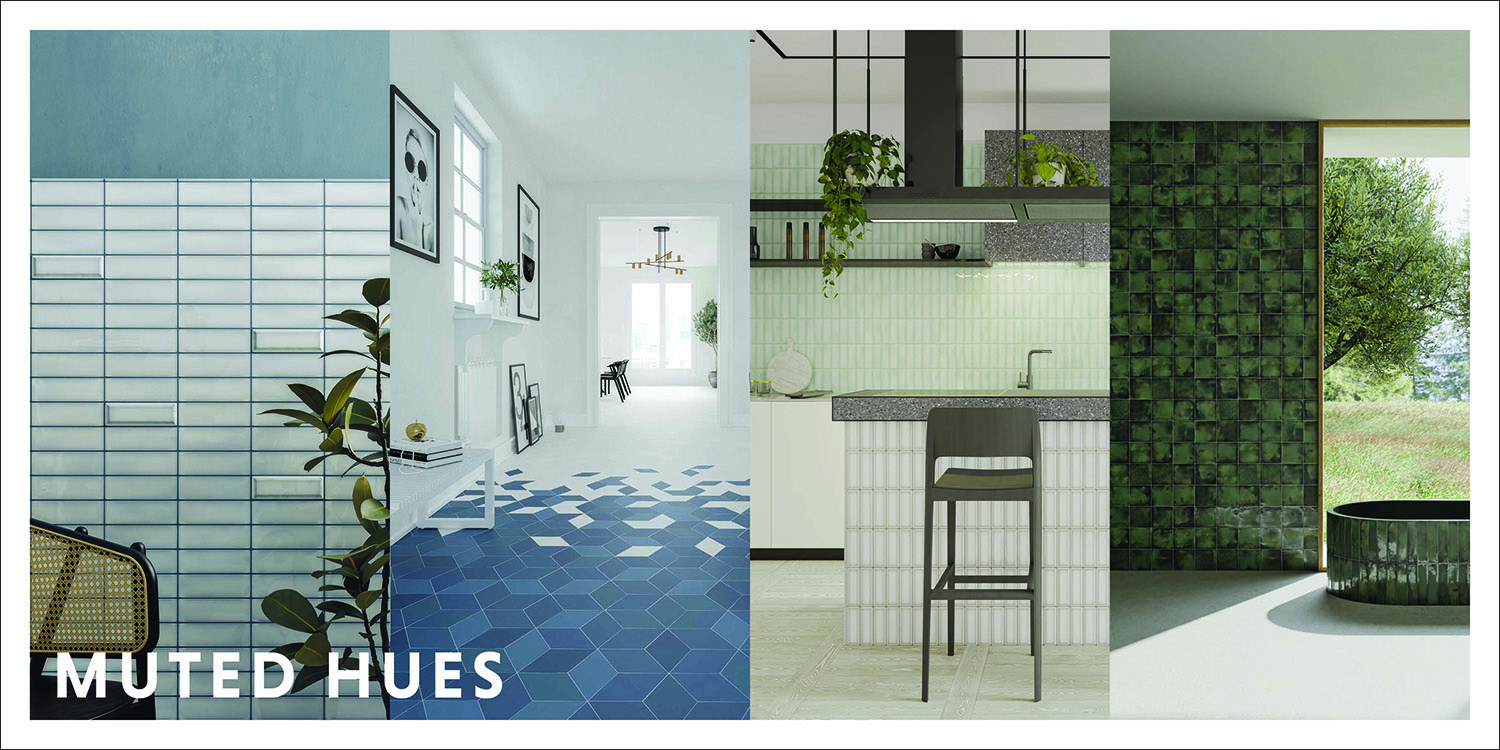 MUTED HUES – 'While previous chromatic palettes were all about infusing color, this year we anticipate a shift towards more toned-down designs. There will be a strong rise in neutral blues and greens encompassing entire collections to stimulate tranquil and calm settings. This scheme will be accompanied by accent pieces in supersaturated deep blues and emerald greens to add a dose of color.' Tile of Spain – 2021 Micro Trends
ECD – 100% agree with this one. I'm seeing collections with very soft, gorgeous barely-there blue and green glazes. I'm also seeing deep blue and green grouts paired with these neutral blues and greens. I like this effect more so than color blocking or accenting with a deep blue or green.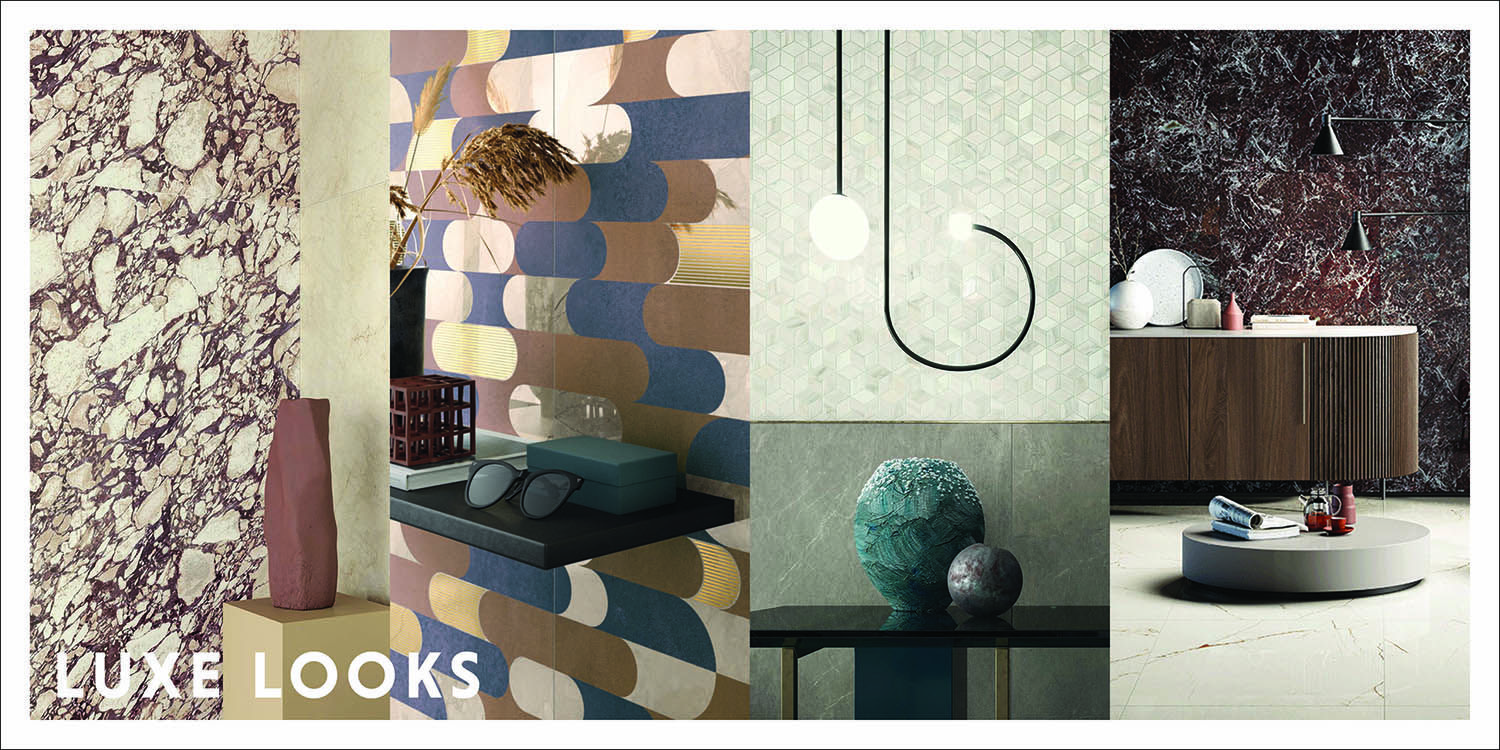 LUXE LOOKS WITH MARBLE + METALLICS – 'From intricate veining patterns to warm golds and cool silvers, the desire to indulge in eye-catching ceramics holds a space in trending looks. Large-format slabs featuring smoky marbled streaks combined with the soft shimmers of iridescent details will remain the protagonist to conceive glamourous interiors.' Tile of Spain – 2021 Micro Trends
ECD – I'm a stone geek, so seeing exotic colors in marbles and even abstract interpretations with unique vein colors, definitely excites me! I like the control porcelain marbles give me as a designer, I know what I'm getting and I know it is affordable. Don't get me wrong; I love natural marble. One of my favorite design studios, Flack Studio, uses bold, unique natural marble, and sometimes different marble pairings as the defining element and focal point in their designs – love it!! I'm sure they have a hand in selecting the slabs they're using, which isn't always an option, especially in commercial design. So knowing what I will get is the reason I go for porcelain marbles, and if you're looking for colorful, unique looking marbles like Flack, there are a lot more options nowadays. 
Learn more about the other 2021 Micro Trends from Tile of Spain here.
---
TILE OF SPAIN – 2021 MACRO TRENDS
The 2021 Macro Trends are…
MODERN SIMPLICITY
RENEWED TRADITIONALISM
ABSTRACT ART
My favorite 2021 Macro Trend is…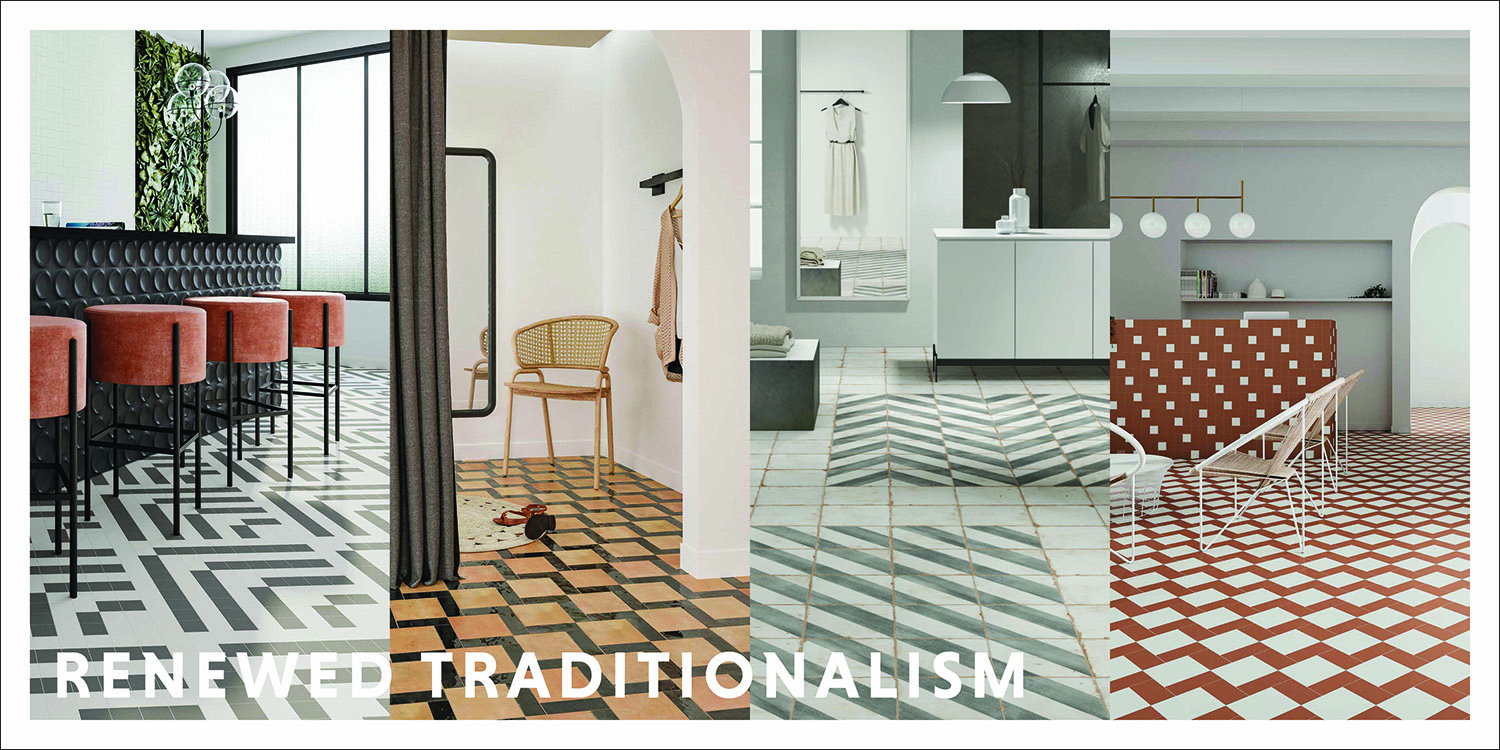 RENEWED TRADITIONALISM – 'This trend encompasses a new philosophy that pairs modern graphics with traditional production techniques. This unique approach highlights the environmental responsibility and promotes the sustainable commitment of the Spanish ceramic sector. It is characterized by the search for authenticity and timelessness. Simple graphics, abstract motifs and traditional styles such as stripes, mosaics and intricate installations become the protagonist in this range of ceramic tile.' Tile of Spain – 2021 Macro Trends
ECD – This is interesting because they are using Traditionalism in the sense of production techniques and aesthetic. Typically when I think of Traditional I'm looking at the finished product and how it's being used in the design, so it's interesting to hear its use in the production process. I like that manufacturers are looking back to traditional techniques in size formats and shapes, it's allowing for more creativity with the designs we can create. 
Learn more about the other 2021 Macro Trends from Tile of Spain here.
---
CERAMICS OF ITALY – 2020 FALL WINTER TILE TREND REPORT
The 2021 Macro Trends are…
CONFETTI
AUTUMNAL
CONCRETE
BLUE-GREEN
HIGH GLOSS 
DECO
Let's dive into the trends from Ceramics of Italy, some of these are not surprising and overlap with the trends I discussed in my November 2020 blog, and overlap with some of Spain's 2021 Micro Trends.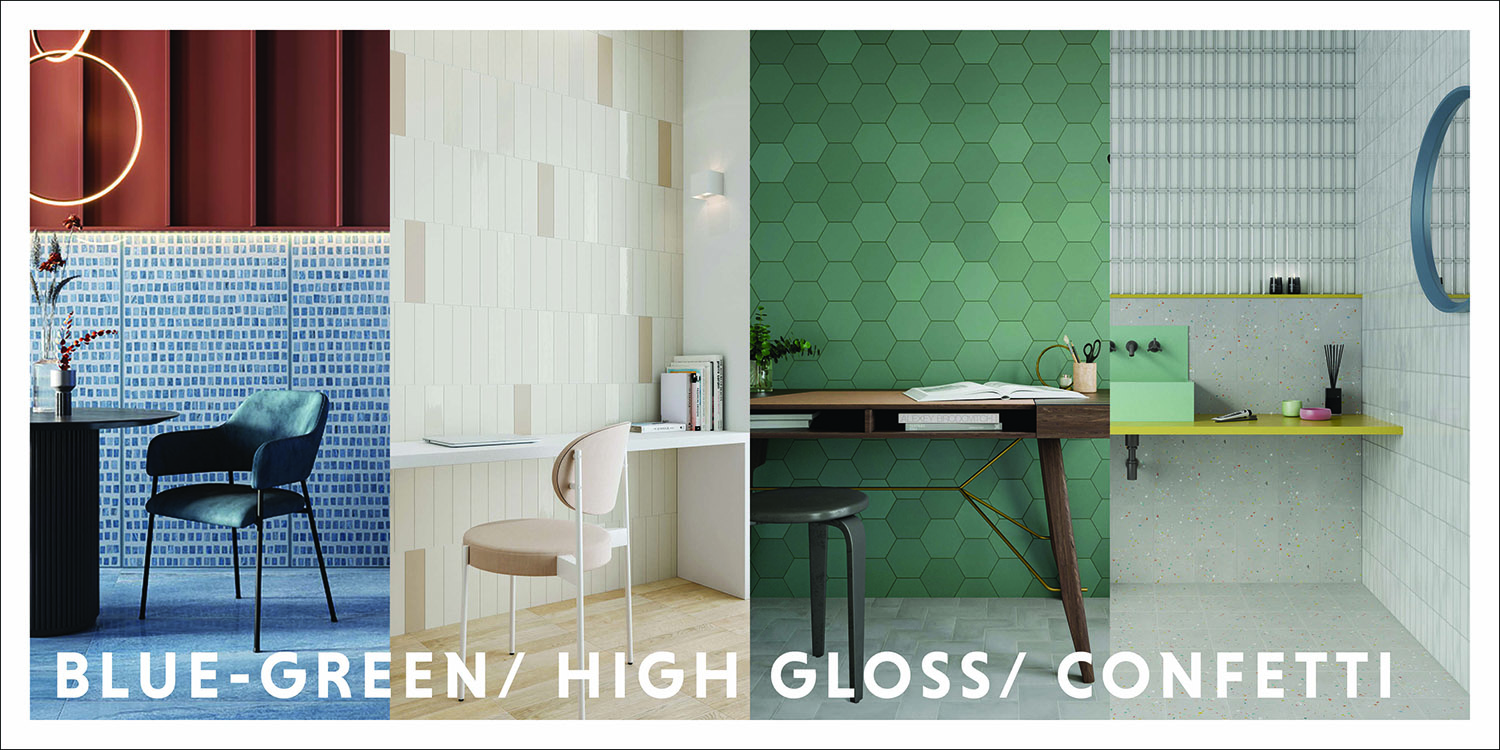 BLUE-GREEN – 'With blue and green dominating this year – emerald was touted as designers' go-to color and classic blue was Pantone's color of the year – it should be no surprise that this tertiary color is king among many new Italian tile collections. Color trends reflect the overall emotions and mood of society and according to color theorists, blue-green combines the tranquil effects of blue with the optimistic feeling of green, which is much needed in these uncertain times. Hues of blue-green also have strong associations with water, from the turquoise of glacial lakes to the aquamarine water of the Mediterranean Sea, that can help people find quieter moments and peace of mind without traveling.' Ceramics of Italy – 2020 Fall Winter Tile Trend Report
ECD – Blue-Green is definitely going to be present in some form or another forever in ceramic tiles. Blue or green porcelain, on the other hand, is going to ebb and flow in popularity because those with color-commitment-phobia on floors will shy away from using it.  
HIGH GLOSS – 'Glossy tiles are making a comeback, allowing floors and walls to pop with perfectly smooth surfaces and beautiful shine. Glossy finishes are also a good option for areas that need to be cleaned often – from backsplashes and showers to lobby floors and exterior walls – offering a way to add both flair and durability to the built environment. In some collections, light and reflection are the main features, allowing designers to accentuate architectural features and construct chic environments full of drama. However, most tile lines offer a variety of finishes, ranging from ultra-matte to high gloss, which can be used concurrently to create a perception of depth and eye-catching texture.' Ceramics of Italy – 2020 Fall Winter Tile Trend Report
ECD – It's funny that Spain and Italy are at opposite spectrums with trending finishes. As I think of this more, I guess it's not that surprising. When we look at Spain, they are typically known for their glossy glazed ceramic wall tiles, and at times it can be difficult to find matte finishes for wall tiles. So it makes sense that they would shift to matte options. The Italians that do manufacturer wall tiles, switch between matte and glossy finishes, however lately it seems glossy is taking the stage, especially in the enameled brick-like aesthetics. 
CONFETTI – 'Nothing dazzles like a bag full of confetti, which is the same effect that these tiles have on interior spaces. Whether the designs are a kaleidoscope of colors or floating fragments of shapes, the patterns lend a burst of energy to floors and walls. Even speckled stone and ancient flooring techniques like Venetian terrazzo can add an interesting layer of perceived texture and help develop a cohesive, contemporary design. This trend works especially well on extra-large tiles that minimize grout lines and allow the pattern to shine.' Ceramics of Italy – 2020 Fall Winter Tile Trend Report
ECD – I'm very excited about Confetti as a category/classification for tiles with this speckled look. There are so many variations now with terrazzo, concretes with wood fragments, large exaggerated conglomerates, it's crazy the number of looks in this category now! I love it and hope it stays and continues to grow in the USA, unlike a recent blog that said terrazzo is over?! WHAT?! No way, it just started in the US. Designers let's unite and make the confetti category a thing! 
Learn more about the other 2020 Fall Winter Trends from Ceramics of Italy here.
---
Size format + shape is another trend that I would add to the Micro Trend category. Shape always seems to change; first, it was squares, then rectangles, now back to squares, but maybe back to smaller format rectangles. It's always evolving! And oh yeah, don't forget special shapes like hexagons, rhomboids, oblong forms, oh my! It's exciting to see what they'll come up with next!
Which trends are your favorite(s)? (It's ok, you can pick more than one, I always do ;))
If you would like to find out more about the products within these trends, reach out to your local Creative Materials' Architectural Sales Consultant. if you would like a deeper product dive, Creative Materials' Design Services can create curated mood boards tailored to a trend or your project inspiration.
Until next time…
E
PS – did you know Granny Chic is a trend/becoming a trend in residential design? I did not –  and would suggest Googling it. #themoreyouknow
Looking for pattern ideas or technical assistance with pattern layouts? Creative Materials' Design Services can help. Just click here and tell us about your project vision. We will take it from there.