Hi everyone! I hope you are enjoying your September. It has been a busy one for me. I'm actually writing this from the floor of Cersaie in Bologna, Italy!! This is exciting because it means we are back to having tradeshows and finding the latest and greatest in tile trends for 2022.
Before I jump ahead to 2022, let's take a moment to look at the 2021 collections/aesthetics currently trending since this year was still a bit of a mess for presenting new collections IRL. I also couldn't ask for better timing because Sherwin Williams just released their 2022 Colormix Forecast, so we can see how the tile collections and season's color palettes parallel.
The theme for Sherwin Williams' Colormix Forecast 2022 is MODE. They describe MODE as 'a way of being, of doing, of embracing the style of the moment. When the life we know becomes something brand-new, we adapt, grow, and settle into an entirely new way of existing. This is your invitation to do so creatively, with intention, in a way only you know how.' – Sherwin Williams Mode: Colormix Forecast 2022
MODE is something we can all embrace especially after the last year and change. I invite you to view these color palettes and tile collections in hopes they excite your creative side.
  MODE: COLORMIX FORECAST 2022 by Sherwin Williams
MODE, is a collection of 40 hyper-current colors from which four unique palettes were drawn, all designed to welcome each wondrous transition.
The four unique palettes of MODE that we will explore are method, opus, dreamland, and ephemera. 
---
method
'Nature's processes, the gentle acts of becoming, show themselves in a collection of organic neutrals and tonal luxury. This palette's earthiness and rich warmth – with its sepia softness – balance the lush refinement of art deco silhouettes on the radical raw edge of 1980s postmodernism.' – Sherwin Williams Mode: Colormix Forecast 2022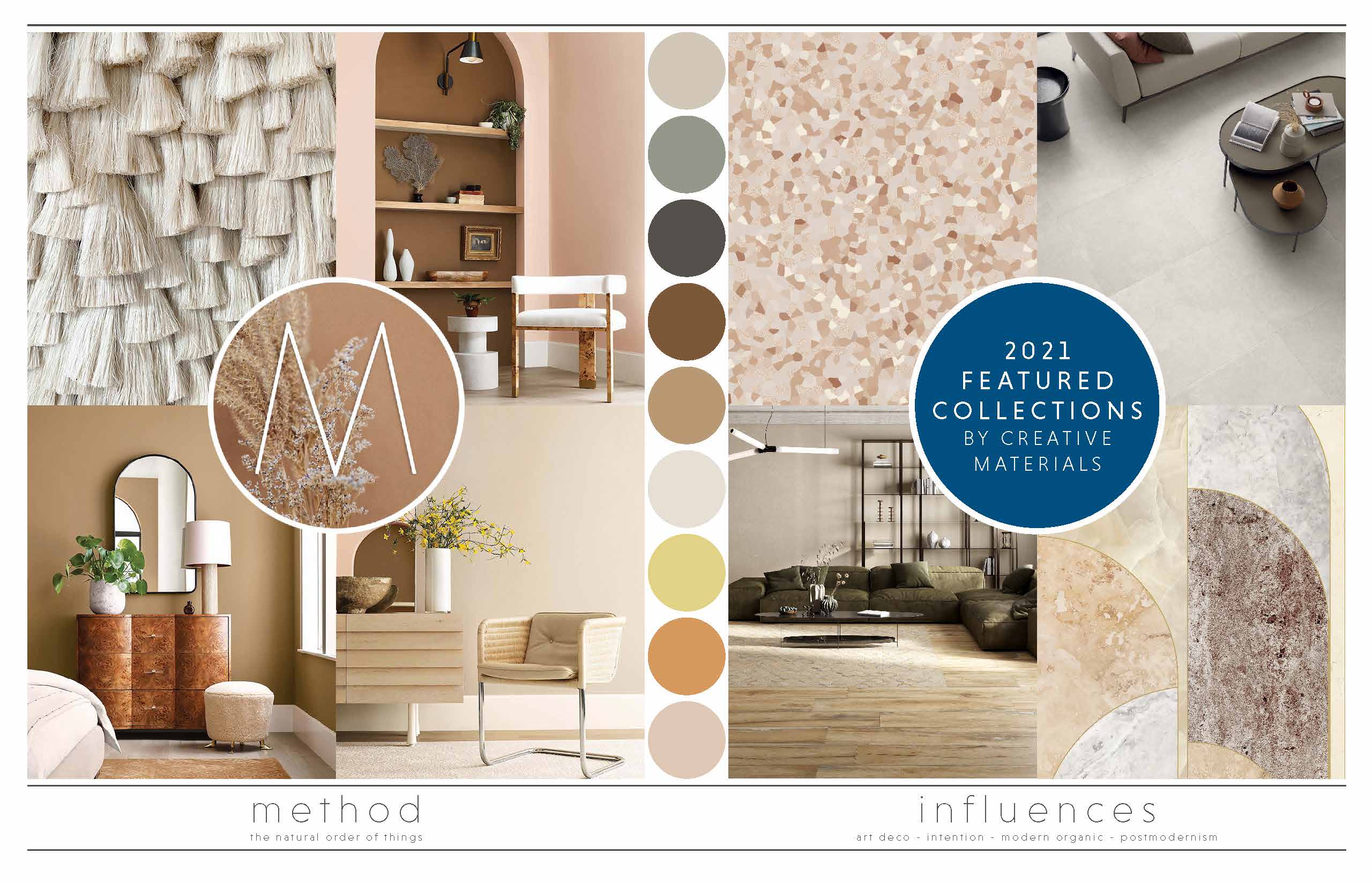 We are seeing new collections transition to warmer earth tones, or incorporate warmer tones with cooler tone palettes. See how DecoWorks or Hybridize can incorporate an art deco or modern organic element into your design.
Collections shown: Granular, Profound, Hybridize, DecoWorks 
---
opus
'Color creates movement, composing a unique masterwork of dynamic transitions and stirring rhythms. This palette of dusky deep tones and unexpected accents was created to be a new kind of classical, to set drama and emotion to the art of good style, and to never, ever fade into the background.' – Sherwin Williams Mode: Colormix Forecast 2022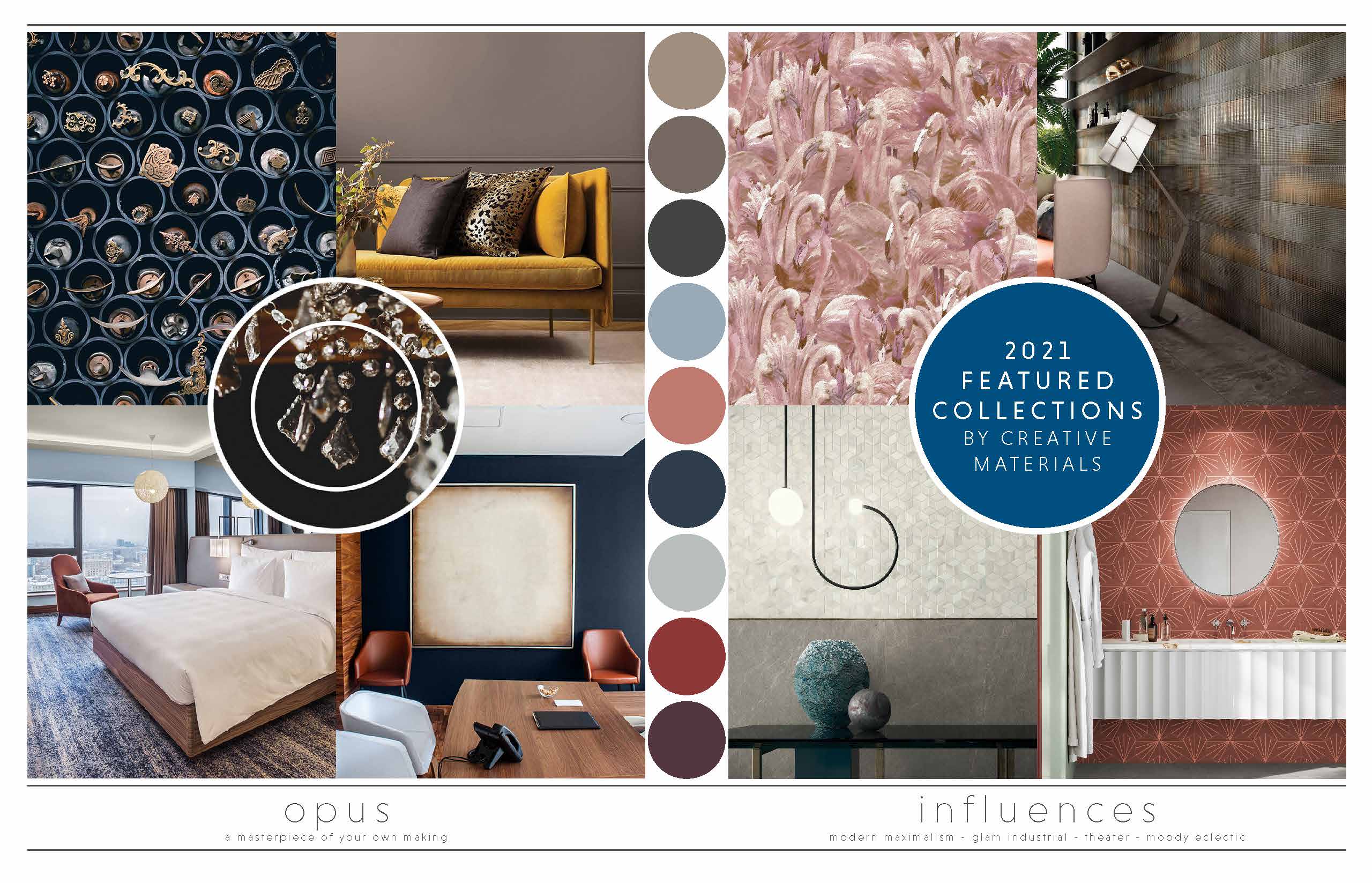 Looking for deep, moody tones? Check out Midland Concrete's rusty red tone with a beautiful chalk-like finish or if looking for something bolder, try DecoWorks' bold, dynamic designs.
Collections shown: DecoWorks, Luxe, Majesty, Midland Concrete
---
dreamland
'The fullness of living, of existing just as we are, meets the vernal sweetness of bud and bloom, of a life-giving energy at the start of a new season. Set yourself adrift in a fantasy realm of pearlescent tones, new growth greens, and lavish pinks, and tend to a space where fresh ideas flourish.' – Sherwin Williams Mode: Colormix Forecast 2022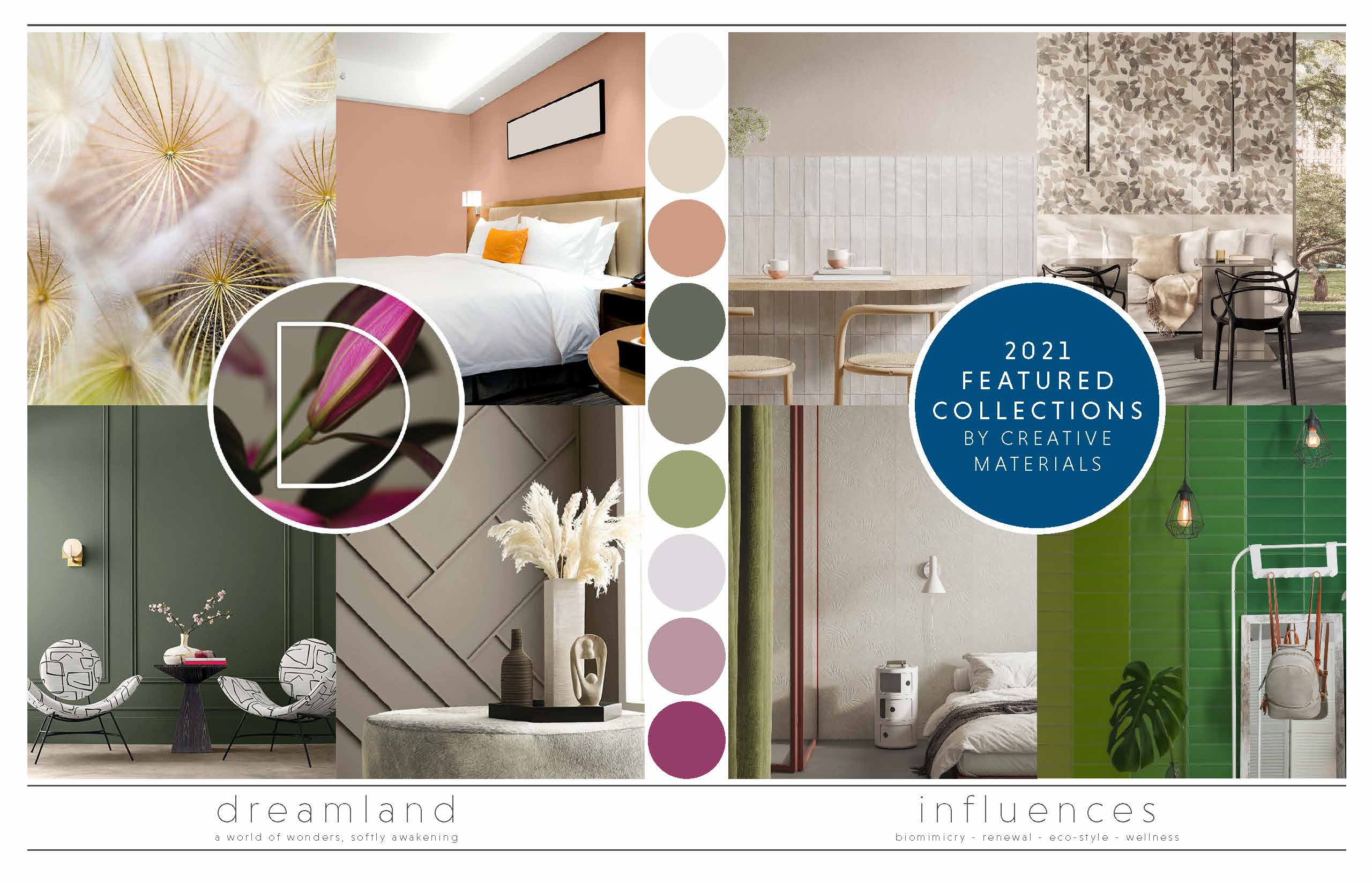 Have you started incorporating green into your designs? Expect to see much more of this colorway in the future. New marbles and resin looks at Cersaie 2021 incorporate soft to dark greens in their collections.
Collections shown – Forged, Midland Concrete, Coloration
---
ephemera
'Honoring the timelessness of sleek and functional midcentury modern design, this palette is a play on primary color – an evolution of bygone basics from fleetingly familiar to forever loved. Each shade is carefully chosen to evoke the fond remembrance of what once was and the unwavering optimism of what could someday be.' – Sherwin Williams Mode: Colormix Forecast 2022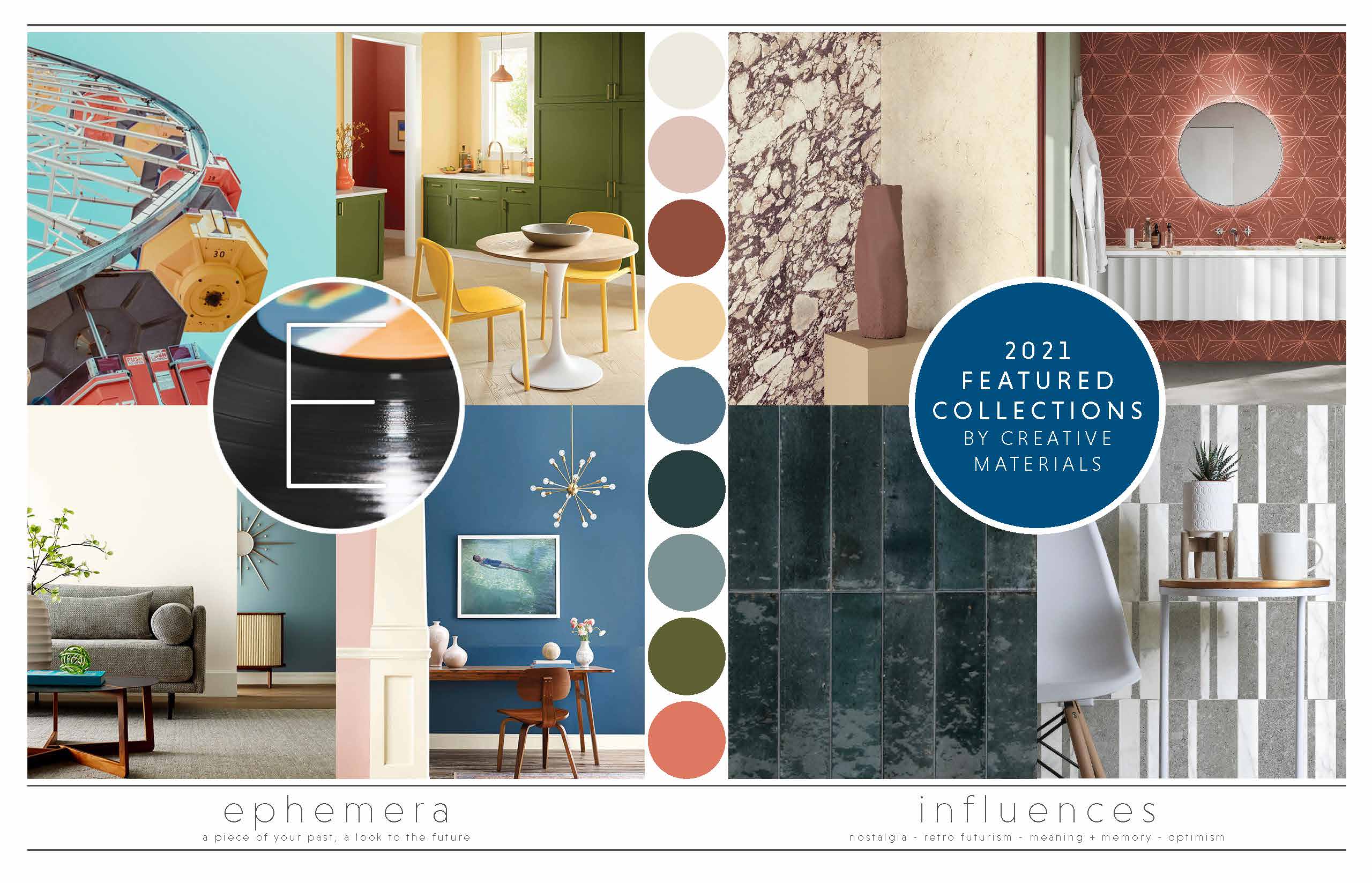 This palette has numerous bright, colorful pops which could be used as accents throughout your design. I've included collections, like Vintage Stone, that will complement the bright pops of paint or furniture within your design.
Collections shown: Majesty, Midland Concrete, Forged, Vintage Stone
---
To find out more about the products within the 2021 Spring/Summer and 2021 Fall/Winter Featured Collections, please reach out to your local Creative Materials' Architectural Sales Consultant.
Until next time…
E
Looking for pattern ideas or technical assistance with pattern layouts? Creative Materials' Design Services can help. Just click here and tell us about your project vision. We will take it from there.