On Assignment: The Cersaie Edition
This month I'm taking a break from specific products and instead focusing on Cersaie. And what is Cersaie, you ask? Cersaie is a showcase of all things tile! Every year it is held in Bologna, Italy at the end of September. I was fortunate enough to travel with Creative Materials to Bologna, Italy for Cersaie 2017. (For those of you who have just recently been introduced to Creative Materials, Cersaie is one of the global tile events we attend and assess to understand the latest in tile trends. Our assessment translates into featured spring/summer and fall/winter collections which we bring to you so you can stay on trend in your designs.)
Cersaie was absolutely amazing for this tile geek! I have never seen so much tile in my life! And we're not talking pieces of tile displayed on waterfalls. Oh no, no. The booths at Cersaie were hundreds of square feet in size. Some had minimalist designs that incorporated cool pieces of furniture and unique décor. These collections flowed right from one to another. Other manufacturers displayed vignettes designed to look like hotel rooms, living rooms, bathrooms – you name it, it could be found at Cersaie.
We also had the opportunity to visit some of our partner manufacturer showrooms, which were even more impressive than the Cersaie booths. In fact, you may recognize some of the photos above… Lively Yellow from our website wall collection and Inside Blue from Erin's Picks July.
I did have some down time to wander around Bologna. It's a beautiful city full of gorgeous architecture and some of the best food I've had! I stumbled upon a church just outside Piazza Maggiore with a beautiful domed ceiling that had a cupola with windows which illuminated the space. The fine detail of the carvings amazed me. Imagine a hard, dense material like stone given the softness and flow of fabric, plus the bounce and curl of ribbon… it's incredible! It also makes you wonder, what kind of installation system did they use to mount those statutes? Maybe the first form of epoxy?! (Hopefully.)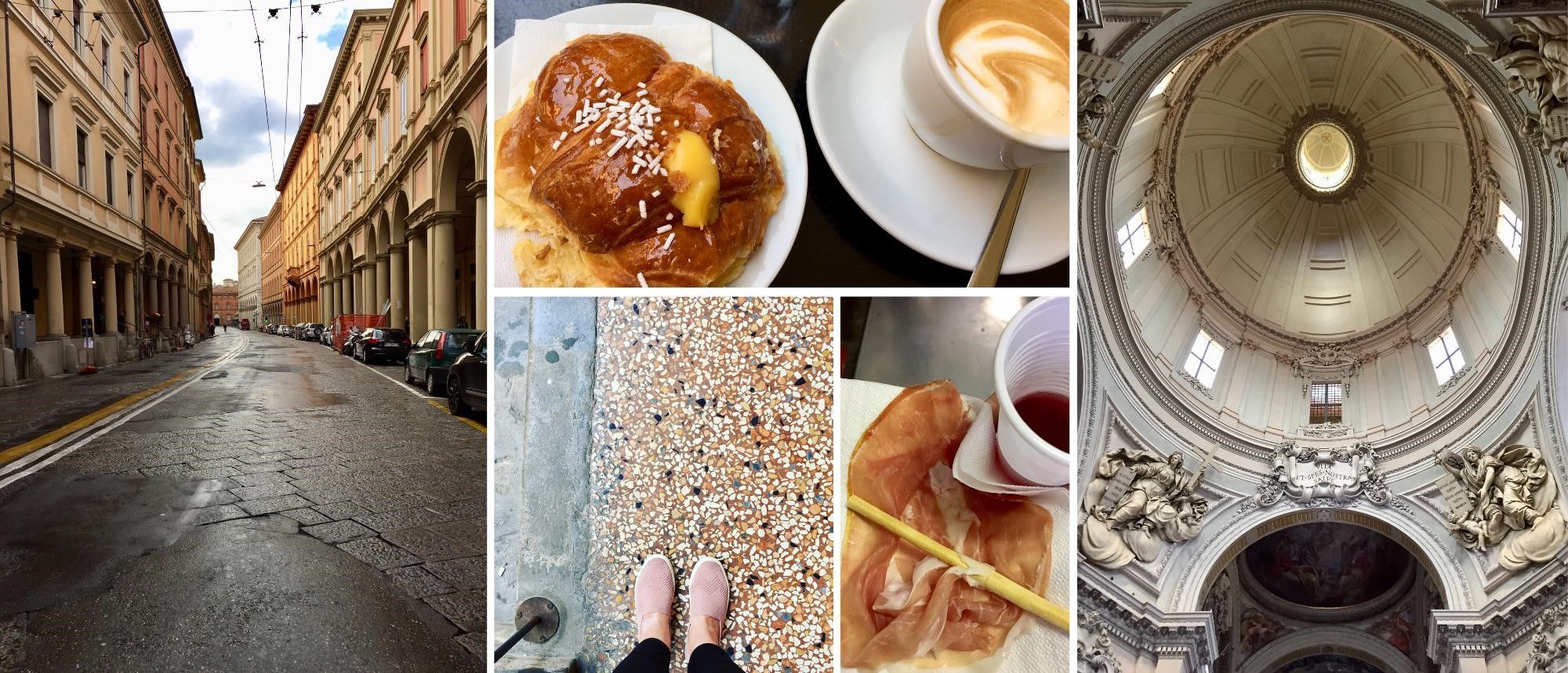 And who can forget the food?! I lived on caffe (espresso), cappuccinos, pastries and cured meats. (Note to self: have cholesterol checked prior to going to Italy. Hopefully all of the walking offsets the damage!  Ha!) If you have the chance to stay in Bologna, I recommend taking a food tour. A couple of my coworkers and I went on the Italian Day Food Tour and it was out of this world! We saw how parmesan, balsamic vinegar and prosciutto are made, and had an amazing 5 course meal. At least I think it was 5… the food coma kicked in real fast!
To sum up my tile travels, if you have the opportunity to experience Italy and Cersaie for yourself, I highly recommend it! Even if you can't make it there for Cersaie, it's worth visiting any time. As you roam around the city, check out the terrazzo sidewalks. They are inspiration for the emerging terrazzo trend brought to you in the current fall/winter feature collections. Terrazzo continues to evolve and grow based on the newest tile we saw at Cersaie. And don't worry, even if you are unable to make it to Italy, the Creative Materials team will bring the trends to you. I sure will miss those beautiful sidewalks, until next time! Ciao!
PS – I miss the espresso so much!! I will travel for great espresso! What's your favorite spot? Email recommendations to edemuth@creativematerialscorp.com.