Top 6 Binge-Worthy Picks from Creative Materials Colleagues
Happy Spring Everyone! I hope you and your family and friends are healthy and well!
We decided to have some fun with two T's… Tile + Television.
Last summer when I moved into my apartment, I decided to have one streaming service because cable was bundled with my rent. So, I went with Prime Video because I already had an Amazon Prime membership.
Fast forward to March 2020 and the stay in place order that went into effect. I quickly changed my mind and added Netflix to the mix. (Also, I think I've successfully watched all of Law and Order and SUV on USA and WE.) So I'm needing some new content… Let the binge-watching/Netflix and chill commence!
We typically create tile mood boards based off of designer's mood boards and inspiration. This month, we decided to switch it up and create them around our top Netflix/streaming picks. Here are the Top 6 Binge Picks from my colleagues at Creative Materials…
---
1st PLACE TIE! | TIGER KING
I haven't started this show yet, but I read one article saying, "Tiger King is the TV equivalent of licking the subway pole… These characters are so colorful that they obliterate everything else around them." WOW, just wow, that is quite the description. I'm a little afraid to watch Tiger King because I won't be able to unsee it once I do haha.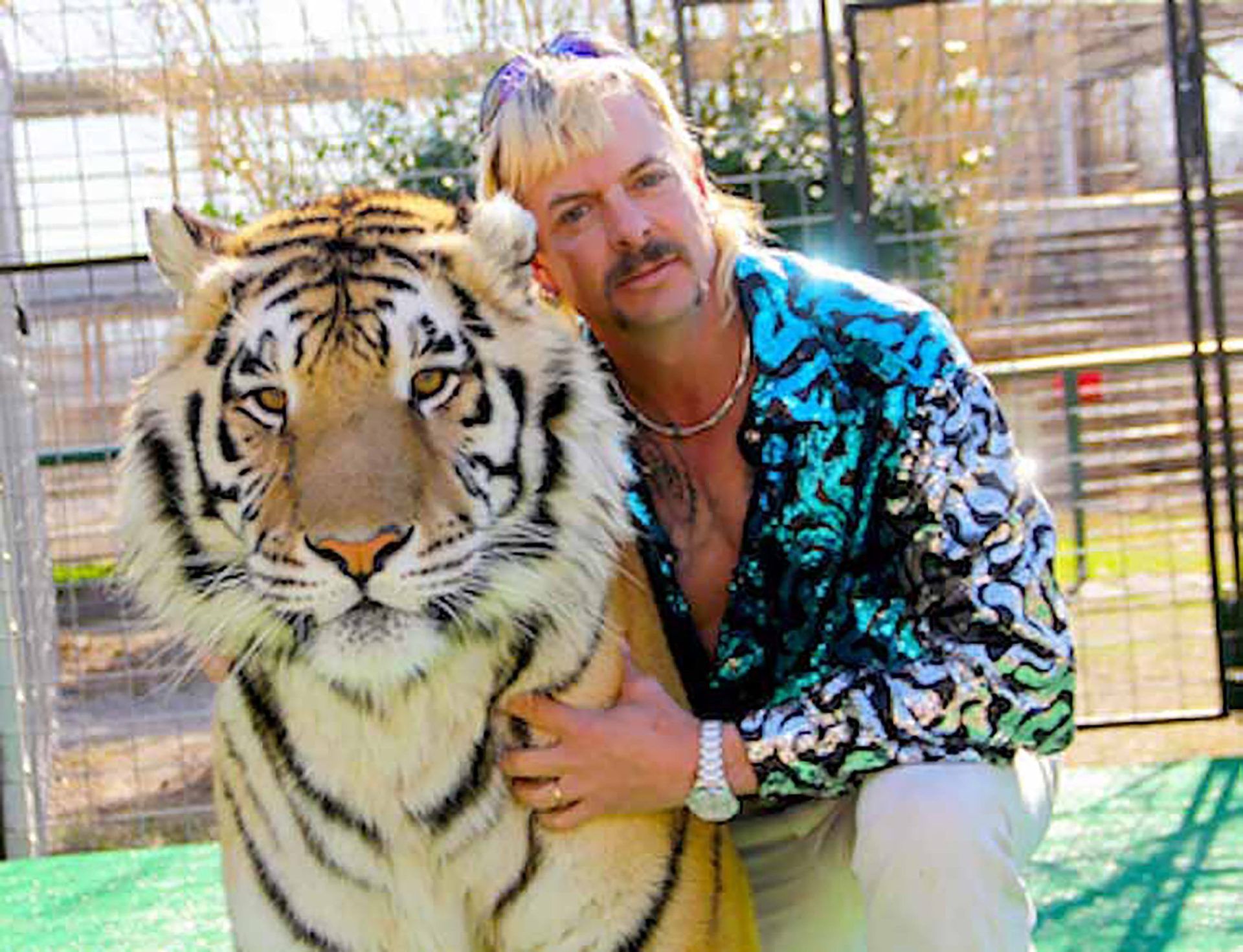 So, if you're looking for a tile palette that exudes Murder, Mayhem, and Madness with a sprinkle of Lisa Frank, here you go…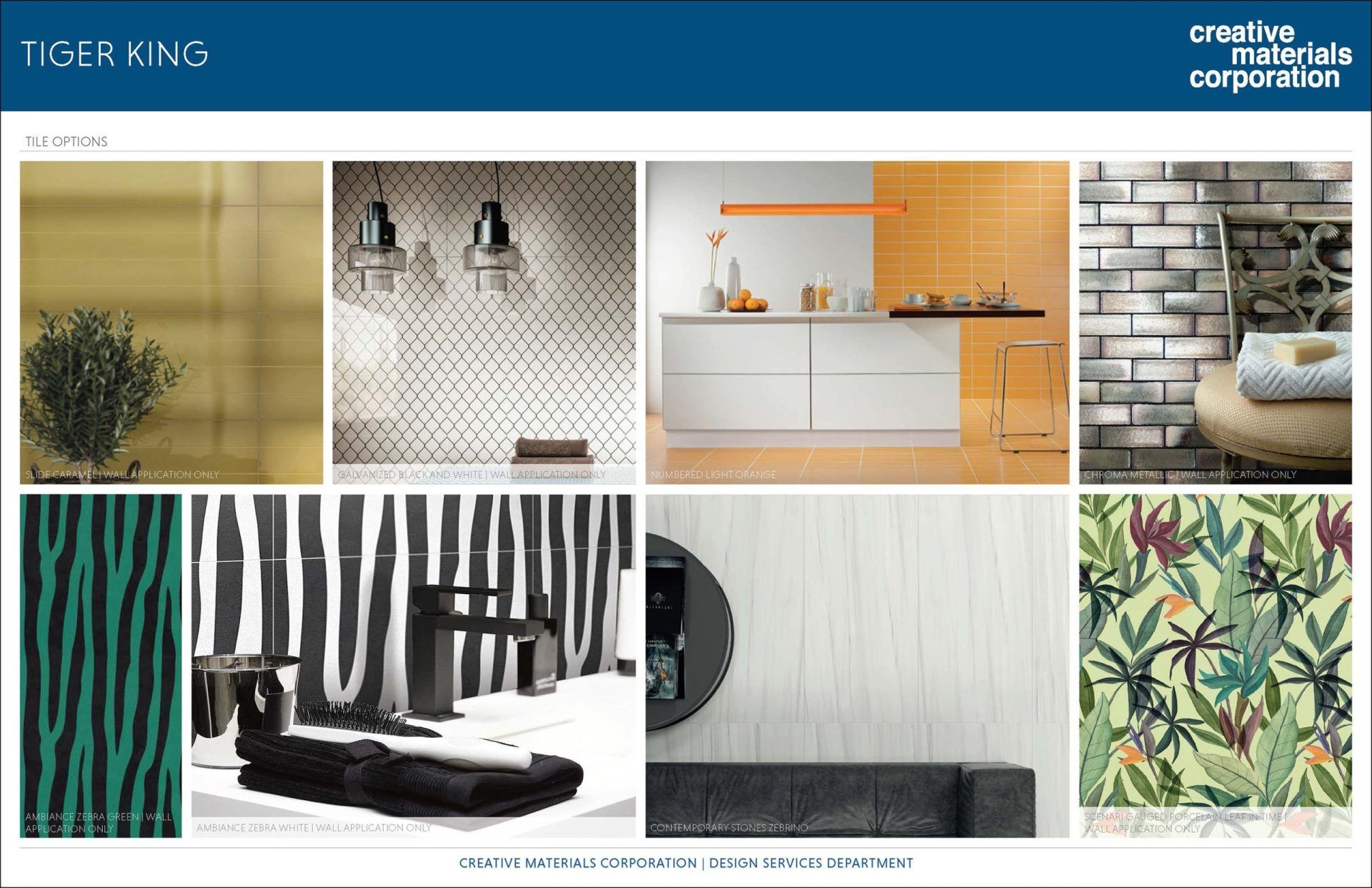 Tiger King features the following collections: Slide, Galvanized, ReNumbered, Chroma, Ambiance (please contact your ASC for more information), Contemporary Stones, Scenari Gauged Porcelain
---
1st PLACE TIE! | OZARK 
I'm so excited about this show! The cast is awesome! I don't want to look at any articles on it because I don't want to ruin things for myself as I did with Stranger Things. Thanks, Internet! *INSERT EYEROLL* I've been on a drug cartel kick with my shows lately. I watched Narcos, Breaking Bad, I'm almost done with Queen of the South and now Ozark, which I think will be a nice complement to Ozark haha.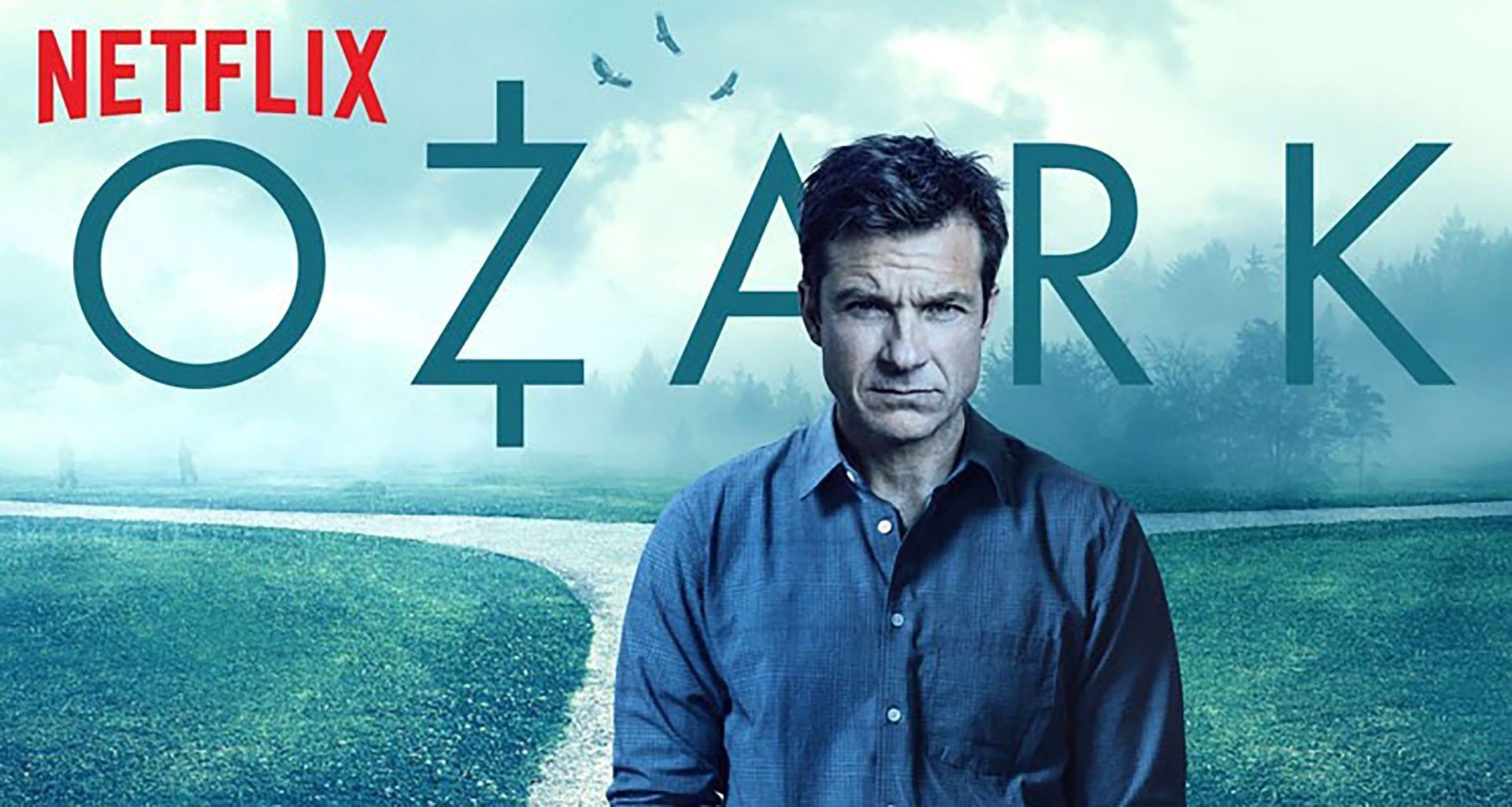 Check out this Jason Bateman moody, blue-green palette we created for Ozark…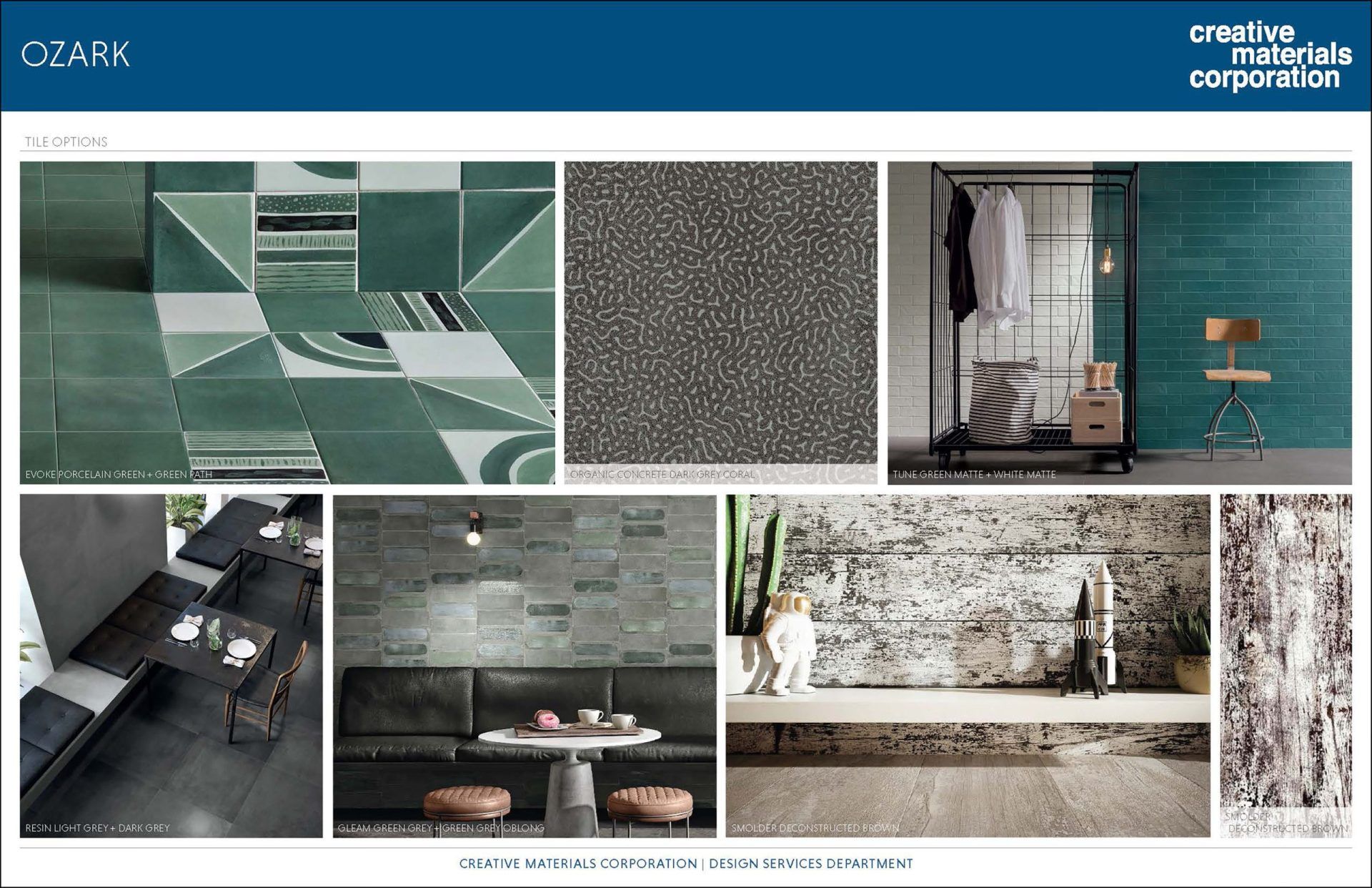 Ozark features the following collections: Evoke, Organic Concrete, Tune, Resin, Gleam, Smolder
---
3rd PLACE | THE OFFICE 
I can hear The Office theme song in my head… 'din din, din din din, din din din DUH DUH DADADADAaaa!!! (Thank you Reddit for helping put this song into words if that doesn't work for you, here's the real deal.)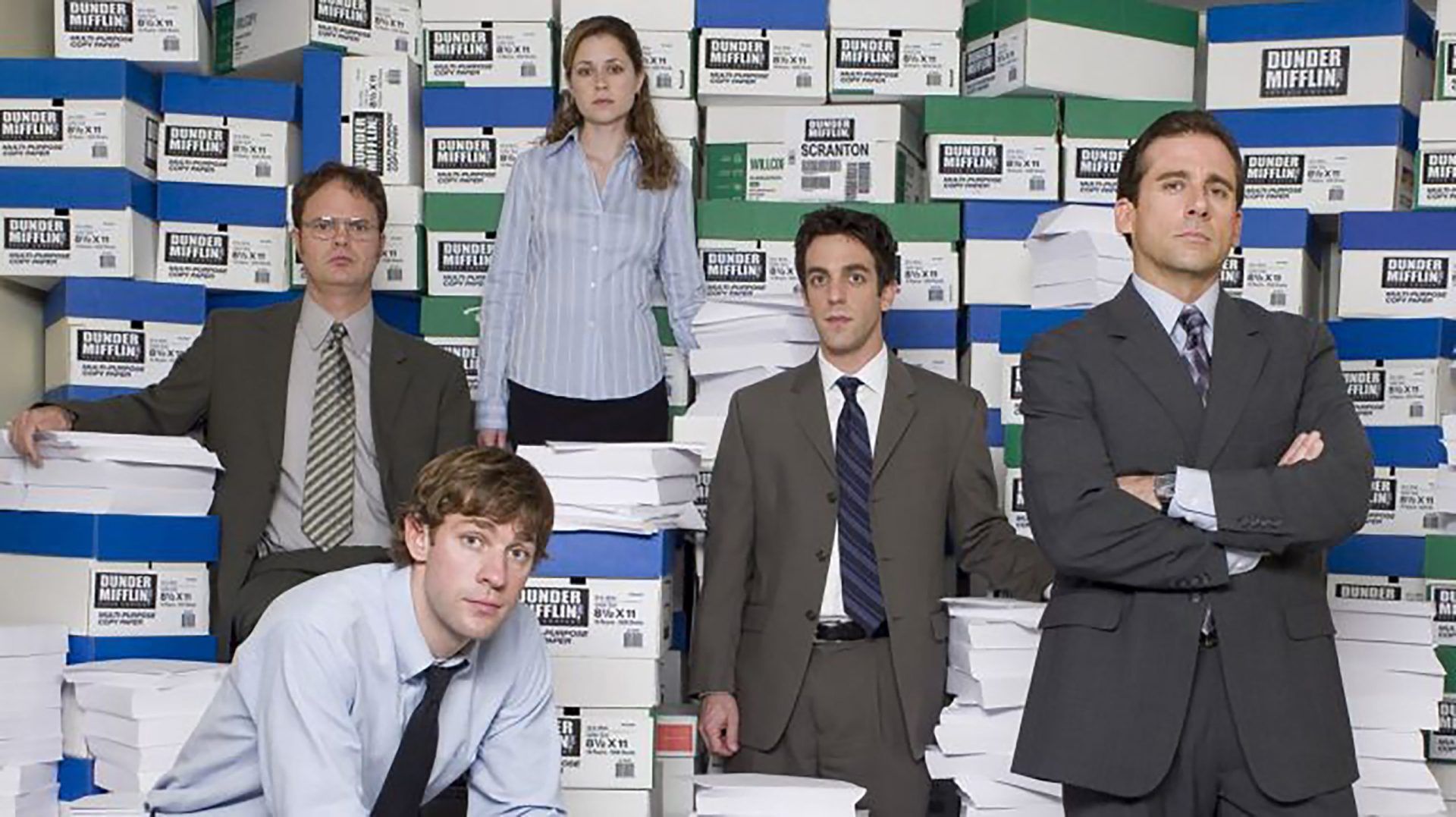 The Jim and Dwight pranks were my favorite! Loved when Jim dressed up as Dwight. So, who do you think would like this palette more, Jim or Dwight?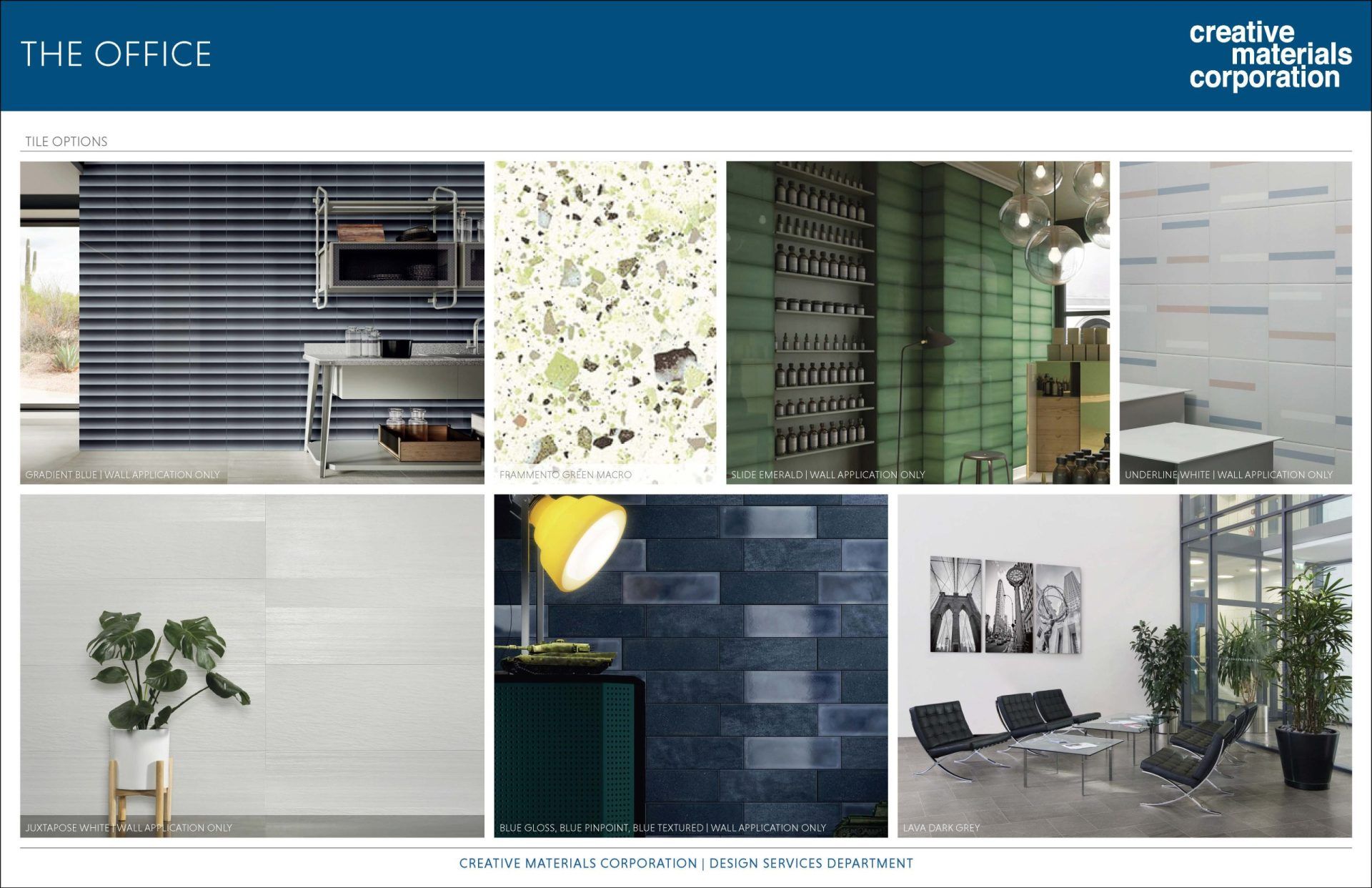 The Office features the following collections: Gradient, Frammento, Slide, Underline, Juxtapose, Inside, Lava
---
4th PLACE | STRANGER THINGS
This season of Stranger Things hit all the feels and I'll just leave it at that because I don't want to leak anything. I love seeing the 80s fashion they show in each season. The fashion got me thinking about the toys I had in the 80s. Let me tell you that is one deep Pinterest rabbit hole.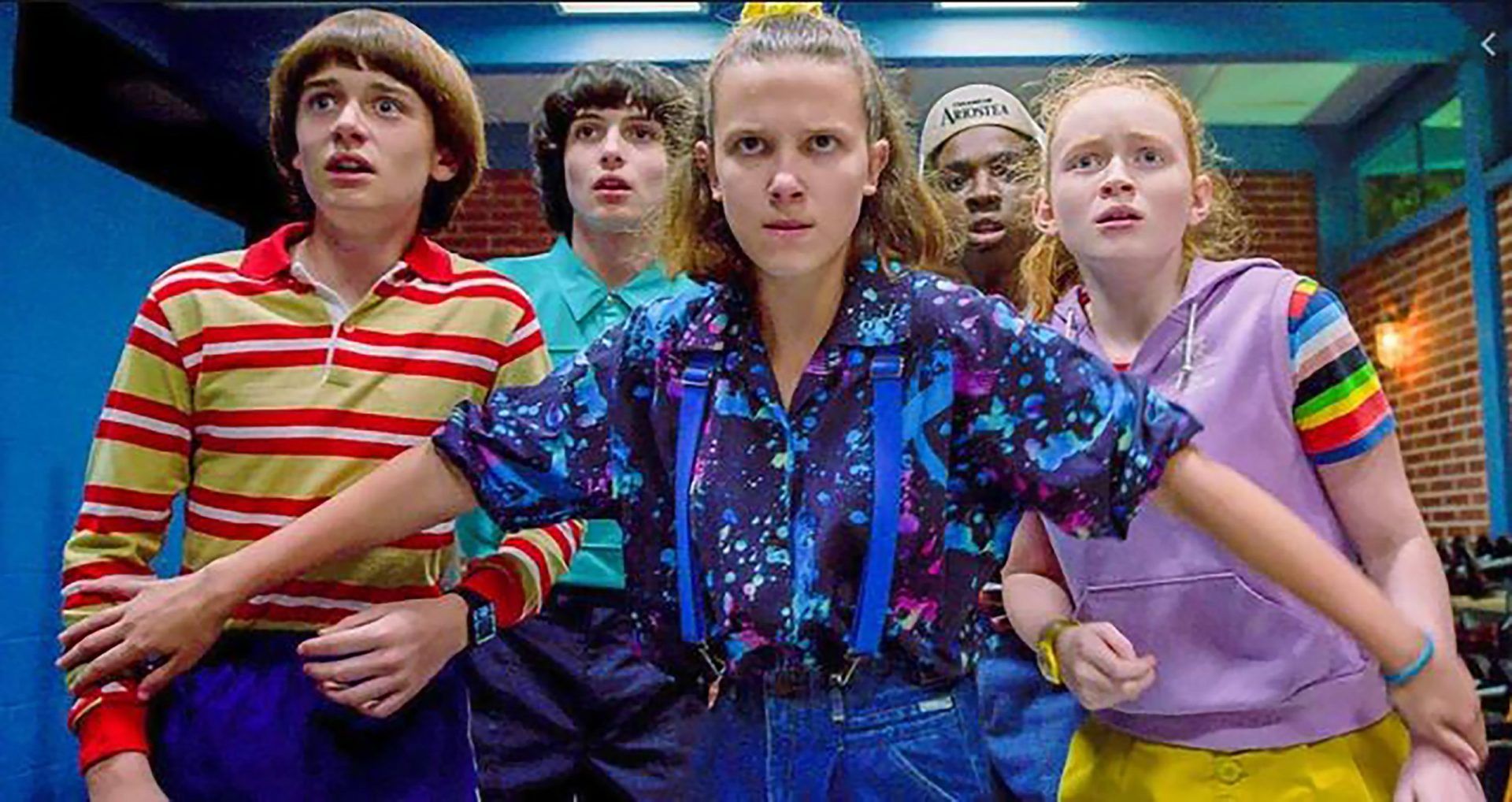 So, if you're looking to bring the 80s back into your space, we recommend this blast from the past palette…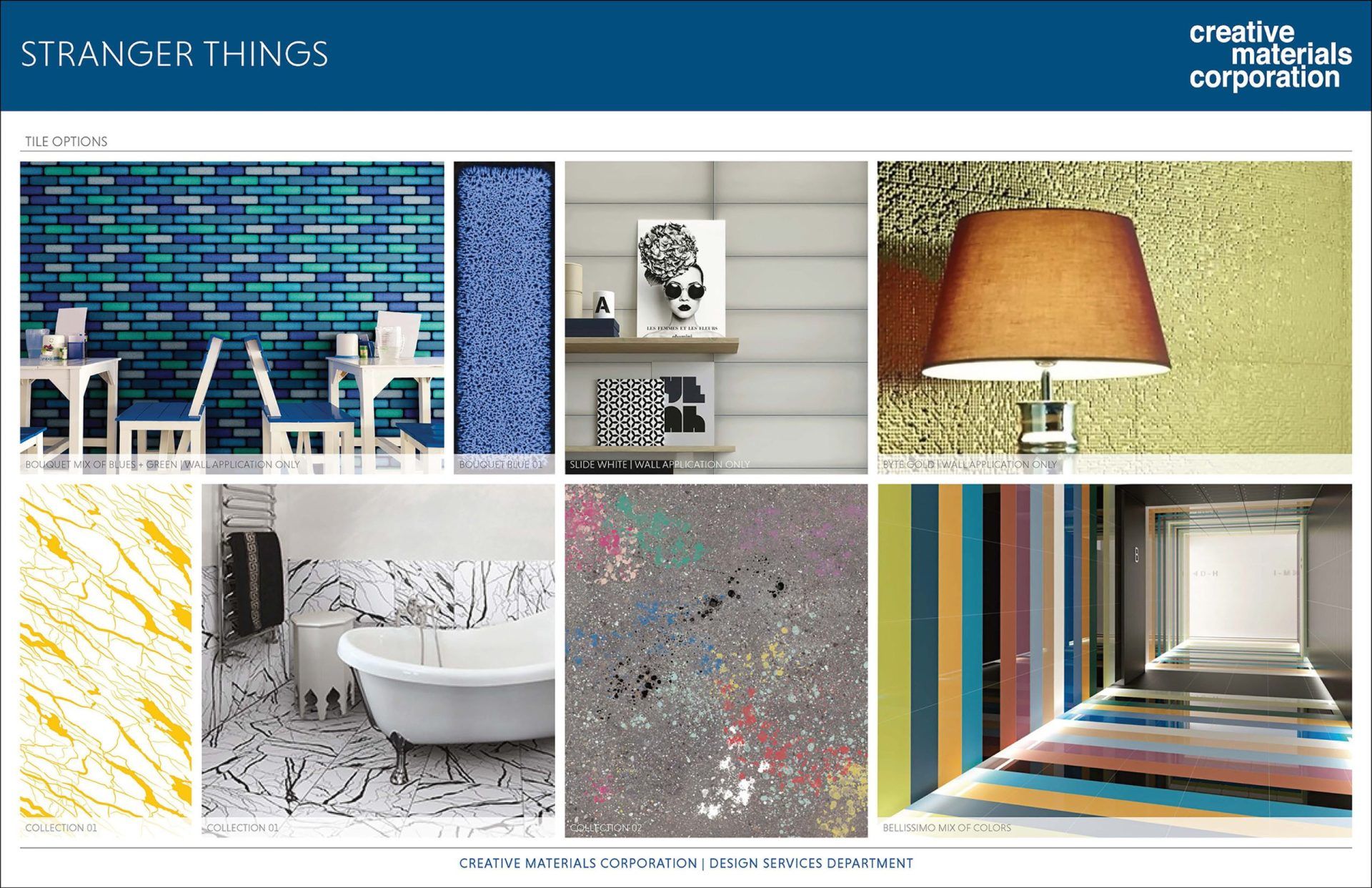 Stranger Things features the following collections: Bouquet, Slide, Byte, Collection 01 + Collection 02 (please contact your ASC for more information), Bellissimo 
---
5th PLACE TIE! | BETTER CALL SAUL 
Word is this Breaking Bad prequel gets better with time, like a fine wine. It was a little slow for me initially, but I'm going to give it another chance because I completely forgot one of my favorite characters from Breaking Bad, Mike 'the fixer', is in this series. He's a Liam Neeson-type badass that has specialized skills that help Jimmy/Saul get out of some sticky situations.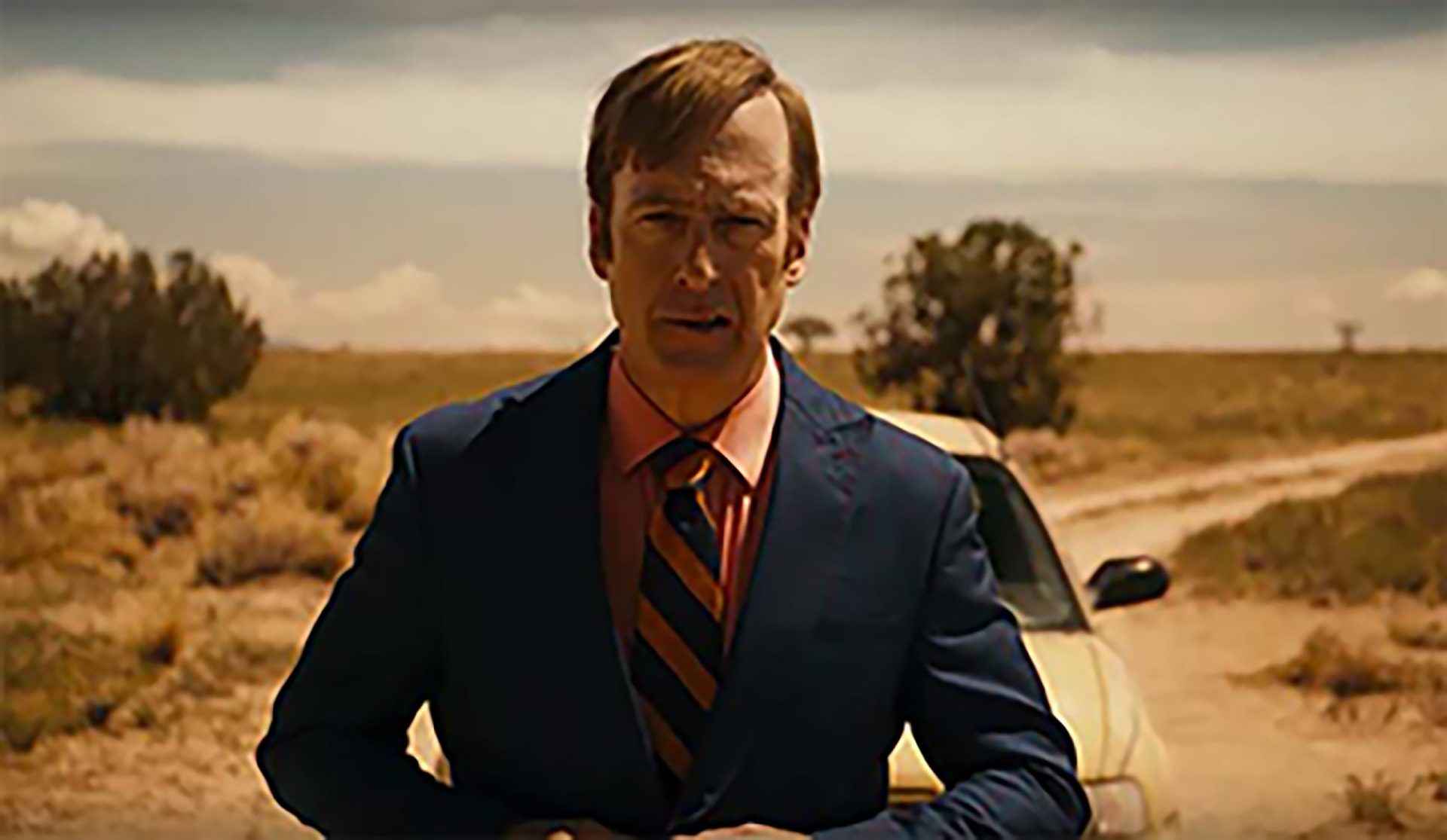 I'm not sure why anyone thinks it's a good idea to have a meeting in the desert?! Luckily we know Jimmy/Saul is in Breaking Bad, so he obviously makes it out of the desert ok! YAY! Check out this desert chic palette inspired by one of Jimmy's favorite locations for business meetings…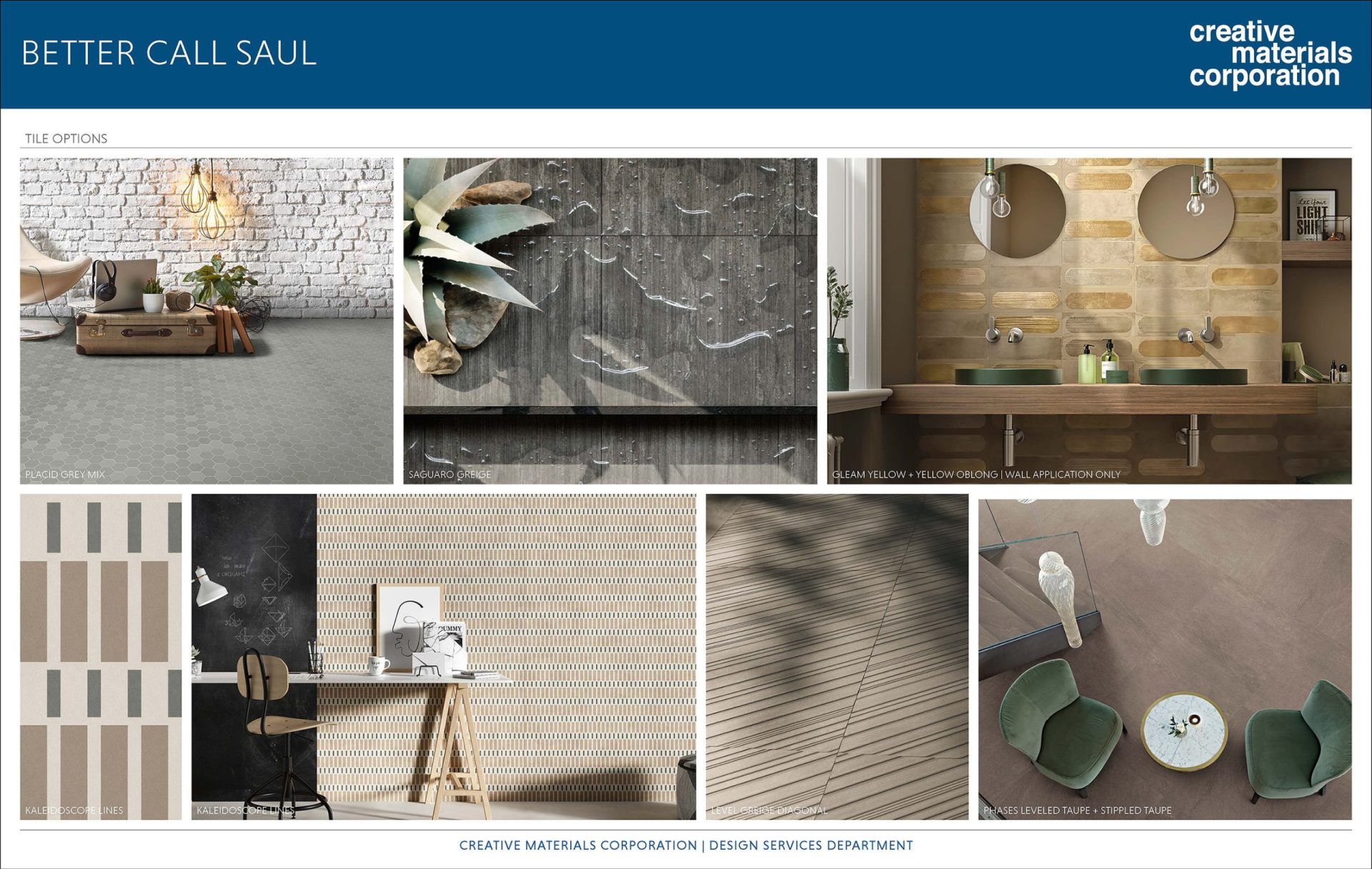 Better Call Saul features the following collections: Placid, Saguaro, Gleam, Kaleidoscope, Level, Phases 
---
5th PLACE TIE! | LITTLE FIRES EVERYWHERE
Is this a Scandal and Big Little Lies mash-up?? *fingers crossed* Please say yes because these ladies were badasses in those shows and I'm hoping they are in this one! I'm going to read the book before I dive into this show.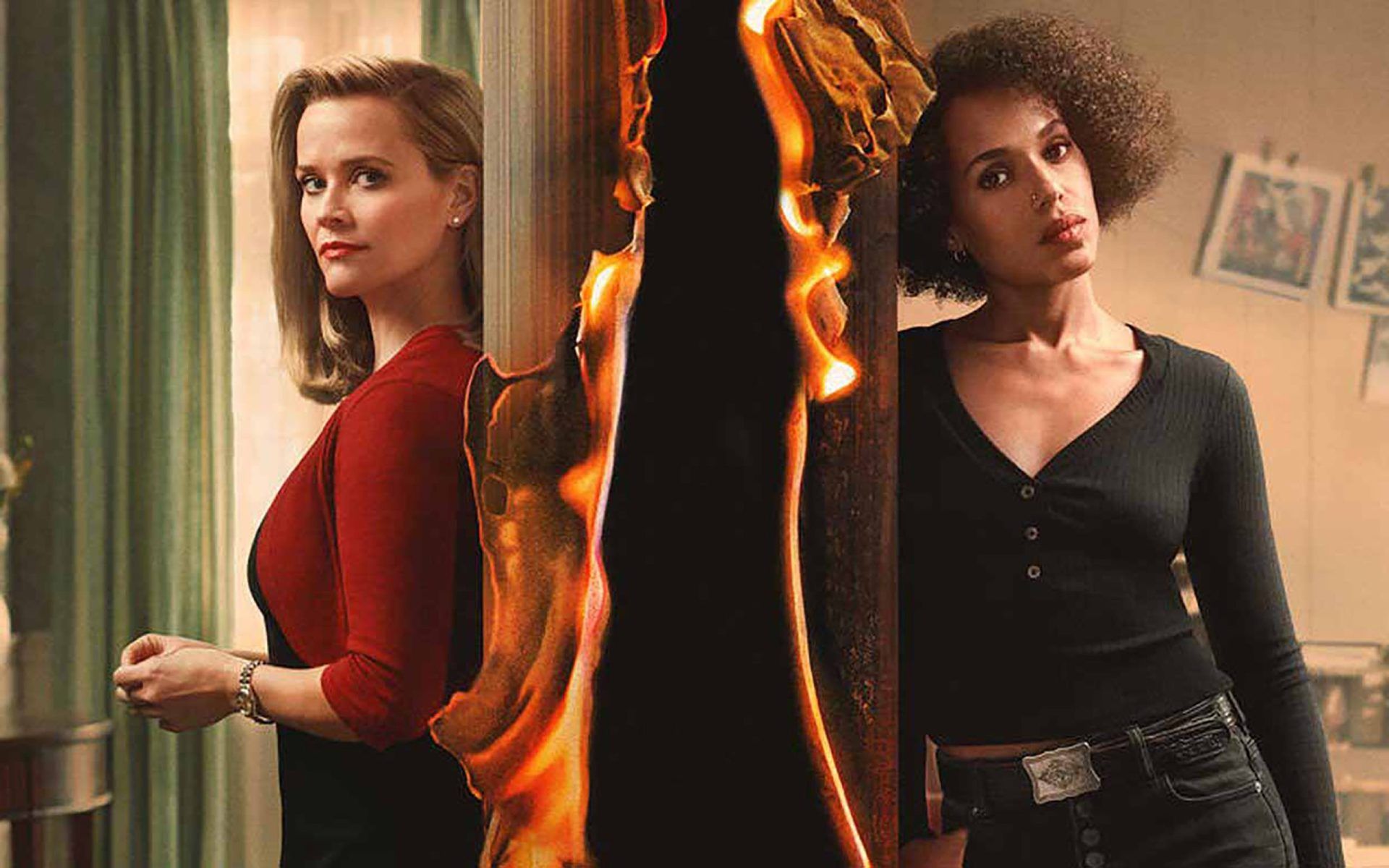 Check out our fiery palette for Little Fires Everywhere…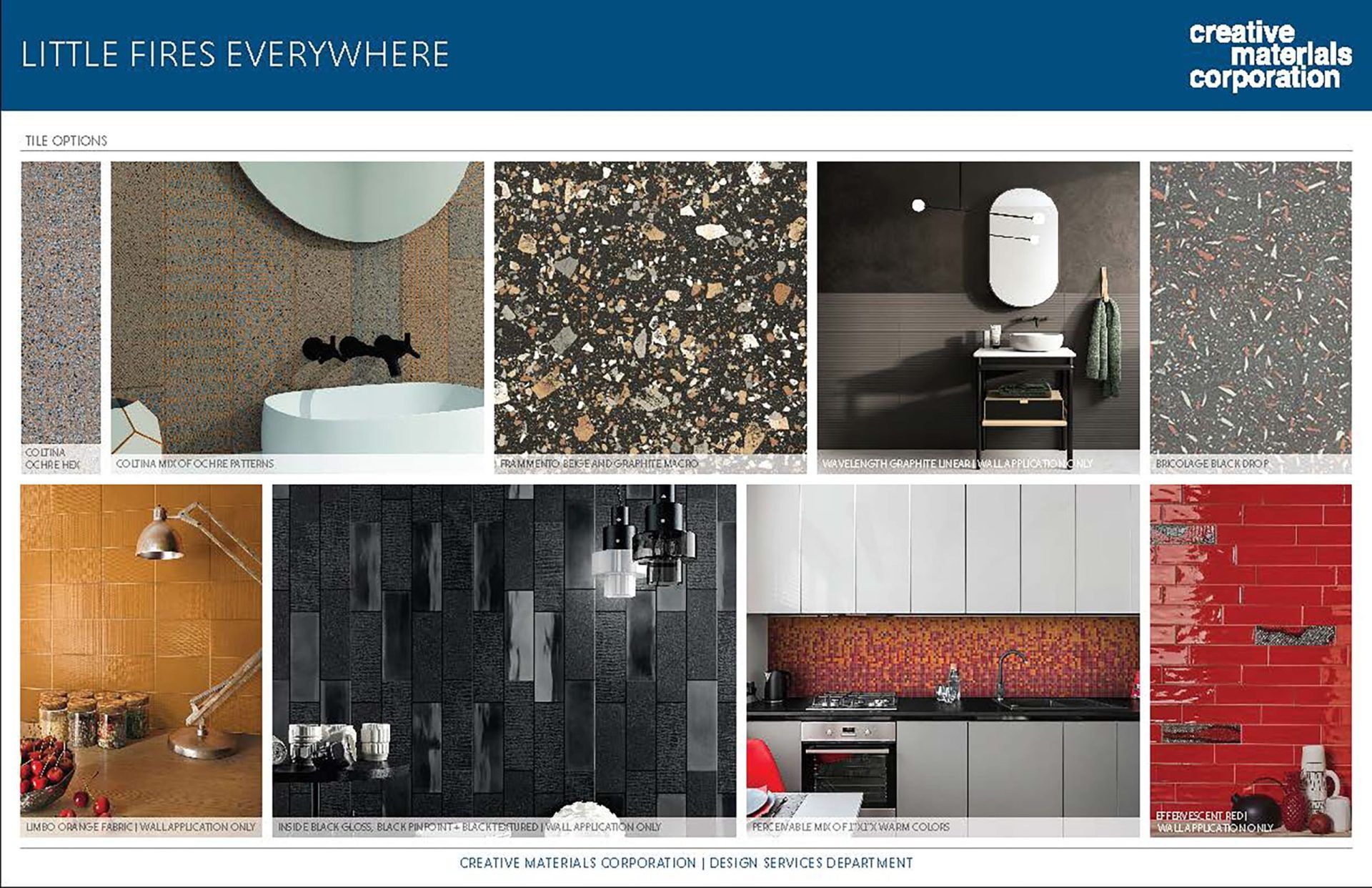 Little Fires Everywhere features the following collections: Coltina, Frammento, Wavelength, Bricolage, Limbo, Inside, Perceivable, Effervescent
---
I hope you enjoyed some fun interpretations of our favorite binge-worthy shows! A huge thank you to Laura, Design Services Coordinator, for creating these tile mood boards!
If you're in need of some tile-spiration for your next project, our Design Services department is here to help! We can create a curated mood board of tiles that fit your inspiration. Please contact your Architectural Sales Consultant to get started.
Be safe everyone!
Until next time…
E